THERE ARE THOUSANDS AND THOUSANDS OF
FOOD BLOGS, BUT ONLY ONE CULINARY NO-
NO!
I do it all the time when I blog. Here's an example from this past week:
CATCH THE NEWS, THEN GO WRITE YOUR WILL
The lapel-grabbing headline designed to nab a reader's attention. Newspapers resort to this tactic as part of their regular business. But since the person responsible for the headline is often not the reporter, the headline runs the risk of not matching up with the story content. USA TODAY ran a beauty a few days ago. You talk about hyperbole? It was textbook.

Labor Day barbecue food safety: Grilling your burgers wrong could kill you this holiday weekend
Serious stats were included in the newspaper's effort to back up their horrifying claim.

"Each year, 1 in 6 Americans, about 48 million people, are sickened from eating contaminated food. About 3,000 die and 128,000 are hospitalized, too, the CDC says," and added "dealing with raw meat can be tricky, and cooking it improperly can be deadly."

USA TODAY offered several suggestions on how to avoid contracting nasty dehydration, bloody diarrhea and abdominal cramps, or heaven forbid, death. One of them was to use a thermometer when grilling. I don't know anyone who uses a meat thermometer when cooking hamburgers.

I'm reminded of a previous no-no where the federal government said it's dangerous.

A local website called it "barbaric."

Some contend if you looked at it under a microscope, you'd never eat it again.

Don't tell that to Judi Jacak of Allenton. Jacak submitted her Christmas Eve ritual to the Milwaukee Journal Sentinel and it was published in the paper in December of 2012.

"We always begin Christmas Eve by going to Mass at 4 p.m. After Mass, the 20 of us, including two girlfriends, meet at the house for snacks, wine and gift opening. It's a tradition for us to have cannibal sandwiches and peel-and-eat shrimp. The raw beef is served with sliced sweet onions and salt and pepper on rye bread. Half of us love it, and half of us hate it. But tradition is tradition, and we've had a few converts over the years…"

Cannibal sandwiches.

That would be your…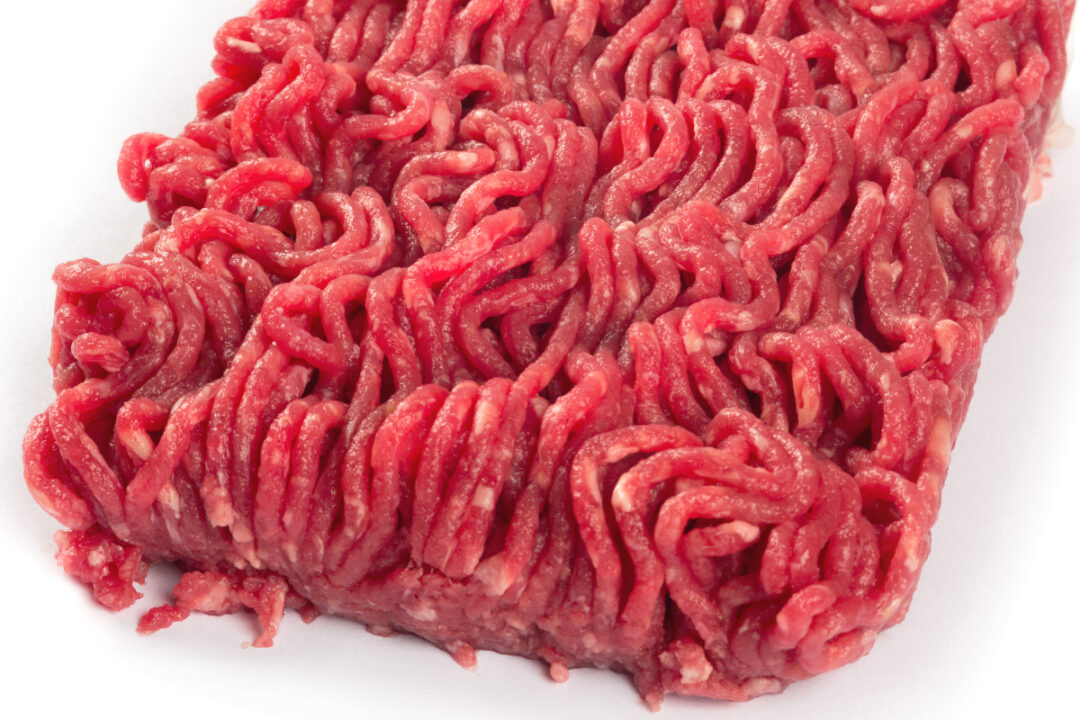 Placed on top of some…




Add some…




Sprinkle black pepper.

Done.

With all due respect to Judi Jacak, I've always associated raw beef and onions with New Year's Eve, not Christmas Eve.

In the mid-90's when I worked at WTMJ, I was filling in for Charlie Sykes on the morning of December 31. The out of touch local daily newspaper had decided, not surprisingly, to publish an article bashing that Wisconsin year-end tradition of the so-called cannibal sandwich. So I began my program making raw beef and onions the opening topic du jour.

The phone lines went bonkers. My favorite call was from an octogenarian who claimed he had been eating raw beef and onions for decades, he was still alive, kicking and healthy, the newspaper was full of it, and nothing was going to stop him from enjoying steak tartare that evening.

According to the USDA, that elderly gentleman and all the other callers who weighed in to say they love their raw beef are complete fools despite my favorite caller saying he was close to 90. From the USDA website:

"Is it dangerous to eat raw or undercooked ground beef?
Yes. Raw and undercooked meat may contain harmful bacteria. USDA recommends not eating or tasting raw or undercooked ground beef. To be sure all bacteria are destroyed, cook meat loaf, meatballs, and hamburgers to a safe minimum internal temperature of 160 °F (71.1 °C). Use a food thermometer to check that they have reached a safe internal temperature."

BALONEY!

I don't know of anyone who has perished welcoming in the new year by devouring uncooked beef.

Let's move on to a related burger topic that also features a writer's ploy to lure in curious readers. This one is a revised no-no from 2008.

In the broadcast business, it's called a "tease."

They are short promotional announcements designed to entice you to watch an upcoming program.

"WOMEN WHO HATE MEN, ON THE NEXT OPRAH!"

These teases can be extended to :30, packaged into an "update."
Hmmmm.

I think I've seen that guy before.

Teasing is also done in the print business. This old cover of "Cosmopolitan" is loaded with teases, the "grabbers" that get your attention in the supermarket line.about every publication uses this promotional tool on its cover.
On a bookstore visit I picked up this magazine specifically because of a tease on the cover. Note the second of three teases underneath the magazine title: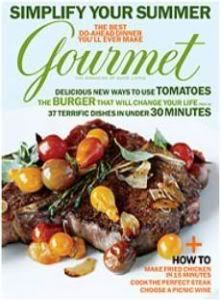 "The burger that will change your life."

This, I thought, I gotta see.

With a billing like that, this burger has to be the most scrumptious epicurean delight ever made by human hands, so good that it was actually the food of choice that Eve used to tempt Adam.

The tease-writer was successful, I was hooked.

Trembling with excitement, I flipped the pages past one recipe after another until I came upon the burger that would change my life.

When I worked in broadcasting 24/7, a rule of thumb I tried to live by, especially when "teasing" was that if you promised something, you'd better deliver. For example, if you told your audience you had the top ten ways to get your wife to mow the lawn, you better have not 7 or 8 or 9 but the whole shooting match. (By the way, I never really worked on that story but if anyone has the specifics, could you e-mail me, please?)

So, no National Inquirer-type promos, the kind that have people scoffing, "C'mon, that's ridiculous!"

Gourmet Magazine almost had me drooling a la Pavlov's dog. The article hyped on the front page was about an Aussie Burger, referred to by a Gourmet Magazine food editor as "the ultimate," and "awesome."

She wrote about the "amazing toppings." This ultimate, awesome amazing burger that would change my life has eggs, pineapple rings, and mounds of pickled beets.

There in the bookstore, clutching Gourmet Magazine, not in complete and utter disappointment, I hearkened back to the wise words of another food expert, "Fonzie" in "Happy Days."

Fonzie once said that ketchup and ice cream, when they' re apart are, well, AYYYYY, two thumbs up. But put them together? Thumbs down, baby.

Gourmet as I recall never truly made the case why the Aussie Burger is a life-changing experience. There are lots of ways to make a great burger. But it's real easy to mess things up by overdoing in the hopes of building a quintessential masterpiece.
The NY Times published a piece on how the French have embraced the hamburger. One Paris restaurant makes its burger with pine nuts and thyme mixed into the meat, then places it on a toasted whole-wheat English muffin. Another tops its burgers with slabs of foie gras. Yet another includes both mayonnaise and mustard on the same burger — and charges $56.
In 2006 GQ Magazine listed "The 20 Hamburgers You Must Eat Before You Die."

Good meat, slathered in cheese, a toasted bun, some sides like tomato and lettuce. How can you go wrong? Imagine you're having a backyard cookout, you invite lots of friends over, and you're grilling burgers. For a great party, you make sure you've got cheese, onions, pickles, ketchup, mustard, mayo, etc. so your guests have plenty of choices to make a great burger. You don't need pickled beets and pineapple rings and brussels sprouts. Of course not. Classic burgers with classic combinations.

But is that really good enough?

Not if you ask chef Nancy Silverton, the co-founder of Campanile restaurant and La Brea Bakery in Los Angeles. When you find out how she throws a burger cookout, you're going to feel mighty inadequate.

The LA Times tagged along at one of Silverton's soirees to carefully observe how an expert prepares what she considers the perfect burger.

Silverton lights her barbecue pit at 8:00 a.m. with a fire made from almond wood (Kingsford doesn't make that stuff, do they?). When her guests arrive in the middle of the day, the toppings are ready and buns are sliced.

The bun. No fancy, schmancy 12-grain deal. Pita bread? Are you crazy? Just the time-honored, soft variety.

The key is the ratio of bun to meat. It has to be 50-50 so you can avoid…
The toppings must be traditional, no foie-gras!

Ketchup is good. But is that good enough?

No, Silverton insists on Heinz ketchup.

Mayo, you've got to have mayo, but is having mayo good enough?

Best Foods Mayo if you're in the western part of the country, Hellman's in our neck of the woods.

Ok, you've got the Hellman's. Is that good enough?

Nope.

Silverton likes to serve the mayo three ways: plain, mixed up with chiles and a third with garlic and tapenade.

Mustard? Are you kidding me? Gotta have mustard! Dijon mustard. Is that good enough?

Well…no.

You must have two types of Dijon, plain and whole grain.

Lettuce, there must be lettuce. Will any lettuce do?

Umm, no.

It must be iceberg, one crisp leaf per person.

Onions. God, I love onions on a burger. Silverton advises one full slice of red onion per person.

Ok, I can handle that. Red onions. Is that good enough? One slice of red onion per person?

You've detected a pattern here, haven't you..

NO, that's not good enough silly! You have to salt and pepper the onions.

Make sure there's the Mezzetta brand of Tuscan Pepperoncini as well.

Did we forget anything?

Yeh, we did.

Tomatoes. Brandywines, Russians, Beefsteak.

Silverton includes avocados with her toppings, recommending they be sliced thickly.

Bacon. Oh, yes! Applewood-smoked and not crispy. Is that good enough? I don't let the bacon get crispy. Check.

No. Two pieces of bacon per guest (because people snitch).

If you're not yelling at the computer screen by now, you should be.

CHEESE, WE MUST HAVE CHEESE!

I'll just serve good ol' American and that'll be okay, right?

Negative!

Three cheeses if you pleases: blue, cheddar and Gruyere.

Any brand?

No.

Point Reyes blue, Grafton cheddar and cave-aged Gruyere.

OK, you've hunted and searched for all three. Is that good enough, chef Silverton?

No.

Crumble the blue. Ditto for the cheddar. Sprinkle the crumbles and delight as they ooze and melt.

Do you crumble the Gruyere, too?

Are you from Wisconsin or not?

No you don't crumble the Gruyere, you fool! You serve that in slices or risk being a total failure.

The meat. Very important.

Get up early. Go to the butcher the day of the cookout.

Order whole prime chuck ground with 13% sirloin fat added by weight.

Back home, the patties formed will be 8 ounces each, two inches thick.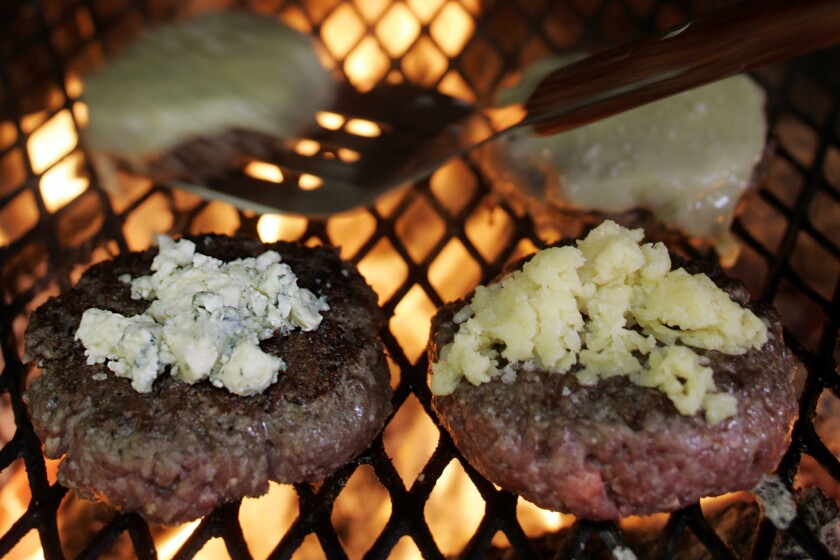 Photo: Beatrice de Gea / Los Angeles Times

FIRE IT UP: Silverton tops patties, made of beef with at least 20% to 28% fat, with crumbled chunks of blue cheese, left, and cheddar. "With lean meat," she says, "the burgers don't hold together."

Regular salt?

No way.

Kosher salt.

The result?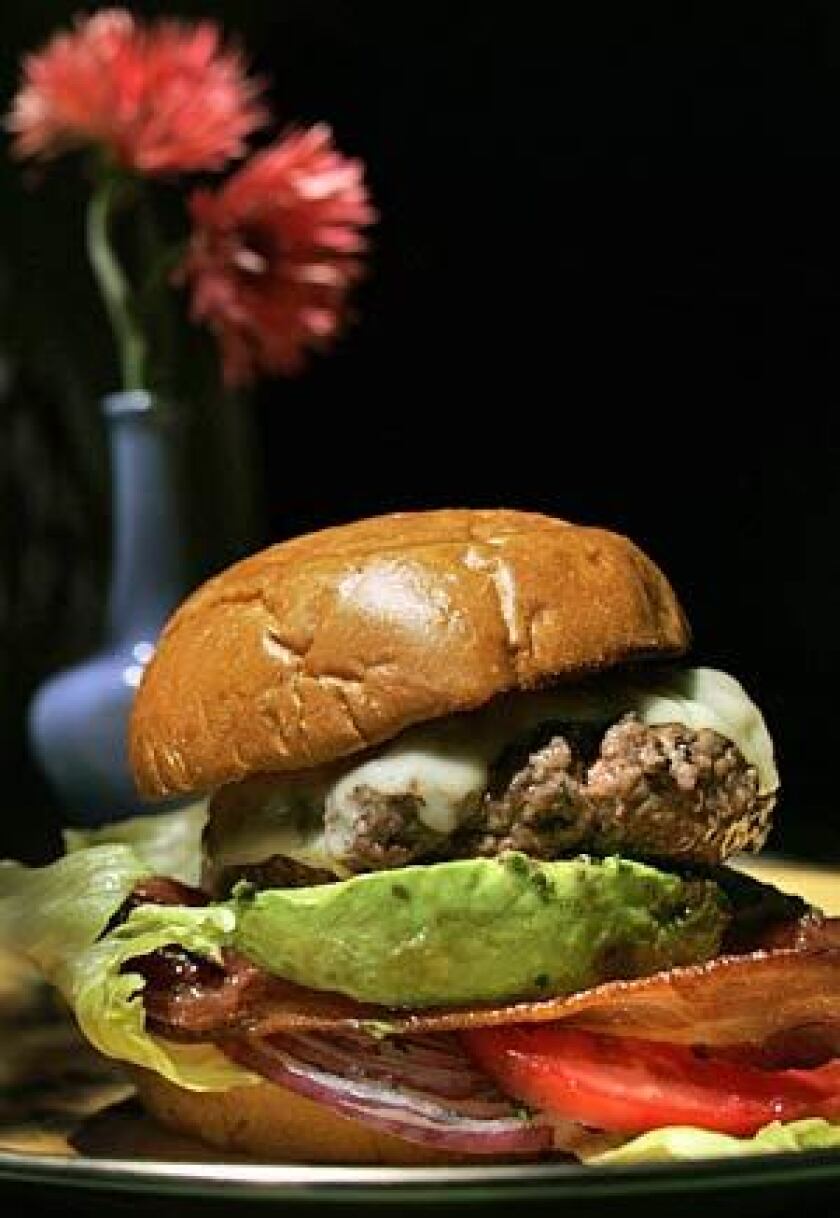 Photo: Beatrice de Gea / Los Angeles Times
TOP THIS: The hamburger according to Silverton stars fat-enriched, coarse-ground prime chuck that's seasoned generously and handled gently.

Feeling inadequate?

Silverton does throw a helluva party.

But you'll probably never have her over anyway.

It's easy and wrong to overdo it and be too creative with a burger. Silverton, one could argue, also overdoes it. But she overdoes it in so many really goooooooooood ways.

The perfect burger?

What's been the recurring theme here?

No.

There is no such creation as the perfect burger.

But Silverton comes pretty darn close.

CULINARY NO-NO BONUSES

The grill will kill…and so will these.
The Woman Who Found a Snail in Her Soda and Launched a Million Lawsuits