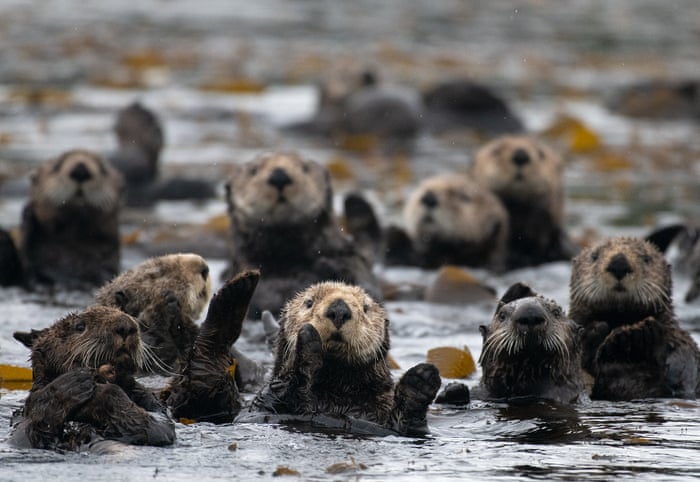 A pictorial week-in-review posted every Sunday.
1) These campaign buttons were being handed out from a hotel in Milwaukee on Monday. Photo: Mike De Sisti/Milwaukee Journal Sentinel/USA Today Network
2) Actress Eva Longoria serves as the emcee on the first night of the convention. Tracee Ellis Ross was the emcee on Tuesday, Kerry Washington was the emcee on Wednesday and Julia Louis-Dreyfus was the emcee on Thursday. Photo: DNC/AP
3) Mounted police separate demonstrators against racial injustice from a counter-protester near the site of the Democratic National Convention (DNC) in Milwaukee, Wisconsin. Photo: REUTERS/Brian Snyder
4) Demonstrators against racial injustice march to the site of the Democratic National Convention, which is mostly virtual due to the coronavirus outbreak, in Milwaukee, Wisconsin. Photo: REUTERS/Brian Snyder
5) Supporters cheer from their cars as Democratic presidential candidate former Vice President Joe Biden and his wife Jill Biden appear on a huge monitor amid fireworks on the fourth day of the Democratic National Convention, Aug. 20, 2020 in Wilmington, Del. Photo: AP
6) People watch Michelle Obama speak at the Democratic National Convention overlooking the city on August 18, 2020 in Pittsburgh, Pennsylvania. Photo: Getty Images
7) A television at Buck Bradley's Saloon and Eatery shows former First Lady Michelle Obama speaking at the Democratic National Convention (DNC) in Milwaukee, Wisconsin. Photo:  REUTERS/Brian Snyder
8) Television screens show Obama's speech from Goodcity Brewing, which is across from the Fiserv Forum in Milwaukee. The Fiserv Forum is where the convention was originally supposed to take place. Photo: Morry Gash/AP
9) American Samoa's delegation, Petti Matila and Aliitama Sotoa, take part in Tuesday's roll call at the DNC.  The appearance of two uniformed Army soldiers appears to have violated a Department of Defense policy about military personnel participating in political events. A DNC official called the incident an "oversight." Photo: DNC/AP
10) United States Postal Service employee Brandis Neal sports earrings which state "We Can Do It", while delivering mail in Houston, Texas, August 18, 2020. Photo: Reuters
11) Sama al-Hamad, a six-year-old who lost her left eye in the Beirut explosion on 4 August, poses for a picture on the roof of her damaged house in the Mar Mikhael district overlooking the blast site. Photograph: Anwar Amro/AFP/Getty Images
12) A Palestinian woman carrying a baby ducks through an opening in a fence between the Israeli-occupied West Bank and Israel, as she heads to the beach along the Israeli coast. Photo: REUTERS/Raneen Sawafta
13) Steve Krofchik of Las Vegas keeps cool with a bottle of ice on his head as the thermometer reads 130 degrees Fahrenheit at the Furnace Creek Visitors Center in Death Valley, California, August 17, 2020. Photo: Reuters
14) A house sits alone as the Lake Fire creeps its way down the hill towards Palmdale, California. Photo: Wally Skalij/Los Angeles Times/Getty Images
15) An aircraft drops fire retardant on a ridge during the Walbridge fire. Photograph: Josh Edelson/AFP/Getty Images
16) A plume rises over a vineyard in unincorporated Napa County as the Hennessey Fire burns. Photograph: Noah Berger/AP
17) Thomas Henney, left, and Charles Chavira watch a plume spread over Healdsburg, Calif., as the LNU Lightning Complex fires burn, Aug. 20, 2020. Photo: AP
18) Dark clouds hang over the skyline as typhoon Higos approaches on August 18, 2020 in Shenzhen, China. Photo: Getty Images
19) People enjoy a music party inside a swimming pool at the Wuhan Maya Beach Park, in Wuhan, China. Photo: REUTERS/Stringer
20) Situated on a rugged promontory at the entrance to Balcary Bay on the Solway Firth, this home has a rock-cut swimming pool which fills naturally with sea water at high tide. The four-bedroom Balcary Tower comes with direct beach access, a modern boathouse and slipway, a woodland garden and 12 acres) of paddock. Photograph: The Guardian
21) Marvin Williams and Orlando's James Ennis III get into a scuffle as referee Kevin Scott and Bucks assistant coach Darvin Ham try to break up the altercation in a playoff game between the Milwaukee Bucks and Orlando Magic. Both players were ejected from Saturday's game. The Bucks won, 121-107. Photo: Getty Images.