The Barking Lot is a regular weekly feature of This Just In…Written by my lovely wife, Jennifer and me.  It opens with the weekend dog walking forecast followed by the main blog from dog lover, Jennifer. Then it's DOGS IN THE NEWS and our close. Enjoy!
THE WEEKEND DOG-WALKING FORECAST: We grade the weather outlook for taking your pet outdoors.
TODAY:   Mostly cloudy.  High of 80.  "A"

SUNDAY: Partly cloudy in the morning. Thunderstorms developing later in the day. High around 80.  Chance of rain 80%.  "A" in the morning. "D" later in the day.

Now, here's my lovely wife, Jennifer, with this week's main blog. 
This week's blog combines current events and new research, and of course, dogs.
America's pandemic rages on, so testing continues hoping to identify symptomatic and asymptomatic carriers to reduce the spread of infections.
Tests now being conducted generally require swabs applied to the upper part of the pharynx, connecting with the nasal cavity above the soft palate.
Another test (and it's complicated to explain) is used for pathogen identification that has been helpful with treatment and prevention of many diseases.
These procedures can be time consuming and cost-prohibitive. Preferably the tests should be fast, reliable, and non-invasive. That's where dogs come in.
We know dogs have an incredible sense of smell, 10,000 to 100,000 times as acute as that of humans.
"Let's suppose they're just 10,000 times better," says James Walker, former director of the Sensory Research Institute at Florida State University. "If you make the analogy to vision, what you and I can see at a third of a mile, a dog could see more than 3,000 miles away and still see as well."
It turns out that volatile organic compounds produced during respiratory infections can cause specific scent imprints that can be detected by trained dogs.
During the past several weeks there've been media reports about studies of dogs being capable of sniffing out the coronavirus. Here's the latest study, conducted by researchers at the University of Veterinary Medicine Hanover in Germany that was published in a respected medical journal late last week.
Eight (8) detection dogs were trained to determine between saliva samples from individuals who were infected with Covid-19 versus those who are not. When the dogs were correct they were rewarded with either a bit of food or a few seconds to play with a ball.
Dogs were presented with 1,012 samples. How did they do?  The dogs achieved an overall detection rate of 94 percent.
How did the detections break down?  There were 157 correct indications of positive cases of the virus, 792 correct rejections of negative cases, 33 false positive and 30 false negative indications. Again, 94 percent.
The dogs needed just five days of training until researchers believed they could adequately and effectively make detections. Researchers concluded their data showed that detection dogs can be trained in just about a week to discriminate between samples of people infected and non-infected by SARS-CoV-2.
The same cautionary note was made that researchers issued in all other dog studies I've blogged about. While the study was promising, further work is necessary.
But what's highly significant is that this study confirms that dogs can detect the virus with striking accuracy, and these detection dogs need just a short thorough training period to become effective.
Finally, testing is quite expensive, costing hundreds, maybe thousands of dollars. But a trained coronavirus detection dog can screen a patient in under a minute at a minimal cost. That's because the entire test only requires the dog, its handler, and someone documenting the results.


—-Jennifer Fischer
Thanks Jennifer!
Time now for DOGS IN THE NEWS, canines that made headlines the past week.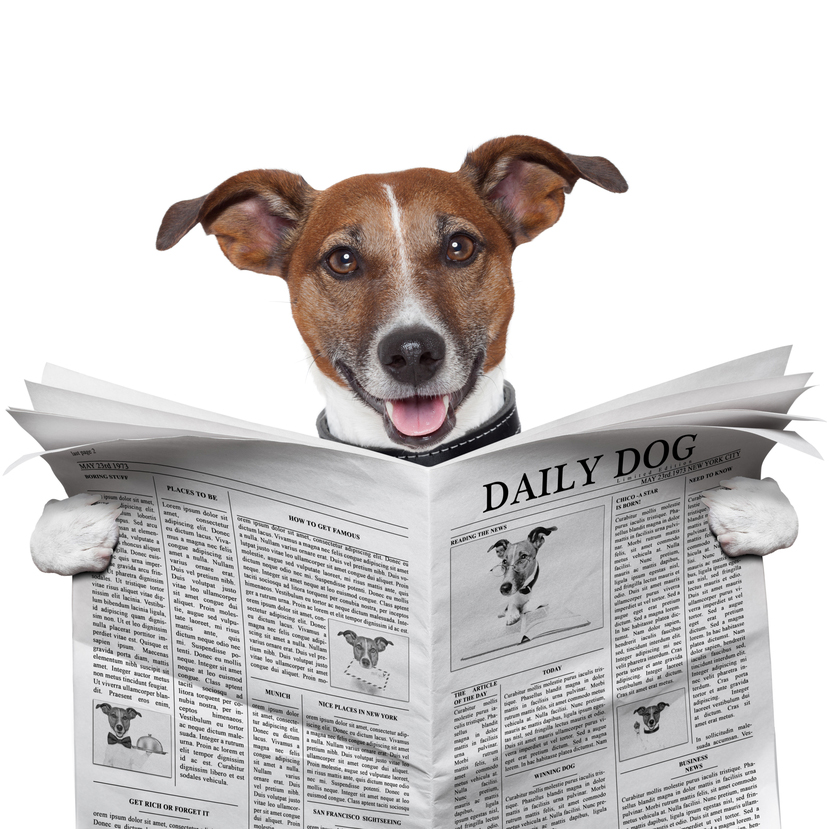 Buddy, first dog to test positive for COVID-19 in the U.S., has died.
Across the ocean, a dognapping crime wave.
WTH! Folks in Tennessee raised $11,000 for 'a service dog for Ava.' Then, the trainer threatened to take the dog back, lawsuit claims.
From the "Dogs are truly amazing" file.
'An absolute miracle.'
Leo the 120-Pound Labrador Carried Down Mountain by Rescuers After Suffering Dehydration on Hike.
Therapy dogs helped a Wauwatosa teen through chemotherapy. Now Make-A-Wish is helping his dog become one.
Former Las Vegas shelter dog's story featured in new book.
Internet rips $2K Bottega Veneta clutch. Read why.
The couple was walking the dog one morning, except…
THAT'S IT FOR DOGS IN THE NEWS.
HERE'S OUR DOG PHOTO(s) OF THE WEEK.
A handout picture released by Wasdale Moutain Rescue on July 26, 2020 shows volunteers carrying Daisy, a 55kg St. Bernard dog down from Scafell pike, one of England's highest peaks near Grasmere in northwest England. Photo: AFP
We close as we always do with our closing video.
Only one this week. 😦
Video is in this article:
Milwaukee woman and her dog beat pandemic blues with costumed walks.
That's it for this week.
Thanks for stopping by.
We kindly ask that you please share with other dog lovers you know.
See ya, BARK, next Saturday morning!