The Barking Lot is a regular weekly feature of This Just In…Written by my lovely wife, Jennifer and me.  It opens with the weekend dog walking forecast followed by the main blog from dog lover, Jennifer. Then it's DOGS IN THE NEWS and our close. Enjoy!
THE WEEKEND DOG-WALKING FORECAST: We grade the weather outlook for taking your pet outdoors.
TODAY: Partly cloudy. Very warm. High of 89. "B"

SUNDAY: Partly cloudy early. A 50% chance of scattered thunderstorms developing after 3:00 pm. High of 91. "B"
Now, here's my lovely wife, Jennifer, with this week's main blog.
These are definitely the dog days of summer! Ninety degrees today and tomorrow? Good time to head to the lake. In this case, Lake Wisconsin.
Lewis is a good swimmer. Obviously Lewis can swim and loves to swim.
But not all dogs are alike.
Truth is not all dogs can swim. They have trouble staying afloat. They get tired. They have respiratory problems.
Let's rank the canine swimmers.
Topping the list…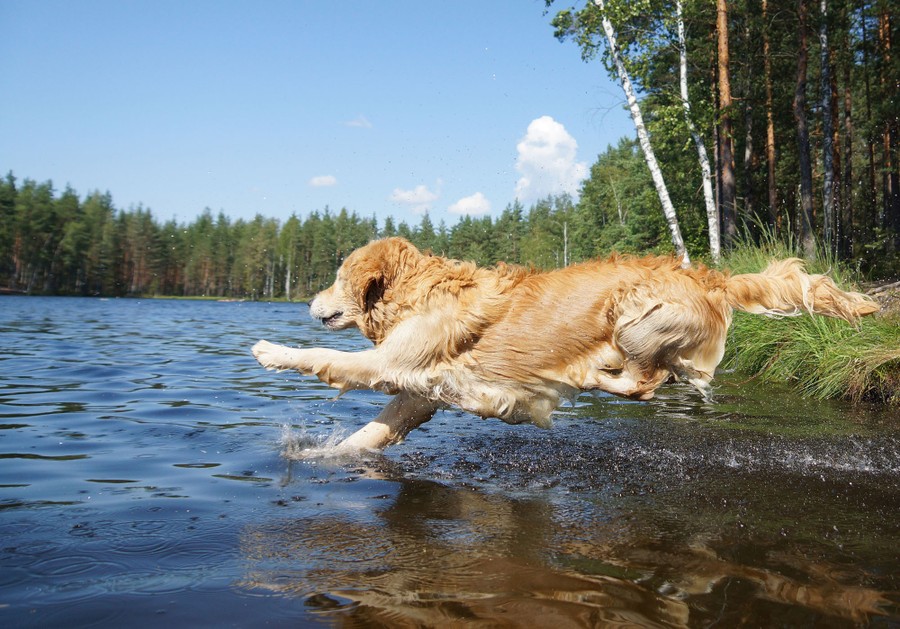 Ah. America's favorite breed. The labrador retriever. Ideal for swimming. A thick waterproof coat. Webbed feet. Also include…
The Portuguese Water Dog.
Not quite at the top are any number of dogs that are a bit apprehensive but can be taught.
And then there are dogs that simply have difficulty staying above the water.
Top-heavy dogs. Again…
Without a flotation device that poor boy will probably sink right to the bottom. Not his fault.
Short legs…
Dachshunds and basset hounds.
Throw in hairless or dogs with fine coats because they get cold easily.
You can instruct your doggo to swim. Just get in the water with him/her.
Is it a good idea to toss your dog into the water for that first swim?  If you do, the dog will get scared and never want to swim again.
Go easy and slow. Practice walking into the shallow water then back out again so that your dog understands that it can get out if it's too much.
Consider one of these…
Any dog that is lightweight or has short legs should wear a life vest or jacket.
You can always coax your dog into the water with something to play with.
Stay away from waves that might frighten.
And keep your dog leashed until he/she is able to swim unassisted.
"Water therapy is beneficial in a variety of different areas," says Dr. Jonathan Block, Veterinarian and Owner at West Delray Veterinary in Delray, Florida. "From a preventative perspective, hydrotherapy is good for fitness, body condition, and a great source of aerobic exercise that is low impact on the bones and joints. It is a great tool to help your dog stay in optimal shape."
Have fun!
—-Jennifer Fischer
Thanks Jennifer!
Time now for DOGS IN THE NEWS, canines that made headlines the past week.
It's hot! You've probably heard these before, but they're worth repeating.
Dogs Can Sniff Out Coronavirus Infections, German Study Shows. Also…
A Kansas dog went missing for days. Turns out, she had journeyed to her previous house in Missouri, over 50 miles away.
Racine Police K-9 dog Titan to retire.
The most important task for a PTSD service dog for veterans is this.
Service dog helps woman get through cancer treatments thanks to 'super suit.'
The best hip and joint supplement for dogs.
Here's Why Your Dog Knows When It's Time For Food and Walks, According to Experts.
Why do puppies cry and whine?
Mackinac Island is a dog-friendly place.
"This is such an immense act of kindness."
More than 100 dogs surprised a Wauwatosa dog-lover who has spina bifida for his seventh birthday.
Send Your Dog to Dodger Stadium as a Cardboard Cutout.
We haven't had a naughty dog story in awhile. Here you go.
THAT'S IT FOR DOGS IN THE NEWS.
HERE'S OUR DOG PHOTO(s) OF THE WEEK.
The sniffer dogs being trained to detect the coronavirus.
2-legged poodle walks on hind legs after remarkable recovery: 'The friendliest, happiest dog'
We close as we always do with our closing video. More than one this week.
First, we head to Utah…
Theo…
Question.
That's it for this week.
Thanks for stopping by.
We kindly ask that you please share with other dog lovers you know.
See ya, BARK, next Saturday morning!
How about that Titan in Racine!