This guy thinks you are.
IF you live in his state.
And IF you're roaming around mask-less.
That's Colorado Governor Jared Polis. He's a Democrat.  Appearing angry at a recent news conference Polis made an emphatic demand.
In a blog I posted on July 1, 2020, I wrote:
The pro-mask crowd, the faction that dictates you must wear a mask, always, always, always, wherever, wherever, wherever you go, is rude, crude, impolite, ill-mannered, disrespectful, arrogant, pompous, condescending, offensive, insulting, and derogatory.
Back to the Colorado Governor.
On his Facebook page a couple of days ago Polis crossed the line when he wrote:
The emerging scientific data is clear: wearing a mask doesn't only protect others, it also significantly reduces your own risk of getting Coronavirus. So if you're a selfish bastard and wearing a mask to protect others isn't enough of a reason to do so, then maybe protecting yourself is?
While Polis was praised he was also resoundingly ripped.
I'm in agreement with the mask however, I'm not in agreement with name calling.
You need to clean up your language. Not very professional nor becoming of a governor who is looking for respect.
Completely unprofessional and not backed up with factual data.
This from a guy who's net worth is an estimated $300 million and still takes a paycheck while putting thousands out of a job or business.
I think there should always be a level of professionalism with our jobs. Especially working for the people. This is tactless and shows the respect level you carry. Disgraceful.
I don't think calling people names as governor is the best approach to get people to do what you want them to. If you raise your kid like that you're headed for a problem.
What's with the language? People get fired for cursing at their jobs so why are you cursing at people?
Very inappropriate sir, learn some manners! Stop spreading hate and discrimination. Your anger represents your character. Learn about love and peace…
Nice talk for someone elected as governor of the state. And using profanity and denigrating because you are trying to manipulate people with junk science. Are your parents proud of you for calling the citizens of the state names? Just because you can. Thanks for showing the people of the state of Colorado what kind of "leader" you are
If you want to wear a mask, then do it. If you don't, then don't. Quit telling other people how to live. If you're that scared, don't go out at all.
How is this an acceptable way for you to communicate? Isn't there a way to get your point across professionally?
Need to be Removed from office!!
Maybe you shoud quit your nagging about wearing masks and do something about the crime rate that has skyrocketed.
Once again, real classy. When you were hiding during the protests and riots you missed a lot of these people. Why weren't you calling them out?
I think you have forgotten that you work for us. That is no way to talk to your employers. Don't get too comfortable in that job. You won't' have it very long the way you are ruining our state's economy.
And what about our governor?
When he was state Superintendent:
(I am) "goddam sick and tired of Scott Walker gutting our public schools, insulting our hard-working educators and destroying higher education in Wisconsin."
And as governor, when the state Senate failed to confirm one of his Cabinet picks:
"To think that they're (Evers' Cabinet nominees) going to have to keep their mouth shut for the next, who knows —four years — in order to get approved by this Senate, this is absolute bullshit."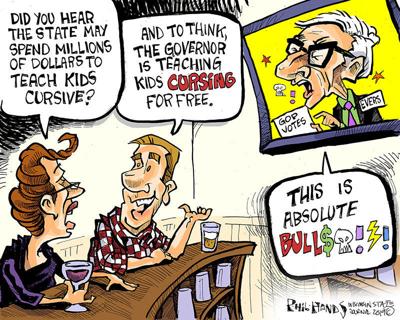 Classy indeed.