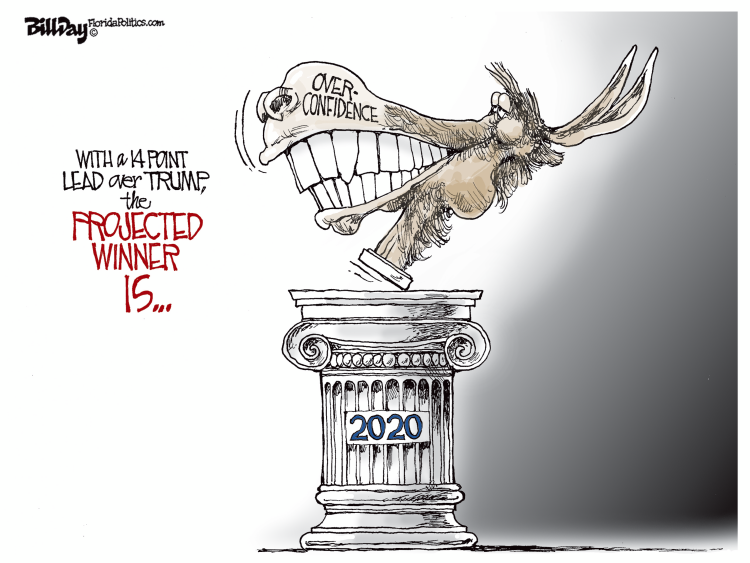 Liberal cartoonist Bill Day
New poll numbers are out almost daily. To the mainstream media issues are far less than important than the current horse race. And the stats, if you believe them, don't look all that promising for President Trump.
Tucker Carlson of FOX discussed the matter on his show Thursday night.
"Not many people are saying it out loud on the right, but the fact is that President Trump could well lose this election," the host said on his program.
"In fact, unless fundamental facts change soon, it could be tough for him to be reelected. Now, we are fully aware that virtually nobody watching the show tonight wants to hear that, but it's true, and key people around the president know that it's true. They've seen the numbers, and they are concerned. At some point in the future, historians will marvel at the fact that the president lost ground during a pandemic and then during mass riots."
According to a NY Times/Siena College poll released Thursday Trump trails Joe Biden in 6 swing states, including Wisconsin.
The poll found Biden ahead of Trump 49%-38% in Wisconsin, 47%-36% in Michigan,  50%-40% in Pennsylvania, 47%-41% in Florida, 48%-41% in Arizona and 49%-40% in North Carolina. And the press is giddy.
Is Trump doomed? Carlson says he has to get tough.
"It would change the course of this country's future if the Justice Department rounded up the leaders of antifa tomorrow, along with every single person caught on camera torching a building, destroying a monument, defacing a church, and put them all in shackles and then frog-march them in front of cameras like MS-13 and call them what they actually are, domestic terrorists. Not protesters, not civil rights activists, not CNN contributors, but domestic terrorists. And that would be their new government-approved title. Once they are charged, it's official, in fact. They are literally, as a factual matter, accused terrorists, and that would change minds right away."
About those ugly poll numbers. Larry Sabato, director of the University of Virginia's Center for Politics is one of the best political analysts around. He told USA TODAY that while the president is in trouble he's in trouble now, that it's not November. The numbers aren't "even vaguely predictive…we have a whole season and a half to go."
Certainly history can repeat itself. Hard work by the president and his followers is imperative.  But Biden is clearly beatable. The following is critical and could keep Trump supporters off the ledge.
In November 2016, the NY Times found Clinton leading Trump by 4.1 percentage points in Pennsylvania (where it gave Clinton an 89% chance of winning), 4.1 points in Wisconsin (Clinton 93% chance of winning), 2.4 points in Michigan (Clinton 93% chance), 2.3 points in North Carolina (Clinton 64% chance) and 2.2 points in Florida (Clinton 67% chance).
You know what happened.