THERE ARE THOUSANDS AND THOUSANDS OF FOOD BLOGS, BUT ONLY ONE CULINARY NO-NO!
Once again this week we are suspending our usual format to provide important related information about the coronavirus.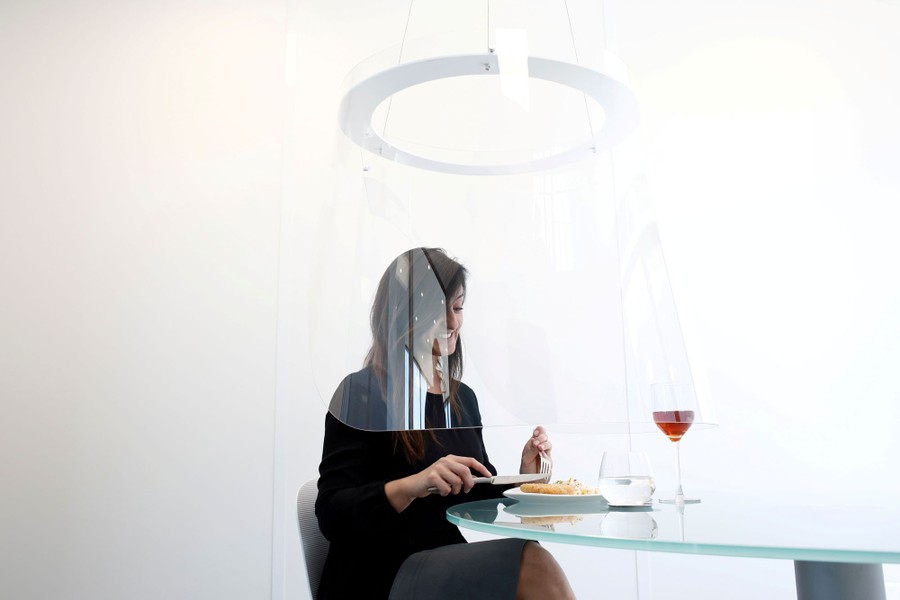 Cormeilles-en-Parisis, near Paris

Rome
The restaurant industry is still alive…barely.
This past week the Nation's Restaurant News posted an article with this headline:
How the restaurant consumer will change in a post COVID-19 world
The headline very well could have read:
The restaurant model we've known for a long time is dead, and it's not coming back
The article contains a fair amount of gloom and doom, opening with:
It's a bustling Saturday night at your local neighborhood restaurant. The dining room is only half full, but you know it's a busy night because in-house delivery drivers — formerly bussers and dishwashers — are whisking dozens of orders in and out of the store, delivering family meals and wine flights to regulars. While barstools are mostly empty, patrons wait for their tables dutifully six feet apart, most wearing face masks. Someone coughs and customers shift nervously — several even get up and leave.

It's a restaurant scene experts say is likely to become familiar over the next six months to a year…
That's the stark reality about restaurants of the future. The Jetsons it ain't.
For as much as people are clamoring that they're ready to run screaming into the streets at the thought of reopening, consider this Catch-22:

But restaurants can't afford to wait.
Also from the reality file: Chef Michael Feker who owns Zesti in Hartland and Americas Continental Eatery in Delafield told the Milwaukee Business Journal "To-go was secondary to the dine-in," Feker said of pre-pandemic business. "Now, it's the other way around."
How long will/could that last?
The clampdown by government has turned municipalities into police states. Restaurants didn't have to worry because they were closed, except for takeout. Until now.  Police in Ohio and God knows where else consider restaurants potential criminals.
Finally, Jennifer Bartolotta of Bartolotta & Associates says radical changes are needed in the restaurant business. Unlike so many analysts Bartolotta sees light at the end of the tunnel. She wrote a column in the Milwaukee Business Journal directly addressing her colleagues:
"I would like to point out that this is your moment as an industry. You have been gifted the golden goose of our lifetime. There's a short, medium and long game here. As you ponder viability and sustainability, it has to be with a new model where you have coalesced to offer your employees fair compensation, 40-hour work weeks, meaningful benefits, and solutions that offer the entrepreneurial owners better than 'less than 10% net profit'."
The column requires subscription. But here are some of her suggestions as she challenges her industry partners:
Please coalesce and build your new model.  Consider:
• Joe (Bartolotta, her late husband) was famous for saying his most expensive cost was an empty seat – and that is more true today than it ever has been. See each seat that way by maximizing its potential.
• Train, train and train. Make sure that "the experience" is the best you can offer. It's true that the best server can make up for the worst food, but the best food can't make up for even an average server.
• Five-day-a-week operations, requiring only one crew only opening for one service a day, instead of two or three. 
• Smaller menus, find your niche and settle in there.
• Look to the theater industry and copy "set" performances/showings. Consider having "performances" at 5 p.m. (and like grocery stores, the earliest seating for vulnerable populations), 7 p.m. and 9 p.m.
• Go back to "the book" and manage your own reservations.
• Only take paid reservations, or at least a per-person deposit of your check average.
• Offering in-unit diners pre-ordered and pre-paid food "to go" for the services you do and don't offer (breakfast and lunch as an example) – you're now in competition with delivery services offering meals and meal kits, and we want to support local.
• Most important — raise your prices. We'll come because Covid-19 gave us a glimpse into your world. We're armed with new perspective on what it takes to create the experiences and sustenance you offer. While we won't likely come as often, when we do, we'll have a far greater appreciation for you and the much-needed respite you offer.
CULINARY NO-NO BONUSES
Restaurants rebel against delivery apps as cities crack down on fees
Colorado shuts restaurant that told customers: If you're scared to break social-distancing rules, don't enter