The Barking Lot is a regular weekly feature of This Just In…Written by my lovely wife, Jennifer and me.  It opens with the weekend dog walking forecast followed by the main blog from dog lover, Jennifer. Then it's DOGS IN THE NEWS and our close. Enjoy!
THE WEEKEND DOG-WALKING FORECAST: We grade the weather outlook for taking your pet outdoors.
TODAY:   Wake up to freezing temps. Mostly sunny. Eventually we climb to a high of 57.  "C"

SUNDAY:  Steady light rain in the morning. Showers continuing in the afternoon. Snow may mix in. 80% chance of rain. High of 48.  "F"
Now, here's my lovely wife, Jennifer, with this week's main blog.
I've been a mom for eleven years. My favorite saying is "The days are long, but the years are short." Anyone who has a child can 110% relate. There's nothing like it in the world and I wouldn't trade it for anything. But some days…
There's an amazing solidarity we moms have.  Pride only moms can know, and frustrations as well.  In many forms, we support one another… taking a kid off another's hands for respite, adding another body to a car pool, or offering mom-to-mom words of encouragement.  And when you think about it, those moments could just as easily apply to canine caregivers.  So once again this year, I would like to commend all the "moms" who clean up chewed household items, buy food that costs as much as (if not more) than their humans eat, spend more time and money at a groomer than they do at the spa, buy bite-proof babies & beds and worry just as much about their four-legged buddies as they do anyone else at their address.
Today we celebrate National Dog Mom's Day.  There's no excuse as "I had no idea!" since this article came out a couple weeks ago to give you fair warning that you might have to buy another card – one from Fido.  If you're just now realizing you also should pick up a gift, we have you covered with plenty of ideas even if yours will be a little late.  You can blame it on delayed shipping, limited stock, you name it.  (Clearly that old dog-eating-the-homework one won't cut it though.)
Once again, Happy Mother's Day to all the moms out there.  Enjoy your special time!
—-Jennifer Fischer
Thanks Jennifer!
Time now for DOGS IN THE NEWS, canines that made headlines the past week.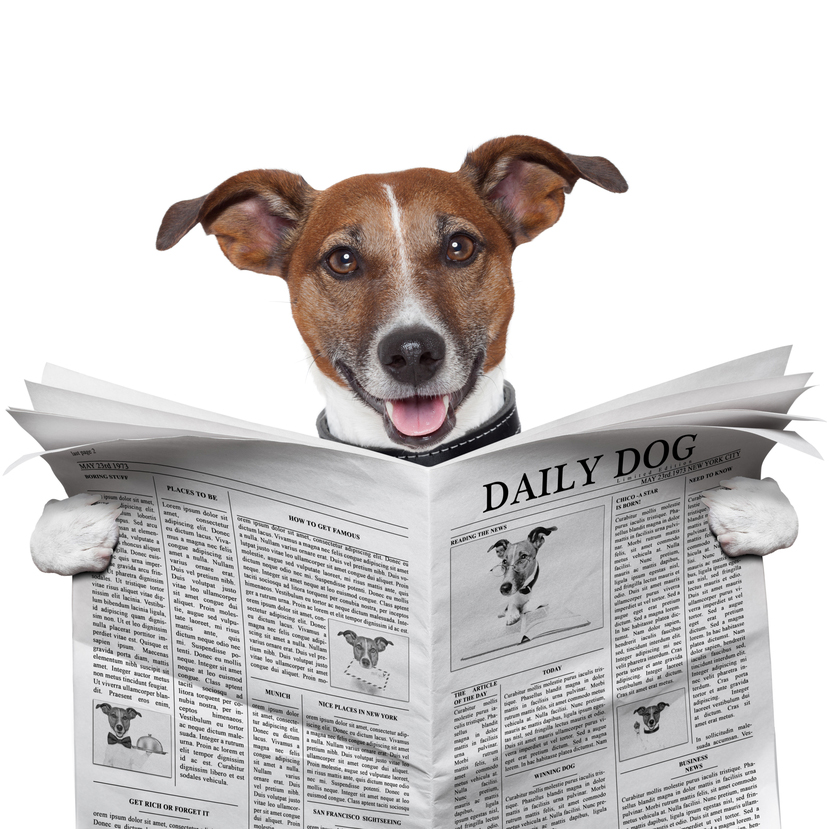 Animal welfare advocates: 'Dog shortage' in U.S. shows disruption in supply chain.
In Michigan, prison officers with allergies can sue over inmate leader dog training program.
Millennial Men Pamper Their Pooches More than Female Dog Owners, New Survey Finds.
Virginia construction worker helps save life of dog whose owner was stuck in a traffic jam.
A Woman Got Locked Out Of Her Dog's Facebook And Facebook Is Asking For Her Dog's Driver's License To Access It.
Kids want to know: Why is our dog so cute?
Why Is My Dog So Rude When I Do Yoga?
You can earn $1,000 binge watching 10 dog movies.
THAT'S IT FOR DOGS IN THE NEWS.
HERE'S OUR DOG PHOTO(s) OF THE WEEK.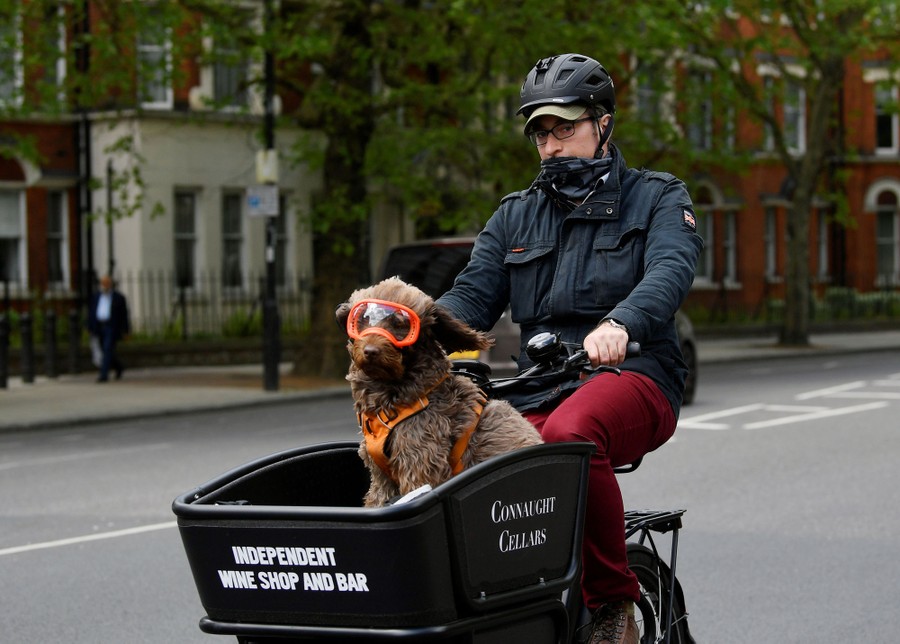 A man and a dog are seen on a bicycle in central London, England, May 4, 2020. Photo: Toby Melville / Reuters
We close as we always do with our closing video.
Get to work!
That's it for this week.
Thanks for stopping by.
We kindly ask that you please share with other dog lovers you know.
See ya, BARK, next Saturday morning!