The Barking Lot is a regular weekly feature of This Just In…Written by my lovely wife, Jennifer and me. It opens with the weekend dog walking forecast followed by the main blog from dog lover, Jennifer. Then it's DOGS IN THE NEWS and our close. Enjoy!
THE WEEKEND DOG-WALKING FORECAST: We grade the weather outlook for taking your pet outdoors.
TODAY: Mostly sunny. High of 51. "C-"

SUNDAY: Sunny. High of 50. "C+"
Now, here's my lovely wife, Jennifer, with this week's main blog.
From the Centers for Disease Control (CDC):
The virus that causes COVID-19 spreads mostly from person to person through respiratory droplets from coughing and sneezing. At this time, there is no evidence that companion animals, including pets, can spread COVID-19 to people or that they might be a source of infection in the United States.
More on that in our news section because despite the gazillion of reports on this matter far too many people just don't get it.
Now, let's move on to what dogs can get. Allergies.
I hate winter – every single thing about it. I hate cold, snow, ice, having to wear five layers to be comfortable, high electric bills, salt stains on my dark clothes, and when it's dark by 4:30 in the "afternoon." There is but one small redeeming characteristic of winter: I have no allergies to deal with.
Kevin and Kyla are fortunate that they don't have to battle sneezing, itchy & watery eyes, and congestion. With any luck, our future dog will be as lucky as they are. "Wait… what? You're saying DOGS can have allergies too?" Oh yes they can. And they can be just as annoying for them as they are for their human counterparts.
If you have noticed the family pooch scratching more, or sneezing uncontrollably then chances are he/she is suffering from seasonal allergies. Fortunately there are ways to cope just like there are for humans. Antihistamines are a possible source of relief with the guidance of your veterinarian.
It might seem hard to believe that a warm spring & summer truly are just around the corner. But before you know it, those little tree buds will show and bits of daffodils will peek their heads out of the ground. Quickly following will be the first symptoms of the Sneezin' Season.
This year if you are itching & scratching, rubbing your eyes, sneezing and dealing with a raspy voice and scratchy throat; please don't dismiss your dog may be suffering the same ways you are. Get Fido some help so that your entire family can enjoy the great outdoor, if and when them back.
—-Jennifer Fischer
Thanks Jennifer!
Time now for DOGS IN THE NEWS, canines that made headlines the past week.
Unfounded Fears That Dogs Can Spread COVID-19 Can Cause Harm. We missed this a few weeks ago, but it's still very important today as you continue on with our blog.
Animal Shelters Urge Humans Confined To Home By Coronavirus Outbreak To Adopt.
And those adoptions are way up.
Animal rescues are seeing a spike in adoptions and fosters, but what will happen when people eventually go back to work?
NYC veterinarians forced to choose people over pets in war against coronavirus.
With Maintaining Care In Mind, WI Veterinarians Adjust Practices During Coronavirus Pandemic.
A Menomonee Falls teacher is using her dogs to provide virtual comfort sessions during the coronavirus pandemic.
Scientists are studying whether dogs can help sniff out coronavirus.
A Dog's Nose Work Is Never Done.
OK everybody. Pay VERY CLOSE ATTENTION to this article: Uber to Launch New Fleet of Cars Piloted by Specially-Trained Canine Drivers.
THAT'S IT FOR DOGS IN THE NEWS.
HERE'S OUR DOG PHOTO(s) OF THE WEEK.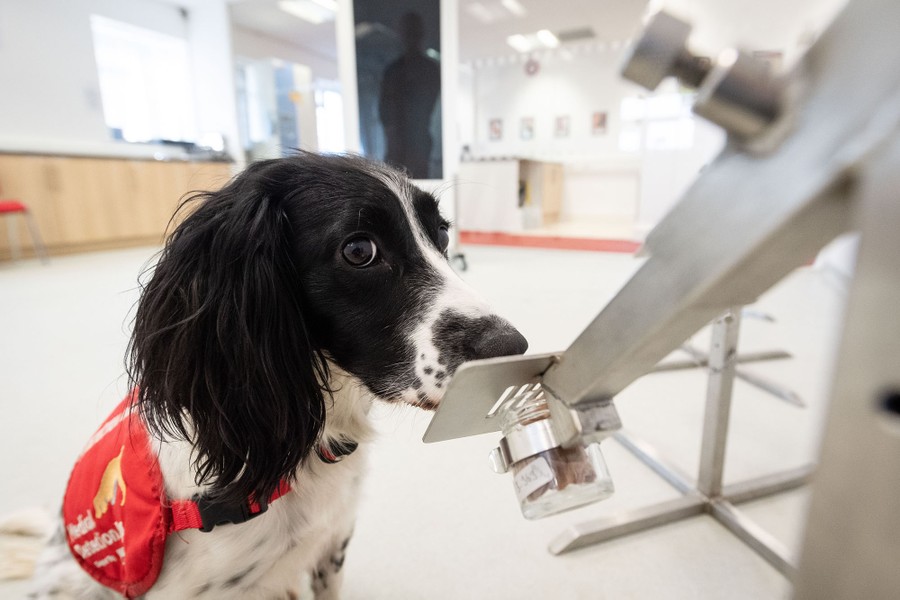 Here's another dog delivery video:
Next, a "bored" BBC sportscaster found a way to entertain hundreds of thousands on Twitter — with a competition between his two dogs. Andrew Cotter posted the video of Mabel and Olive.
AND FINALLY:
Meet Ruby, The Dog Who Loves Petting Other Dogs. Video Will Make Your Day.
That's it for this week.
Thanks for stopping by.
We kindly ask that you please share with other dog lovers you know.
See ya, BARK, next Saturday morning!