The Barking Lot is a regular weekly feature of This Just In…Written by my lovely wife, Jennifer and me.  It opens with the weekend dog walking forecast followed by the main blog from dog lover, Jennifer. Then it's DOGS IN THE NEWS and our close. Enjoy!
THE WEEKEND DOG-WALKING FORECAST: We grade the weather outlook for taking your pet outdoors.
TODAY:   Morning clouds. Afternoon sun. Chilly. High of 33.  "D"

SUNDAY:  Mostly cloudy. High of 39.  "D"
Now, here's my lovely wife, Jennifer, with this week's main blog.
Kevin has made the same arguments against us getting a dog forever.  They don't change…
1) We don't have enough time at home to be fair to the dog
2) They are an incredible financial expense
3) They have such a short lifespan relative to humans that the end is too much to bear
Well, we haven't won the lottery and science has yet to develop any means of lengthening canine lives.  But the time thing?  Hmmm…
During this crazy pandemic I'm considering our family extremely fortunate for many reasons.  We remain actively employed, we have no underlying health issues that put us in a high-risk category, and no major life events have been postponed.  The one actual positive for our family is that I am able to be home with Kyla during the school closures.
So here we are, enjoying extra time at home.  She's adjusting to the "virtual learning" thing, missing her school friends, and video chatting when she can.  I'm getting caught up on house work and worried that I'll start making all the desserts I've pinned over the years and gain 50 pounds.  What else can we do, really, to pass this unforeseen time off our usual schedule?
How about adopting a dog, you say.  Hmmm… you might be on to something!  That's not a bad idea at all!  Nah… in a few weeks we'll be back to our normal routine and then that whole "no time" thing rears its ugly head.  Hmph, so much for that plan.
It might be something for some people to consider, even if I can't convince Kevin otherwise.   I would perhaps recommend fostering first, especially since there's a light at the end of this tunnel and we'll all be back to our schedules with less time for Fido.  Given that a pet is truly a lifetime commitment it's a decision not to be taken lightly despite these unusual times.
But if it works for your family and this is the nudge you needed to add a member, then I'm sure there's a rescue just waiting for you!
—-Jennifer Fischer
Thanks Jennifer!
Time now for DOGS IN THE NEWS, canines that made headlines the past week.
First dog to test positive for coronavirus dies.
Second dog tests positive for coronavirus as owners warned not to abandon pets.
Chinese officials offer residents cash rewards for slaughtering stray dogs amid coronavirus outbreak.
Helping Your Dog survive during a quarantine.
Dogs working from home during coronavirus crisis? There's an Instagram account for that.
How to pet dogs during the coronavirus pandemic.
Teen rushes into action when dog starts to drown during TikTok video: 'I can't stop shaking.'
With dog obesity becoming more prevalent is a Whole Food Diet the answer?
Have dog actors had their last on-screen bark?
COLUMN:  I Got My Dog from a Breeder—Here's Why It Was Right for Me.
THAT'S IT FOR DOGS IN THE NEWS.
HERE'S OUR DOG PHOTO(s) OF THE WEEK.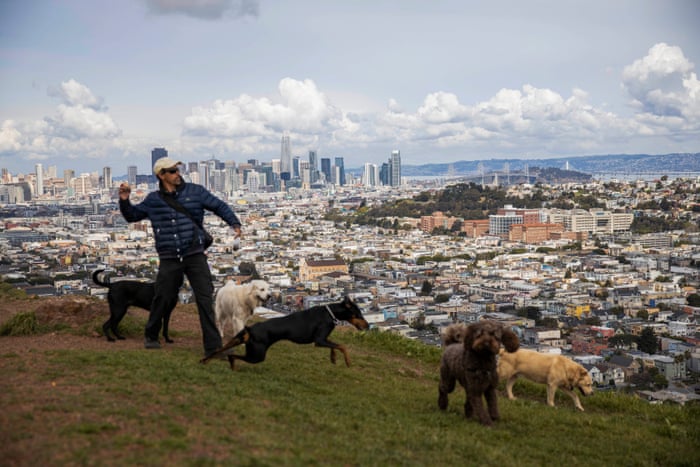 A man exercises dogs in Bernal Heights park in San Francisco, one of the few reasons people are allowed out during a shelter-in-place legal order directing residents to stay at home except for essential reasons. Photograph: Peter Dasilva/EPA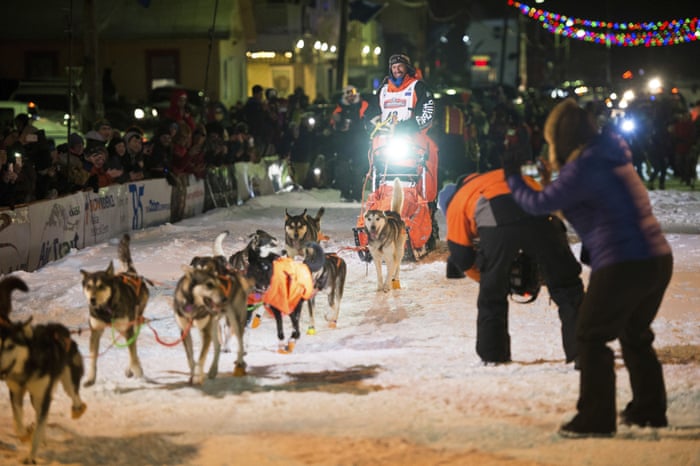 Thomas Waerner of Norway won the nearly 1,000-mile sled dog race in Alaska, of the few sporting events not canceled amid the coronavirus outbreak. Photo: AP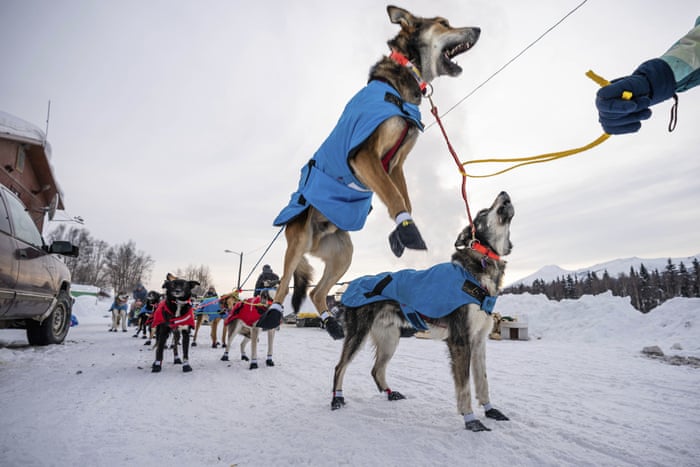 Above, Oogruk, a dog in Kristy Berington's Iditarod team, jumps before departure from Takotna. Photograph: Loren Holmes/AP
We close as we always do with our closing video.
Therapy Dog Visits the Windows of Senior Center to Cheer Up Residents Amid Coronavirus. Watch the video in this article.
That's it for this week.
Thanks for stopping by.
We kindly ask that you please share with other dog lovers you know.
See ya, BARK, next Saturday morning!