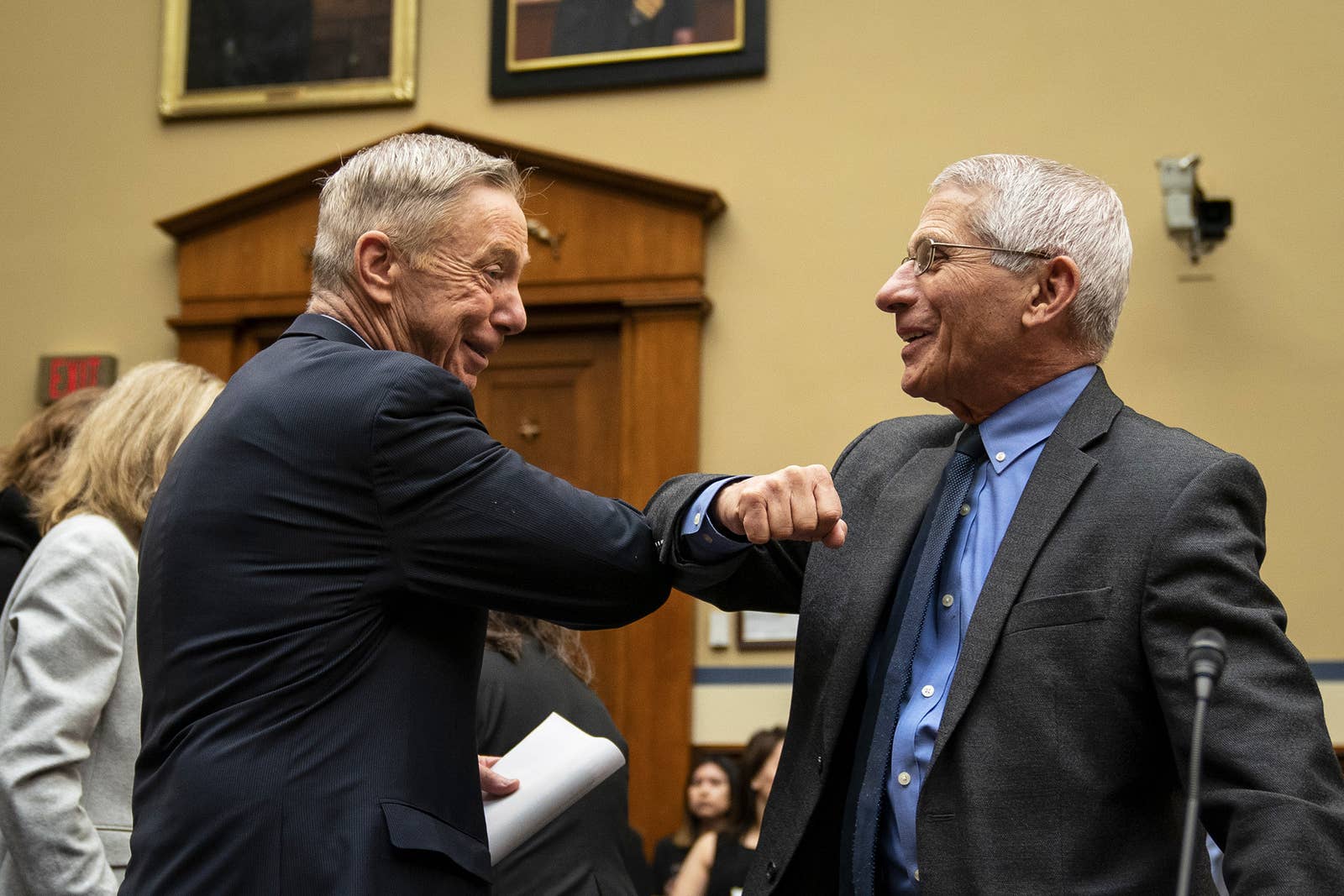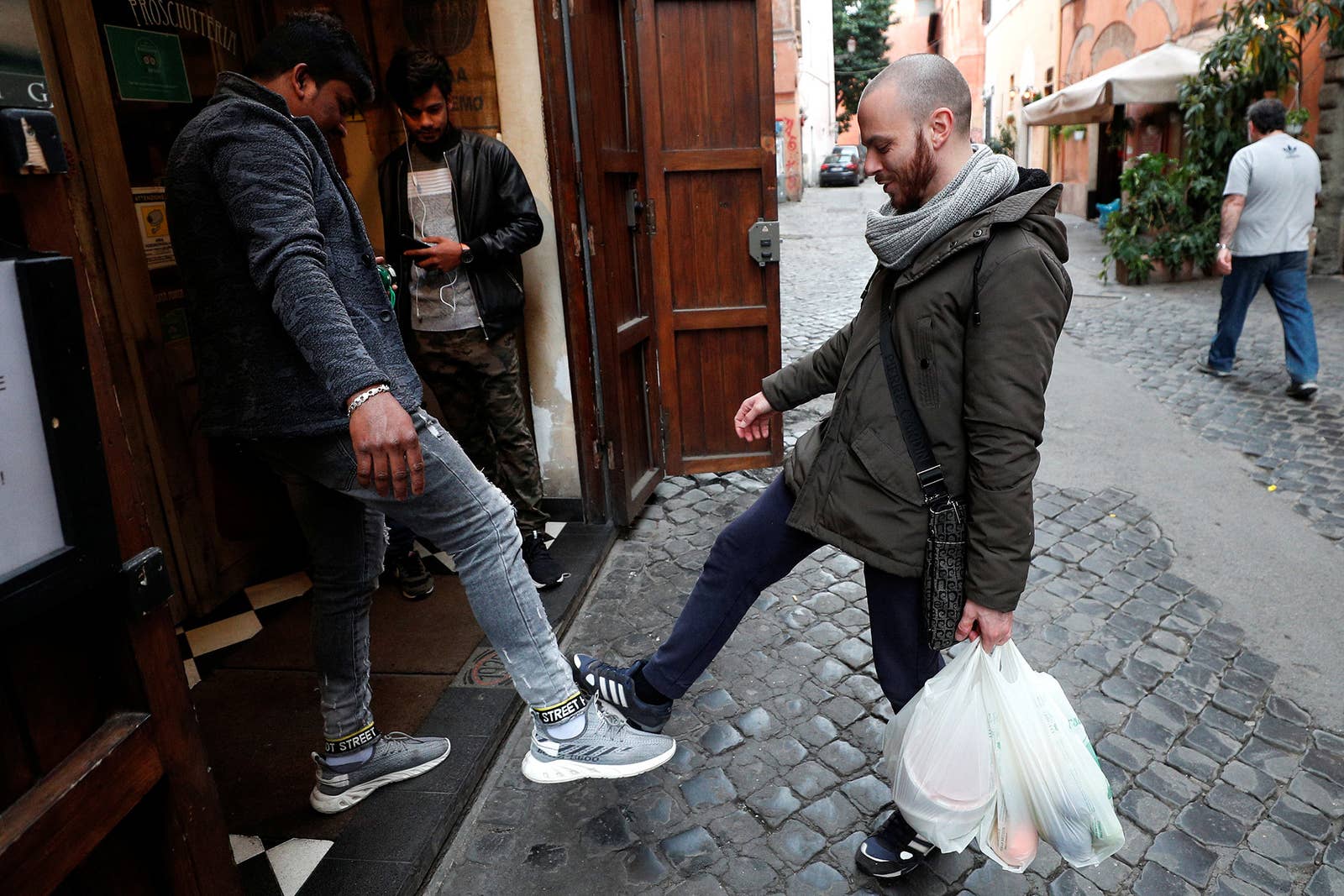 A pictorial week-in-review posted every Sunday.
1) Judie Shape (center) who has tested positive for the coronavirus, blows a kiss to her son-in-law, Michael Spencer (left). Shape's daughter, Lori Spencer (right) sits as they talk on the phone from opposite sides of a window at the Life Care Center in Kirkland, Washington, near Seattle, March 11. Photo: AP
2) Harvard sophomore Jordan Di Verniero, 19, sits with her belongings in front of Eliot House before returning home to Florida for the rest of the semester, on March 12, 2020, in Cambridge, Massachusetts. Students have been asked to move out of their dorms by March 15 due to the coronavirus risk. All classes will be moved online for the remainder of the spring semester. Photo: Maddie Meyer / Getty
3) Inmates stage a protest against new rules to mitigate the coronavirus emergency — including the suspension of visits from relatives — on the roof of the San Vittore prison in Milan, March 9. Photo: AP
4) An Iranian man uses a provided toothpick to press an elevator button in an office building in Tehran on March 4, 2020, as a preventative measure against viral transmission. Photo: Atta Kenare / AFP / Getty
5) Cleaning crews from Servpro have their masks wiped down as they emerge from the Life Care Center of Kirkland, the long-term-care facility linked to several confirmed coronavirus cases in the state, in Kirkland, Washington, on March 11, 2020. Photo: Karen Ducey / Reuters
6) A nurse packs a nose swab after administering on to a patient in his car at a drive-in testing site for coronavirus (COVID-19) at the Regional Hospital Center in Liege, Belgium. Photo: Reuters
7) Two women rush to catch a train after visiting Tokyo Disneyland in Urayasu, near Tokyo, Feb. 28, 2020. (AP Photo/Jae C. Hong)
8) A girl wears a mask inside a bus in Hong Kong, Jan. 25, 2020. (AP Photo/Achmad Ibrahim)
9) A commuter wears a face mask in the New York City transit system, Monday, March 9, 2020, in New York. (AP Photo/John Minchillo)
10) A woman wearing face mask walks past empty shelf of tissue papers at a supermarket in Hong Kong, Feb. 6, 2020.(AP Photo/Vincent Yu)
11) Pope Francis leads Mass via a video livestream in a chapel full of empty seats as part of measures to combat the spread of coronavirus, at the St. Martha House in the Vatican. Photo:  Vatican Media/ via REUTERS
12) Fans leave after an announcement that the Oklahoma City Thunder vs. Utah Jazz game is canceled just before the tip off at Chesapeake Energy Arena. Photo: Alonzo Adams-USA TODAY Sports
13) Signage regarding the coronavirus is seen on the stage door to the show Hamilton at the Richard Rodgers theater as Broadway shows announced they will cancel performances due to the coronavirus outbreak. Photo: REUTERS/Andrew Kelly
14) Fans stand outside of Goodyear Ballpark after the spring training game between the San Diego Padres and Cleveland Indians was canceled. Photo: Joe Camporeale-USA TODAY Sports
15) A canal and adjacent streets in Venice are completely empty, March 9. Photo: Getty Images
16) The seats are empty in Spanish Parliament's lower house in Madrid because the chamber canceled its activities for a week after a prominent lawmaker from the upstart far-right Vox party tested positive for the COVID-19 disease. Photo: AP
17) Workers place a mask on a figure made for the Fallas festival in Valencia, Spain, on March 11, 2020. The festival, which was scheduled to take place on March 13, has been canceled due to the coronavirus outbreak. Photo: Alberto Saiz / AP
18) Residents look out from a window at a Holika Dahan effigy of the coronavirus demon, "Coronasur," ahead of the Hindu festival of Holi in Mumbai on March 9, 2020. The coronavirus effigy will be set ablaze as part of the festival. Photo: Indranil Mukherjee / AFP / Getty
19) Democratic U.S. presidential candidate Joe Biden argues with a worker about his gun control policies during a Biden campaign stop at the Fiat Chrysler Automobiles Mack Assembly plant in Detroit, Michigan. Photo: REUTERS/Brendan McDermid
20)  Harvey Weinstein speaks as witnesses watch during the sentencing following his conviction on sexual assault and rape charges in Manhattan, New York City, in this courtroom sketch. "I feel remorse for all of the men who are going through this fight," Weinstein, 67, told the court before he was sentenced, sounding unrepentant. Photo: REUTERS/Jane Rosenberg
21) A woman dressed as a priestess lights the Olympic flame during the a ceremony in ancient Olympia, Greece, ahead of the Tokyo 2020 Olympic Games, on March 12, 2020. Photo: Aris Messinis / AFP / Getty
23) Ultra-Orthodox Jewish children smoke during celebrations marking the Jewish holiday of Purim in Jerusalem's Mea Shearim neighborhood, Israel. Photo: Reuters
24) A woman kisses an Alaskan Malamute named Arctictreks Black Sheep during grooming on day three of the Crufts dog show at the NEC arena on March 7, 2020, in Birmingham, England. Photo: Leon Neal / Getty
25) Maisie the wirehaired dachshund — winner of Best in Show 2020 at the Birmingham National Dog Show — celebrates with her owner, Kim McCalmont, in Birmingham, England, March 8. Photo: Getty Images
26) A man stands in front of the Skógafoss waterfall in Skógar, Iceland, on March 8, 2020. Photo: Hannah Mckay / Reuters
27) A man jumps for a photo at the opening of the Edge, the Western Hemisphere's highest outdoor sky deck, in New York City on March 11, 2020. Photo: Angela Weiss / AFP / Getty
28) The Mammal Society has announced the winners of the Mammal Photographer of the Year competition, awarding the top prize to an amateur photographer from East London, Roger Cox, who captured a gutsy local fox staring him down through a car's windscreen, looking for food.