The Barking Lot is a regular weekly feature of This Just In…Written by my lovely wife, Jennifer and me.  It opens with the weekend dog walking forecast followed by the main blog from dog lover, Jennifer. Then it's DOGS IN THE NEWS and our close. Enjoy!
THE WEEKEND DOG-WALKING FORECAST: We grade the weather outlook for taking your pet outdoors.
TODAY:  Cloudy. High of 35.  "D"

SUNDAY:  Partly cloudy. High of 37.  "D"
The string of nice weekends is over.

Now, here's my lovely wife, Jennifer, with this week's main blog.
The other morning as I was about to drive Kyla to school one of our favorite neighbor dogs was coming up the street. I stopped the car on the driveway and Kyla and I got out to pet an overjoyed Leila. She is one of the happiest dogs you'll ever meet. Happy with a capital "H."
Very much like this pooch who looks quite content.
Right?
I can't imagine the always exuberant Leila ever being sad. And that would be wrong. Hate to say it but if you own a dog the odds are it suffers from anxiety. This stark reality is important because a new study asserted that behavior problems and anxieties in dogs decrease their quality of life and may lead to relinquishment or euthanasia.
A group of eight (8) researchers from the University of Helsinki in Finland conducted an exhaustive study on the anxiety traits of numerous dog breeds. A comprehensive online questionnaire on Facebook was designed to collect extensive information. The researchers received questionnaire responses of 13,715 dogs in 264 breeds. To ensure reliable results they calculated a minimum sample size of 200 individuals per breed from 14 breeds and mixed breed dogs ((Bernese Mountain Dog, Border Collie, Finnish Lapponian Dog, German Shepherd Dog, Labrador Retriever, Lagotto Romagnolo, Lapponian Herder, Miniature Schnauzer, Rough Collie, Shetland Sheepdog, Smooth Collie, Soft-Coated Wheaten Terrier, Spanish Water Dog and Staffordshire Bull Terrier).  In total, 51.5% of the dogs were female and the age of the dogs varied between 10 weeks and 17 years 10 months.
Results
72.5% of the dogs had some kind of highly problematic behavior.
Noise sensitivity was the most common anxiety trait with 32% of dogs being highly fearful of at least one noise.
Fear was the second most common trait with a prevalence of 29%.
Here's the complete breakdown.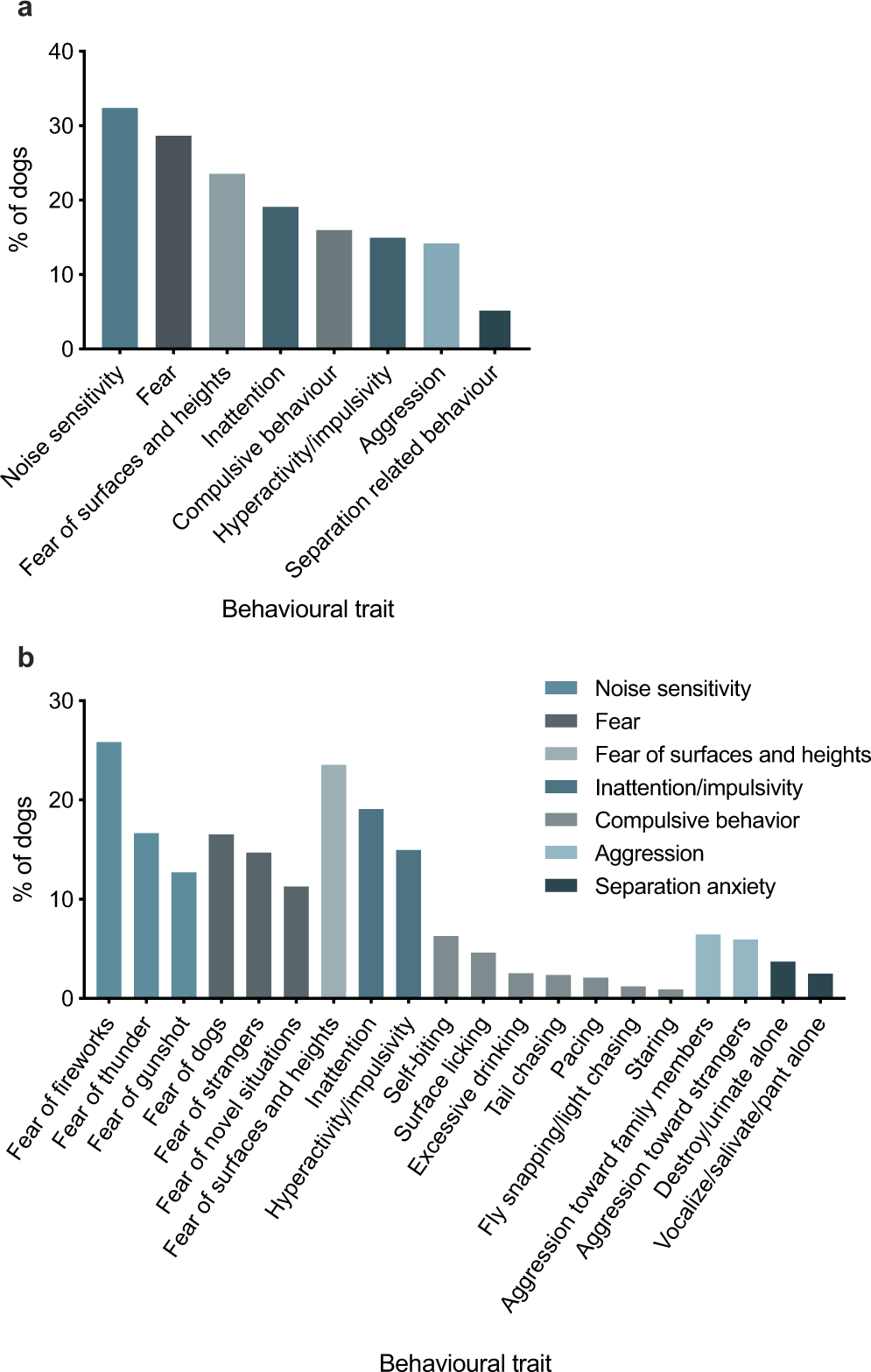 The researchers offer no recommendations on how to alleviate anxiety other than, "Breeding policies may help to improve dog welfare, as could changes in the living environment."
Here's more on the study.
—-Jennifer Fischer
Thanks Jennifer!
Time now for DOGS IN THE NEWS, canines that made headlines the past week.
Quarantine the cat? Disinfect the dog? The latest advice about the coronavirus and your pets.
'Thanks to Conan': Trump honors dog who cornered Baghdadi on National K-9 Veterans Day.
As we've said so many times, sometimes the news isn't good. Someone has been putting poison out in northern Wisconsin, killing hunting dogs, wolves, coyotes in just minutes.
Are dog parks racist? This writer thinks so.
Feeding your dog from the table: What you can and can't do, according to veterinarian.
Marnie The Dog, Whose Lopsided Head And Dangling Tongue Charmed The World, Has Died At 18.
THAT'S IT FOR DOGS IN THE NEWS.
HERE'S OUR DOG PHOTO(s) OF THE WEEK.
This one-eared 'unicorn' dog is stealing our hearts.
Maybe you need to look at some photos of Iditarod dogs taking naps in Takotna?
The Downtown Milwaukee St. Patrick's Day Parade was scheduled for today (Saturday), but as you probably heard has been canceled. 😦  Since you won't see them today on the downtown streets here are some dog photos from past parades.
We close as we always do with our closing video, and YIPPEE we have more than one.
ALSO: No One Takes a Workout to the Next Level Like This Very Motivational Therapy Dog. Watch the video in this article.
AND…
ONE MORE…Undeniable evidence.
That's it for this week.
Thanks for stopping by.
We kindly ask that you please share with other dog lovers you know.
See ya, BARK, next Saturday morning!