The Barking Lot is a regular weekly feature of This Just In…Written by my lovely wife, Jennifer and me.  It opens with the weekend dog walking forecast followed by the main blog from dog lover, Jennifer. Then it's DOGS IN THE NEWS and our close. Enjoy!
THE WEEKEND DOG-WALKING FORECAST: We grade the weather outlook for taking your pet outdoors.
TODAY:   Sunny.  High of 51.  "B"

SUNDAY:  Partly cloudy. High of 61.  "A"
Now, here's my lovely wife, Jennifer, with this week's main blog.
Last summer The Barking Lot reported that New Yorkers were responding, in style, to a 2016 ban that prevented pets from being brought on subways and buses…unless they are "enclosed in a container." Similar rules are enforced in other cities  and on Amtrak trains, taxis, and airplanes.
In the Big Apple the reaction to the crackdown had dog owners searching for a super-simple bag like a dog tote that would hold their dog safely. But this is NYC, so the tote couldn't be just any bag. It had to be stylish. After all, heaven forbid there should be a loss of cool points or embarrassment.
No that's not your ordinary tote. Not at prices near $160.00.
I also blogged about the same time:
As readers of The Barking Lot know, the Fischer Family does NOT own a dog despite consistent pleading from two of the three members. But if we did, I truly believe we would err on the side of caution and intentionally not bring our dog along on too many excursions.  Despite the fact that our daughter is now officially a tween we still don't travel as lightly as I would like to, even to an ethnic festival or water park adventure.  Bringing a dog along with all that it too would need really isn't my idea of a good time. I'm a pack mule as it is!

My point is while I do recognize the appeal of having your dog buddy with you on certain occasions, I don't think you really need to bring him/her everywhere.  Not as much fun for you OR your pooch.  Renee Moilanen shares a similar perspective.
Author Laura Zigman has a different outlook. She's written a new novel where the central character needs to have her dog with her, in an unusual way.
See the book cover? When Judy's life starts unraveling she responds by wearing her dog, a lot, in a sling.
Laura Zigman explained her motivation for the novel in an interview with National Public Radio.
BTW, PetLifetoday swears by them:
"As a dog owner, you probably want to take your pooch with you wherever you go. Unfortunately for small dogs, their little legs could feel otherwise. If your puppy or small dog gets tired out quickly on walks but you still want to take her on some adventures with you, then a sling carrier might be the perfect solution for both of you. These carriers keep your hands free and lay conveniently and comfortably around your shoulder and in front of you, so you can keep your dog close without physically carrying her."
So, what do you think? Would you do it?
—-Jennifer Fischer
Thanks Jennifer!
Time now for DOGS IN THE NEWS, canines that made headlines the past week.
Comfort dogs supported Molson Coors employees when they returned to work, and at vigils.
Your pet can't catch coronavirus. Here's why one dog tested positive.
Hong Kong warns residents not to kiss pets after dog contracts coronavirus.
Coronavirus and Your Dog: No Need to Panic Yet.
Consumers group urges caution using app-based, on-demand dog walkers.
Alaska Airlines drops sponsorship of Iditarod sled dog race.
A New York pizza shop is putting photos of dogs on pizza boxes to help them find homes.
New sculpture pays tribute to military working dogs.
New plastic Army women include dog handler and Rosie the Riveter.
Best rain jackets for dogs.
THAT'S IT FOR DOGS IN THE NEWS.
HERE'S OUR DOG PHOTO(s) OF THE WEEK.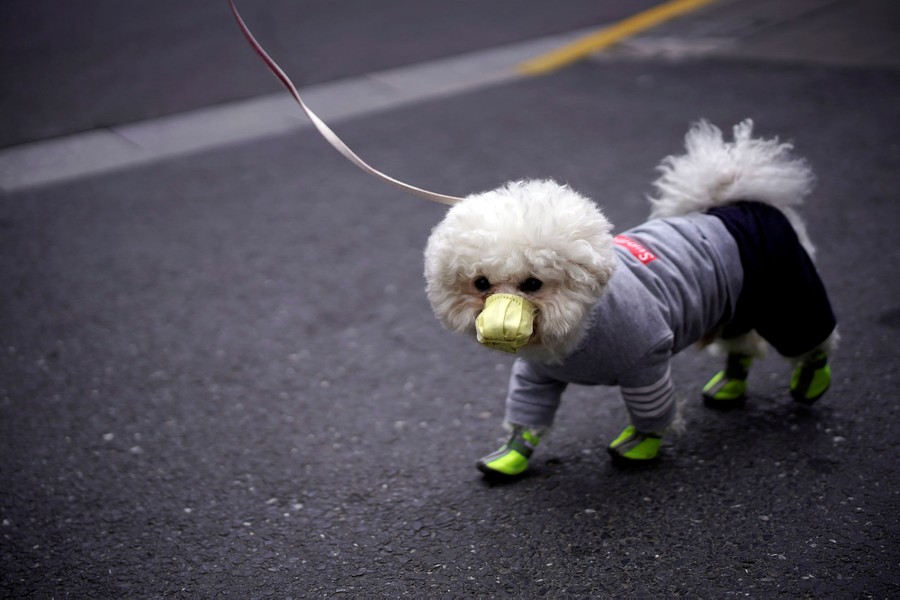 A dog wearing a face mask is seen on a street in Shanghai, China, on March 2, 2020. Photo: Aly Song / Reuters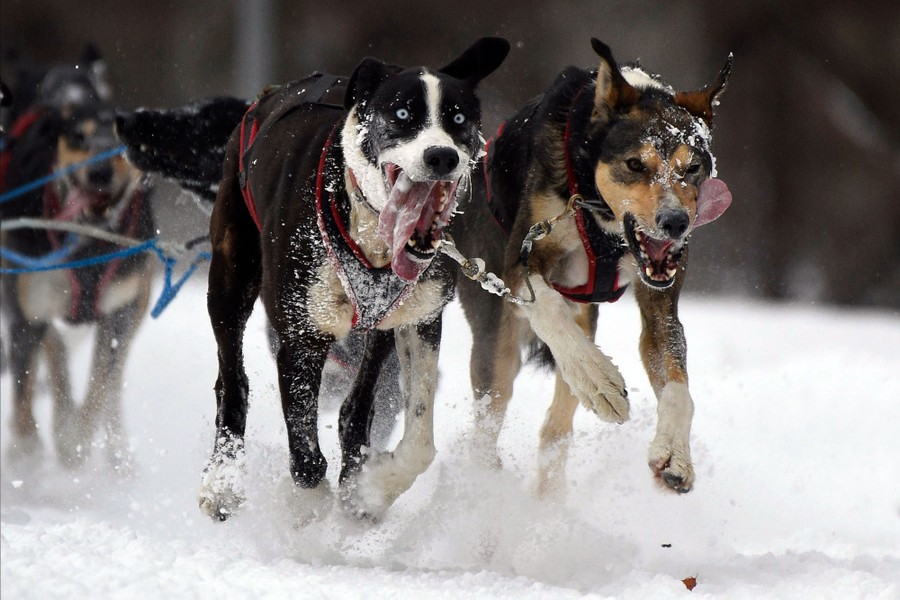 Lead dogs in Alix Crittenden's team run in the Open World Championship Sled Dog Races during the Fur Rendezvous Winter Festival on February 29, 2020, in Anchorage, Alaska.  Photo: Lance King / Getty
We close as we always do with our closing video.
That's it for this week.
Thanks for stopping by.
We kindly ask that you please share with other dog lovers you know.
See ya, BARK, next Saturday morning!