The Barking Lot is a regular weekly feature of This Just In…Written by my lovely wife, Jennifer and me.  It opens with the weekend dog walking forecast followed by the main blog from dog lover, Jennifer. Then it's DOGS IN THE NEWS and our close. Enjoy!
THE WEEKEND DOG-WALKING FORECAST: We grade the weather outlook for taking your pet outdoors.
TODAY:  Mainly sunny. High of 44. "C+"
SUNDAY:  Partly cloudy.  High of 49.  "B-"
Now, here's my lovely wife, Jennifer with this week's main blog.
Kevin and I "argue" about exactly three things:  the thermostat setting (typical man vs. woman temperature disagreements,) my fondness for '80's music (no decade could ever produce a single decent song since the 1970's,) and reading fiction vs. non-fiction (I watch zero TV.  Reading fiction is my entertainment and escape from reality.  It's my guilty pleasure.)
Specifically I enjoy reading the suspense/mystery/horror/supernatural works of Dean Koontz.  I don't remember when I discovered his books, but after the first one I was completely hooked.  While his individual novels may differ in characters, setting, and plot it's like sitting down to chat with an old friend every time I open a new book.  He has such a distinct style of writing that within a few paragraphs I can feel "at home" once more.  In my single days, reading his novels late at night caused me to jump at a startling sound or forced me to turn on a light that wasn't really needed.  I actually like that.
Besides just crafting stories that bring shivers to my spine, I appreciate his recurring themes of love, hope, joy, and wonder.  More often than not, these feelings are brought to life by canine characters in his books.  I had always enjoyed the photos on the back and references to his own dog, Trixie.  Then came the back page notation about "the spirit of Trixie."  Indeed, Trixie had passed away and I felt very bad for the Koontz family.
Occasionally (or once really, about five years ago) I read a non-fiction book, when it is also penned by the aforementioned Mr. Koontz.  And, you guessed it – Trixie is the subject.  As a former dog owner who had to deal with the death of two beloved pets, it was not easy reading about the end of Trixie's life.  But I thoroughly enjoyed the wonderful anecdotes that Dean offers.  He echoes so many of my feelings and philosophies about dogs enriching our lives.  Like any proud parent, he happily brags about his Golden girl and I don't blame him a bit.  She was truly a remarkable dog.  It goes without saying that I highly recommend reading this story… as well as having a few tissues on hand if you're prone to tears.
I am now eagerly awaiting another novel featuring his favorite animal.  As soon as I can get my hands on a library copy, I will devour Devoted in likely less than 24 hours.  Since I follow his fan page on Facebook, I saw the article The Sacramento Bee published a few days ago.  In the Q&A section, Koontz offers his usual humorous anecdotes about life & dogs.  What a great interview!
An author who can simultaneously frighten me half to death AND wax poetic about America's best pet?  I might not be his biggest fan, but I'm in the top two!
—-Jennifer Fischer
Thanks Jennifer!
Time now for DOGS IN THE NEWS, canines that made headlines the past week.
Heartbreak for dog owners: Popular breed more prone now to cancer.
Saying goodbye to a dog with dementia.
Professional baseball player's surprising post about dogs goes viral.
NY Times: Dog parks are rife with problems — for you, and for your dog. Again, that's the NY Times. There is another view.
Sales for refrigerated dog-food makers soar.
'Cuss Collar' will swear every time your dog barks.
We are always happy to share these stories with you. From the incredible file.
From the dogs are amazing file.
Last week Jennifer blogged about whether dogs love you. Here's more.
This dog is a mayor.
Dog with 'wonky' face named Picasso thriving in new home, owner says: 'Perfectly imperfect.
Hallmark Channel helps shelter dogs find fairytale forever homes.
Dogs are going nuts for this.
A pigeon that can't fly befriended a puppy that can't walk. Cute stuff.
THAT'S IT FOR DOGS IN THE NEWS.
HERE'S OUR DOG PHOTO(s) OF THE WEEK.
Dogs wearing masks are seen at a main shopping area, in downtown Shanghai, China, as the country is hit by an outbreak of a new coronavirus. Photo: Reuters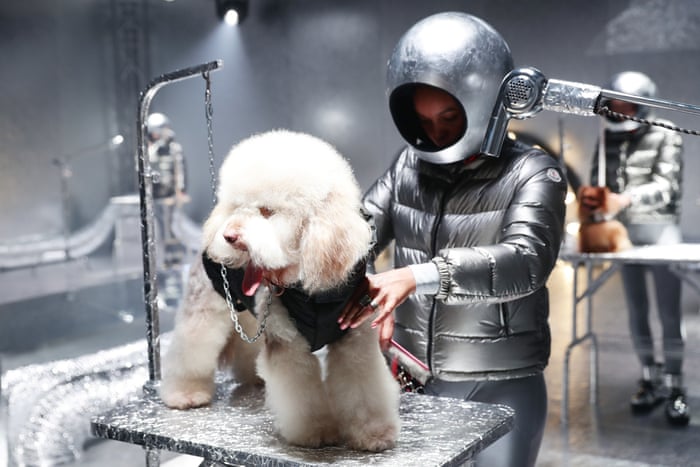 Dog grooming during the Moncler show at Milan fashion week. No, I don't understand the spacesuits. Groomers are aware that sudsy water, chemicals, and flea treatments fly off dogs shaking their coats out. Photograph: Vittorio Zunino Celotto/Getty Images
We close as we always do with our closing video. A bunch this week.
Browser is something else. From not so far away Lake County, Illinois…
NEXT…Blind canine Stevie Wonderful was named Pedigree Foundation's 2020 Rescue Dog of the Year. The 9-year-old Border Collie has been a Canine Greeter at Cleveland Clinic for two years. He joined a talented group of canine companions who bring smiles to the faces of patients, family members and staff as they greet visitors in the hospital's lobby. Three years ago, Stevie was found on the side of the road with a rusty chain wrapped around his neck. He was taken to Indian Summers Border Collie Rescue where he was literally saved. Every Wednesday, Stevie reports to the Cleveland Clinic as a Canine Greeter, a job at which he excels.
CUTENESS ALERT for our next video from Fairhaven, Massachusetts.
Opening in theaters this weekend…
The film is getting poor reviews because the dog is not a real dog and that's very noticeable.
Finally, not sure where this was taken but the video made the rounds on social media this week.
And I can't resist. One more.
That's it for this week. Thanks for stopping by.
We'd really appreciate it if you forward this on to other dog lovers you know. Let them have some fun!
See ya, BARK, next Saturday!