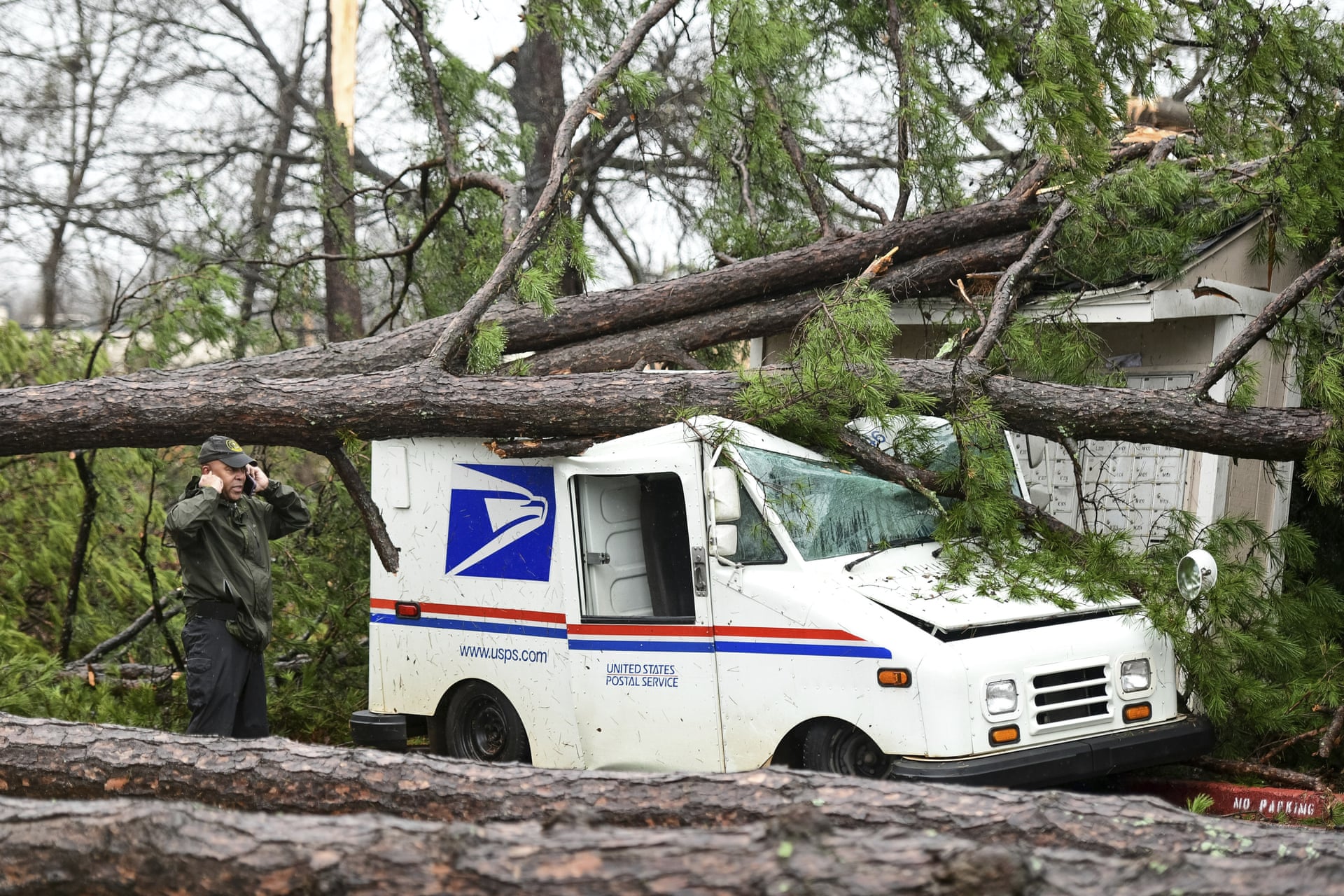 A pictorial week-in-review posted every Sunday.
1) President Donald Trump turns away as Speaker of the House Nancy Pelosi reaches out to shake his hand as he arrives to deliver his State of the Union address to a joint session of the U.S. Congress in the House Chamber of the U.S. Capitol in Washington. Photo: REUTERS/Leah Millis/POOL
2) Kelli and Gage Hake from Stillwater, Oklahoma were SOTU guests. Kelli is the widow of Army Staff Sgt. Christopher Hake, and the couple's son, Gage, who was only a year old when his father died in 2008. Hake was killed along with three other soldiers as the result of a bomb supplied by Qasem Soleimani, an Iranian major general. "It was exactly six o'clock in the morning," Hake told CNN during a recent interview. "There was a knock at my door. I was very confused at the time. … It was the day after Easter Sunday (in 2008), so it was a Monday, and I went to go answer it. My son was still in his bed sleeping, and I wasn't tall enough to look through the peephole so I looked through the window … by the front of my house and realized that it was men in uniform, and automatically I went over and opened the door … and wasn't quite comprehending exactly what they were there for until they asked me if I was Mrs. Christopher Michael Hake and when, when they said that, I realized what they were asking, and I said, 'No,' and shut the door. And … they knocked again … took me a few minutes to gather myself. I opened back the door, and, they proceeded to tell me that he had been hit by a roadside bomb and did not make it … It was the hardest day of my life." Last month, President Trump ordered the killing of Soleimani while he was once again trying to initiate attacks on American service members. Mrs. Hake told CNN she supported the drone strike ordered by Trump. Photo: Facebook.
3) Carl and Marsha Mueller were SOTU guests.Their daughter, Kayla, was a humanitarian worker in Southern Turkey. She was killed in February, 2015, after being held captive by ISIS leader Abu Baker al Baghdadi for over 500 days. On October 26,2019, President Trump ordered a successful U.S. Special Forces raid that killed Baghdadi. General Mark Miller, Chairman of the Joint Chiefs of Staff, named the operational raid that killed Baghdadi after Kayla Mueller.  "Carl and Marsha, America's warriors never forget Kayla and neither will we," Trump said. With that, Carl and Marsha stood, displaying a photo of Kayla. Photo: Prescott enews
4) Amy Williams is a military spouse and a mother of two young children, currently stationed at Fort Bragg in North Carolina.  Amy works full time for the Army and devotes hundreds of hours to helping military families, all while raising her two children as her husband—Sergeant First Class Townsend Williams—serves on his fourth deployment. Trump announced at the SOTU that their husband and daddy had just returned from the front in Afghanistan, reuniting the family right then and there inside the Capitol. Photos:  Facebook
5) A Philadelphia mother and her fourth-grade daughter made a special appearance Tuesday night as guests at the SOTU. Stephanie Davis and daughter Janiyah sat in the gallery as the president spoke about his plans for school choice and federal tax credits. "Janiyah, I have some good news for you. 'Cause I am pleased to inform you that your long wait is over. I can proudly announce tonight that an opportunity scholarship has become available, is going to you, and you will soon be heading to the school of your choice," Trump said. While Davis, a single parent, "would do anything to give her daughter a better future," Trump said, "that future was put further out of reach when Pennsylvania's governor vetoed legislation to expand school choice." Trump urged Congress to pass legislation to expand school-choice scholarships across the country. Photo: Facebook
6) Iain Lanphier, a Scottsdale, Arizona 8th-grader who attended the State of the Union Address Tuesday night, got a standing ovation in the packed House of Representatives as Trump introduced him. "Iain has always dreamed of going to space. He was first in his class and among the youngest at an aviation academy," Trump said. "He aspires to go to the Air Force Academy,  and then, he has his eye on the Space Force. As Iain says, 'most people look up at space, I want to look down on the world.'" Sitting next to Ian was his great-grandfather, 100-year-old Charles McGee, one of the last survivors of the legendary Tuskegee Airmen — African-American pilots who fought heroically in World War II. McGee was continuing a momentous week, having conducted the coin toss at the Super Bowl just days earlier. "Charles McGee was born in Cleveland, Ohio, one century ago," Trump said. " … After more than 130 combat missions in World War II, he came back to a country still struggling for Civil Rights and went on to serve America in Korea and Vietnam. Earlier today, I pinned the stars on his shoulders in the Oval Office (promoting McGee to brigadier general)," Trump said. "General McGee: Our Nation salutes you, thank you, sir." Photo: Facebook
7) Robin and Ellie Schneider from Kansas City, Missouri were guests at the SOTU. Ellie was born at just 21 weeks and six days. She is one of the youngest babies to survive in the United States. With the help of an incredible medical team—and the prayers of her parents and their community—Ellie kept beating the odds, exceeding milestones, and fighting for life. Today, Ellie is a happy, healthy 2-year-old girl who brings endless joy to her mother, Robin, and her entire family. Trump said little 2-year-old Ellie, born as a micro-preemie, is proof that all life should be cherished and late-term abortion should be ended. Photo: Facebook
8) Rush Limbaugh is a legendary radio host with millions of loving fans. His radio show has been on the air for more than three decades and has had an incalculable effect on American politics and government. Limbaugh is a champion of the Constitution, advocate of civic engagement, and a committed patriot. His extraordinary contribution to American life was recognized during President Trump's 2020 State of the Union Address where Limbaugh was awarded the Presidential Medal of Freedom.  First lady Melania Trump did the honors.  One more. Photos: Facebook
9) Fred Guttenberg, father of Parkland school shooting victim Jaime Guttenberg, is ejected after shouting during U.S. President Donald Trump's State of the Union address to a joint session of the Congress on Capitol Hill in Washington, Feb. 4, 2020. Photo: Reuters
10) Speaker of the House Nancy Pelosi (D-CA) rips up a copy of U.S. President Donald Trump's speech after his State of the Union address to a joint session of the Congress in the House Chamber of the U.S. Capitol in Washington, Feb. 4, 2020. Photo: Reuters
11) President Donald Trump holds up a newspaper with the headline that reads "Trump acquitted" during the 68th annual National Prayer Breakfast, at the Washington Hilton in Washington, D.C. Photo: AP.  He did so again in the East Room later that morning. Photo:  Getty
12) Volunteers in protective suits disinfect a railway station as the country is hit by an outbreak of the new coronavirus in Changsha, China Photograph: STRINGER/Reuters
13) Officials in full protective gear disinfect Indonesian students upon the arrival at Hang Nadim international airport in Batam, following their evacuation from Wuhan, China, due to the coronavirus outbreak. (photo released by Indonesian Embassy)
14) A shopper wearing a protective face mask sorts items in her shopping cart next to bare supermarket shelves in Hong Kong. Photo: AFP
15) A worker sets up beds at Hongshan Stadium to convert it into a makeshift hospital following an outbreak of the new coronavirus, in Wuhan, Hubei province, China, on February 4, 2020. Photo: China Daily CDIC / Reuters
16) A woman takes in her dinner that was left at the door by government workers in a hotel accommodating isolated people, Feb. 3. Photo: Reuters
17) In Kabul, Afghanistan,  a man waits for customers at a tea stall near the Qargha reservoir. Photograph: Mohammad Ismail/Reuters
18) Groundhog Club co-handler John Griffiths holds Punxsutawney Phil, the weather prognosticating groundhog, during the 134th celebration of Groundhog Day on Gobbler's Knob in Punxsutawney, Pennsylvania. Photo: AP
19) Al Dereume, a Groundhog Club co-handler, holds Punxsutawney Phil, the weather-prognosticating groundhog, during the 134th celebration of Groundhog Day at Gobbler's Knob in Punxsutawney, Pennsylvania, on February 2, 2020. Phil's handlers said that the groundhog forecast an early spring. Photo: Barry Reeger / AP
20) The environment minister, David Speirs, and Cleland Wildlife park vet Ian Hough release koalas Kanga (mother) and Roo (joey) in their new enclosure at Cleland Wildlife Sanctuary in Australia. Photograph: Roy Vandervegt/AAP
21) In Australia a wildlife caregiver holds an orphaned wombat at the Native Wildlife Rescue center. Staff have taken in many injured kangaroos and wallabies hurt in recent bushfires.  Photograph: John Moore/Getty Images
22) An Oscars fan takes a photo of preparations on the red carpet for the Academy Awards on Hollywood Boulevard.  Photograph: Robyn Beck/AFP/Getty Images
23) Flowers and candles surround the star of actor Kirk Douglas near the intersection of Hollywood Boulevard and Vine Street in Los Angeles, Feb. 5. Douglas died this past week at the age of 103. Photo: Reuters
24) Shakira and Jennifer Lopez perform during the Pepsi Super Bowl LIV Halftime Show at Hard Rock Stadium on February 2, 2020. Photo: Maddie Meyer / Getty
25) The Kansas City Chiefs nose tackle Derrick Nnadi slides through confetti after the Chiefs won Super Bowl LIV at Hard Rock Stadium in Miami Gardens, Florida, on February 2, 2020. Photo: Kim Klement / USA Today Sports via Reuters