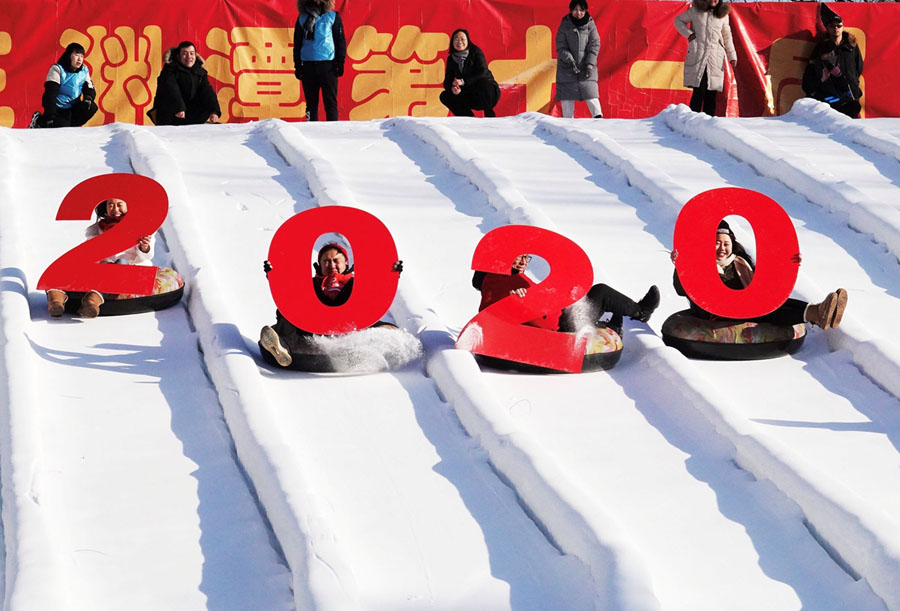 A pictorial week-in-review posted every Sunday.
1) Iraqi protesters storm the U.S. Embassy in Baghdad, protesting Washington's attacks on armed battalions belong to Iranian-backed Hashd al-Shaabi forces on December 31, 2019. At least 25 people were killed in weekend U.S. airstrikes on positions of Kataib Hezbollah, an Iranian-backed militia group, in Iraq and Syria. Hundreds of Iraqi protesters gathered early Tuesday near the embassy to show their anger at the U.S. move. Photo: Murtadha Sudani / Anadolu Agency / Getty
2) Protesters and militia fighters enter the US embassy during a protest to condemn airstrikes on bases belonging to the Popular Mobilization Forces, paramilitary forces loyal to Iraq, in Baghdad, Dec. 31, 2019. Photo: Reuters
3) Iraqi protesters break the bulletproof glass of the US embassy's windows in Baghdad as thousands of angry Iraqis, including members of the Popular Mobilization Forces, breached the outer wall. Photo: Getty
4) Protesters damage property inside the US embassy compound, in Baghdad, Iraq, Dec 31, 2019. Photo: AP
5) An Iraqi Shiite militia supporter tries to disable the camera on the outer wall of the US embassy in Baghdad, Dec. 31, 2019. Photo: Getty
6) Iraqi supporters and members of the Popular Mobilization Forces pull off a plaque from the entrance of the US embassy. Photo: Getty Images
7) Iraqi protesters pose for a photo with a US embassy plaque. Photo: Getty Images
8) A protester inspects the entrance of the US embassy in Baghdad. Photo: Getty Images
9) US Marines assigned to Special Purpose Marine Air-Ground Task Force-Crisis Response-Central Command prepare to deploy to reinforce Baghdad's US embassy from a base in Kuwait, Dec. 31, 2019. Photo: Reuters
10) Marines keep watch at the US embassy in Baghdad, Jan. 1. Photo: Reuters
11) A soldier stands guard as France's interior minister, Christophe Castaner, visits security forces at the Eiffel Tower.  Photograph: Christophe Petit-Tesson/EPA
12) Smoke billows during bushfires in Bairnsdale, Victoria, Australia, on December 30, 2019. Photo: Glen Morey via Reuters
13) A koala receives water from a cyclist during a severe heatwave that hit the region, in Adelaide Hills, South Australia, Australia, Dec. 27, 2019 in this image taken from social media. Photo: (INSTAGRAM/@BIKEBUG2019)
14) Kangaroos graze in a field as smoke shrouds the Australian capital of Canberra, Australia, on January 1, 2020. Australia deployed military ships and aircraft to help communities ravaged by apocalyptic wildfires that destroyed homes and sent thousands of residents and holidaymakers fleeing to the shoreline. Mark Baker / AP
15) "Caramelized" snow caused by dust from Australian bushfires is seen near Franz Josef glacier in the Westland Tai Poutini National Park, New Zealand, Jan.1, 2020 in this picture obtained from social media.
16) Pope Francis turns around after slapping a woman's hand as he greeted pilgrims at the Vatican on New Year's Eve. Photograph: AFP /Getty Images
17) The Mars 2020 Rover is seen in the spacecraft assembly area clean room during a media tour at NASA's Jet Propulsion Laboratory in Pasadena, California, on December 27, 2019. The Mars 2020 rover, which will take off in a few months to the Red Planet, will not only search for possible traces of past life, it will also serve as a "precursor to a human mission to Mars," NASA scientists said when presenting the spacecraft to the press. Photo: Robyn Beck / AFP / Getty
18) A B-2 Spirit military aircraft passes an airship over Colorado Boulevard during the Rose Parade in Pasadena, California.  Photograph: Dean Musgrove/AP
19) A zookeeper interacts with squirrel monkeys during the annual stocktake at ZSL London Zoo in London, England, on January 2, 2020. Photo: Henry Nicholls / Reuters
20) A Humboldt penguin swims in a pool during the annual stocktake at ZSL London Zoo in London, on January 2, 2020. Photo: Frank Augstein / AP
21) Tourists enjoy the icy landscape in Yichun City, Heilongjiang province, China, on December 31, 2019. Photo: Costfoto / Barcroft Media / Getty
22) A child bursts a soap bubble as it floats past St Paul's Cathedral in London, on December 27, 2019. Photo: Hannah Mckay / Reuters
23) Community members celebrate the arrival of a new Torah at the Chaim Rottenberg residence, on December 29, 2019, in Monsey, New York. A day earlier, a knife-wielding man stormed into the home and stabbed multiple people as they celebrated Hanukkah in the Orthodox Jewish community. Photo: Craig Ruttle / AP
24) A reveler celebrates New Year's Eve in New York's Times Square on December 31, 2019. Photo: Jeenah Moon / Reuters
25)  Confetti falls at midnight on the Times Square New Year's Eve celebration, in New York. Photo: AP
26) A New York City Department of Sanitation worker cleans the streets after the new year celebrations in Times Square.  Photograph: Amr Alfiky/Reuters
27) A girl with sparkle writes 2020 during the New Year's celebrations in North Macedonia. Photo: Reuters
28) A woman is sprayed with foam as she celebrates the New Year in Kuala Lumpur, Malaysia. Photo: AFP
29) A countdown clock formed by drones hovers over Marina Bay during New Year's Eve celebrations in Singapore. Photo: Reuters
30) People run into the Atlantic ocean during the annual Polar Bear plunge at Coney Island in New York City on January 1, 2020. Photo: Stephanie Keith / Reuters
31) Bathers in Geneva, Switzerland celebrate with glasses of champagne in Lake Geneva. Around 70 took part in the traditional swim. Photograph: Martial Trezzini/EPA
32) Participants take a selfie during the New Year's dive on January 1, 2020 in The Hague, Netherlands. Revelers celebrated the new year by plunging into a frigid North Sea in The Hague's Scheveningen district. Photo: Nacho Calonge / Getty
33) At Milwaukee's lakefront, one, two, three, four. Photos: Milwaukee Journal Sentinel
34) Revelers dressed in mock military garb throw eggs as they take part in the "Els Enfarinats" battle in the Spanish town of Ibi on December 28, 2019. During this 200-year-old traditional festival participants known as Els Enfarinats (those covered in flour) dress in military clothes and stage a mock coup d'etat as they battle using flour, eggs and firecrackers outside the city town hall as part of the celebrations of the Day of the Innocents, a traditional day in Spain for pulling pranks. Photo: Jaime Reina / AFP / Getty
35) Maurizio Palmulli, known as Mister OK, dives into the Tiber River from the Cavour Bridge in Rome, as part of traditional new year celebrations. Photograph: Guglielmo Mangiapane/Reuters
36) The Minneapolis Star Tribune chose a photo of Vikings player Anthony Barr tackling (and injuring) Aaron Rodgers to be among its sports highlights of the decade.
37) Green Bay Packers kicker Mason Crosby kicks the game-winning field goal as punter J.K. Scott holds the ball during the fourth quarter against the Detroit Lions at Ford Field. Photo: Tim Fuller/USA TODAY Sports
38) Green Bay Packers kicker Mason Crosby celebrates his game winning field goal during the fourth quarter against the Detroit Lions at Ford Field last Sunday. The Packers won, 23-20. Photo: Tim Fuller-USA TODAY Sports
39) Badger fans enjoy tailgating before the 2020 Rose Bowl game. Photo: Rick Wood, Milwaukee Journal Sentinel
40) Wisconsin wide receiver Aron Cruickshank celebrates after scoring on a kickoff return against Oregon during the first half of the Badgers' 28-27 loss to the Ducks in the Rose Bowl on Wednesday in Pasadena, Calif. Photo: MARCIO JOSE SANCHEZ, ASSOCIATED PRESS. Another look. Photo: Rick Wood, Milwaukee Journal Sentinel-USA TODAY NETWORK
41) Wisconsin fullback Mason Stokke celebrates after scoring against Oregon during second half of the Rose Bowl NCAA college football game Wednesday, Jan. 1, 2020, in Pasadena, Calif. Photos: Mark J. Terrill, Associated Press, and Rick Wood, Milwaukee Journal Sentinel
42) Oregon Ducks safety Brady Breeze eludes Wisconsin Badgers running back Garrett Groshek and returns a fumbled punt into a touchdown. Photo: Rick Wood, Milwaukee Journal Sentinel
43) Badgers wide receiver Danny Davis III fumbles the ball with the Badgers leading with about eight minutes left in the fourth quarter of the Rose Bowl Wednesday. Photo: Rick Wood, Milwaukee Journal Sentinel
44) No. 5 Rachad Wildgoose of the Wisconsin Badgers tries to chase down Oregon quarterback Justin Herbert in the fourth quarter of the Ducks 28-27 Rose Bowl victory. Herbert scored the game-winning touchdown. Photo: The Oregonian