The Barking Lot is a regular weekly feature of This Just In…Written by my lovely wife, Jennifer and me.  It opens with the weekend dog walking forecast followed by the main blog from dog lover, Jennifer. Then it's DOGS IN THE NEWS and our close. Enjoy!
THE WEEKEND DOG-WALKING FORECAST: We grade the weather outlook for taking your pet outdoors.
TODAY:  Cloudy skies. Partly cloudy later in the day. A chilly high of 32. "D"
SUNDAY:  Becoming partly cloudy and very windy. High of 41.  "D"
Now, here's my lovely wife, Jennifer with this week's main blog.
The following are photos of dogs I know personally or at least know their owners.  Different breeds to be sure, all of them "good dogs" in their own right.  Take a look at them… What do you notice about their facial hair?  Different amounts?  Different lengths?  Different locations?  How about all of those?
Gibbs the Pug and Knox the Lab Rescue have what I would call basic whiskers.  You know, the kind you'd expect to see on a dog.  S'mores has some noticeable "extras" along his cheek and eyebrow regions.  Finally, our buddy Finn.  Look at him again:
Check out those bad boys!  I mean no disrespect in this crustacean comparison but he reminds me just a bit of a spiny lobster!  Such pronounced eyebrows!  Such long, if not a bit droopy, whiskers!  I can't get enough!  Kyla & I met Finn this past summer and we had a delightful time:
We asked our friends to provide photos of their dogs showcasing their whiskers and the four photos are what they shared.  These comments were left under the photo Finn's owner shared on Facebook:
Finns are so long! Haha
I know right!!! Lol. I always accidentally pull them when we're playing tug of war.
All I can say is DON'T YOU EVER, EVER CONSIDER TRIMMING THEM!!!!
No, this isn't for vanity's sake.  There are real, scientific reasons why you should never groom your dog's whiskers even if you think they are too long, too unruly, or get in the way of your tug of war game.
Dr. Stanley Coren (I really, REALLY want to meet him some day!) tells us that while a dog's sense of smell is absolutely incredible, vision is a sense that is quite limited.  Thus, whiskers come in handy for helping them "see" better, especially close up.  I guess if that's the case, Finn could find a career in watch & jewelry repair.  (That is, if he had thumbs.)
In all seriousness, here's the fascinating reason you never want to trim your dog's whiskers.
—-Jennifer Fischer
Thanks Jennifer and the folks who sent in pictures!
Time now for DOGS IN THE NEWS, canines that made headlines the past week.
OPINION: Local animal control agencies must respond rapidly to complaints about aggressive dogs.
'It's not going away': Vets still seeing cases of dog heart problems linked to grain-free food.
Is adopting a service dog right for you?
What's Really Going on at the 'Dog Suicide Bridge'?
Good News for Dogs with Cancer.
Read about the dog-walking group helping men to open up about their emotions.
If you're a dog, 2019 wasn't all bad news.
Two new breeds get the American Kennel Club's nod.
'America's Top Dog' is 'American Ninja Warrior' for pooches.
Man, and his dog, wow NBA crowds with acrobatic act, but not at any Bucks game.
And O-M-G! I Want a Dog, but My Husband Refuses. Should I Just Do It?
THAT'S IT FOR DOGS IN THE NEWS.
HERE'S OUR DOG PHOTO(s) OF THE WEEK.
A dog who was struck by a car in New York in snowy conditions needed a helping hand, and a police sergeant didn't hesitate to assist. The dog, named Rogue, was hit by a car on Dec. 20.  Sgt. Chris Howlett, of the Chautauqua County Sheriff's Office, is seen comforting the dog as she lies on a snowbank, covered by a law enforcement jacket. Rogue's family says the dog was taken to an animal hospital for treatment of minor injuries and is doing well. Photo: (Chautauqua County Sheriff's Office)
The Pima Animal Care Center (PACC) in Tucson, Arizona rang in the New Year with a very special reunion. David, a PACC community outreach client experiencing homelessness, lost his pup, Chubbs, last year. Luckily, Chubbs was in good hands at PACC, where he reunited with his human, David.
"Our Community Outreach client, David, is experiencing homelessness and his pal, Chubbs, went on a little adventure and found himself at PACC. We were able to reunite Chubbs with David and we all cried happy tears." Photo: PACC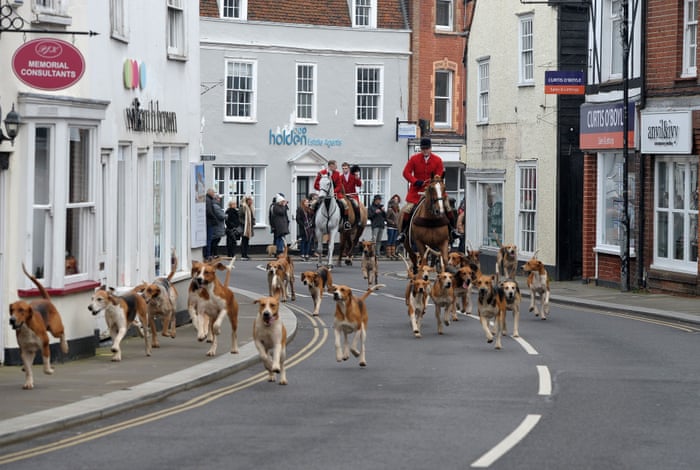 Members of the Essex Farmers and Union Hunt parade for their annual New Year's Day meeting in Maldon, England. Photograph: Martin Dalton/Rex/Shutterstock
These two belong to a Barking Lot reader, Marni Kopenski Hebert. What are they so intently interested in watching?
We close as we always do with our closing video and we have a few.
First, dramatic, heroic.
More dramatic video from Wausau, WI…
Dogs are amazing, right? Let's go to the video.
One more. Are dog boots the answer to keep your furry pet warm this winter? Watch.
That's it for this week. Thanks for stopping by.
We'd really appreciate it if you forward this on to other dog lovers you know. Let them have some fun!
See ya, BARK, next Saturday!