The Barking Lot is a regular weekly feature of This Just In…Written by my lovely wife, Jennifer and me.  It opens with the weekend dog walking forecast followed by the main blog from dog lover, Jennifer. Then it's DOGS IN THE NEWS and our close. Enjoy!
THE FOLLOWING IS A SPECIAL YEAR-END EDITION OF THE BARKING LOT
THE WEEKEND DOG-WALKING FORECAST: We grade the weather outlook for taking your pet outdoors.
TODAY:  Cloudy in the morning, with rain developing after 9:00. 80% chance of rain throughout the day. High of 41. "D"

SUNDAY:  Light rain early, ending after 8:00. Then cloudy the rest of the day. High of 58. "B"
Here's my lovely wife, Jennifer, with this week's main blog. And since this is a year-end special we thought we'd begin with the most popular BARKING LOT of 2019. Jennifer wrote in July:
I've blogged several years in a row about "Take Your Dog to Work Day."  I think it's an adorable idea IF all circumstances are favorable. I've blogged about cat- and dog- cafes, and supported dog-friendly outdoor dining establishments.  Heck, if I lived in TX I might even catch a flick here.  I think dog-inclusive special events can be fun – ballparks, walk/run fundraisers, pet parades, etc. can be wonderful opportunities for owners to have a good time with their furry friend.
Then there's the whole New York Dog-in-a-Bag debacle.  In all honesty I've never ridden a NY subway so I can't speak from personal experience.  But knowing me I'd try to make friends with a grizzly New Yorker just so I could pet their dog, and would probably be pick-pocketed in the process.
As readers of The Barking Lot know, the Fischer Family does NOT own a dog despite consistent pleading from two of the three members.  But if we did, I truly believe we would err on the side of caution and intentionally not bring our dog along on too many excursions.  Despite the fact that our daughter is now officially a tween we still don't travel as lightly as I would like to, even to an ethnic festival or water park adventure.  Bringing a dog along with all that it too would need really isn't my idea of a good time. I'm a pack mule as it is!
My point is while I do recognize the appeal of having your dog buddy with you on certain occasions, I don't think you really need to bring him/her everywhere.  Not as much fun for you OR your pooch.  Renee Moilanen shares a similar perspective. 
—July 20, 2019
Another Jennifer entry examined an issue that I'm sure pops up in neighborhoods all across the country:
In our subdivision in God's Country, USA, the neighbors care deeply about taking care of their lawns. I would say the compliance rate is a proud 99% (Nobody's perfect).
One front lawn down the street is especially pristine, consistently resembling a freshly manicured major league baseball field. No weed would ever dream of popping up there.
Because the owner is so meticulous he naturally, I'm sure, has a deep sense of satisfaction about what his green thumb has achieved. So his caring includes taking a certain precaution that his spotless grass remains that way.
You know those tiny little flags Diggers Hotline sticks in the ground? This property owner has made similar ones and inserted them right at the curb that read in small lettering:
NO DOG PEE PLEASE
Nothing fancy or expressive. No colors or illustrations. Nothing real big.
He had other options.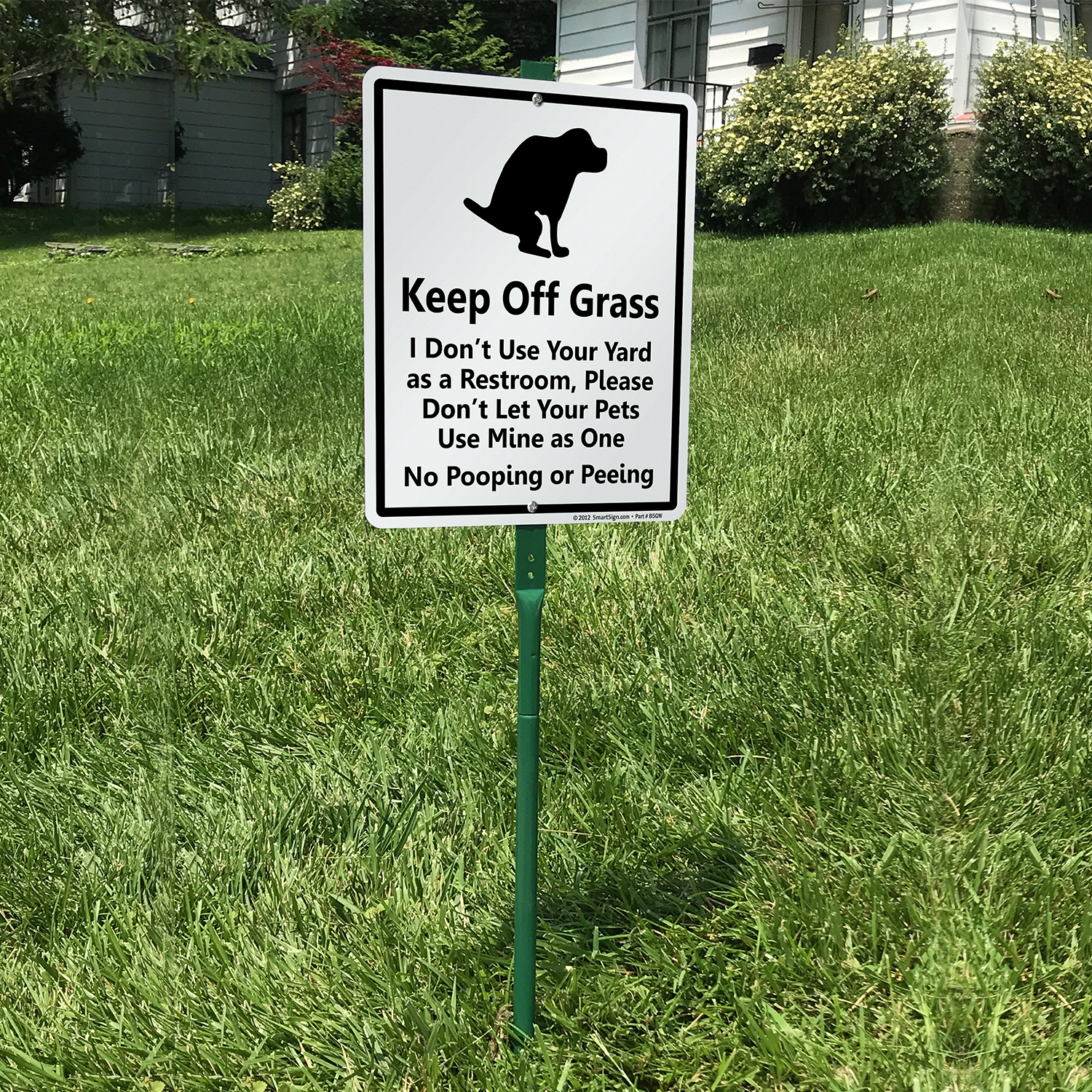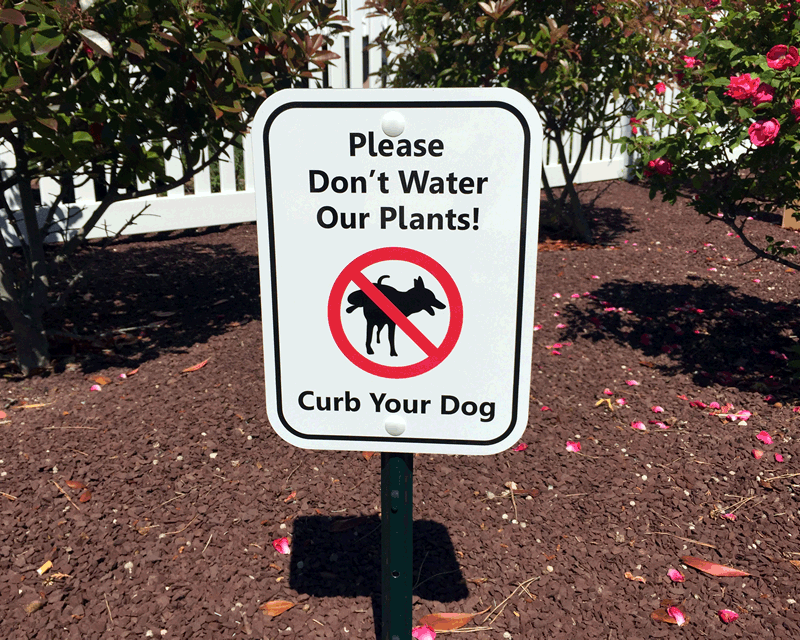 He went for the simple homemade variety.
Can you blame him for his signs?
Dog urine is rich in nitrogen, a definite lawn killer when enough is deposited over time.
"The high concentration of nitrogen, from urea in urine, and associated salts found in dog urine essentially burns the grass it directly hits," said Theresa Smith, director of marketing for Natural Alternative.
If a lawn has many brown spots around dark green grass that's probably the result of dog urine.
"The areas surrounding that spot will be lush and green, thanks to the added nutrients not being so concentrated," said Smith.
Can some dogs be more damaging than others?
"Dog spot damage is more prevalent with female dogs due to the fact they squat in a single place, while male dogs generally leave their calling cards in multiple areas around trees and other upright objects," Smith said.
Those warning signs you can purchase…are they really necessary? In this day and age, unfortunately, yes.
Here in Franklin I've never seen an irresponsible dog walker. But we know not everyone is built the same.
Let's travel north of the border. A Toronto realtor blogged in 2013 that a great family neighborhood called Riverdale, despite how wonderful it is, has plenty of those signs posted.
The blogger at the time had clients Patrick and Nicole.
The boiling point came one day this fall when he was standing on his front porch, with his two kids, and a neighbour walked by with her poodle.  The poodle stopped, and started to take a poop.

"Nice day, isn't it?" Patrick said, from his front porch, as this lady's poodle took a crap.

"Lovely!  And your daughters – they're so beautiful!  I love those little dresses!" she said.

The lady picked up the dog poop with a bag, the poodle ripped up the lawn with her back legs as dogs do when they finish, and the lady smiled, and walked away.

Patrick told me, "This lady had no shame at all – thought nothing of letting her dog take a crap on MY lawn, right in front of me!"

The problem isn't that Patrick can't be on guard all the time; the problem is that many people don't think this is anything to be fussed about!

And for certain – most dog-owners don't think this is an issue, and that's why the poop-problem persists.

I've talked to dog owners that say, "It's a natural bodily function, and we all do it!  You can't be so uptight not to expect a dog takes a teenie-tiny whiz on your lawn!"
And everybody poops, too, following that logic.
You can read the entire Toronto blog here.
Our grass-loving neighbor (whom I don't know and have never met) has spent a lot of time, energy, and $$$ to develop a blue ribbon lawn. His signs look fine to me.
—June 29, 2019
One more. And it's not surprising. Jennifer found that even dogs can be political.
Regular readers know, and my hubby teases me about it, that on the dog blog I prefer to write about the science and psychology around dogs. This week there's definitely some psychology involved. But I believe for the first time on The Barking Lot I will get political.
Please don't go away. This is very interesting, I promise, and won't (shouldn't) get you all riled up.
Nope. None of that.
So, are you a dog owner?
Or a cat owner?
Do you consider yourself a Democrat?
Or Republican?
And is there a connection between pet owners and political persuasion?
I want this man's job.
Stanley Coren who's been mentioned before on this blog is Professor Emeritus in the Department of Psychology at the University of British Columbia. His undergraduate degree is from the University of Pennsylvania and his doctorate in Psychology is from Stanford University. He is best known to the public for his popular books on dogs and on general psychological issues. Considering he writes about psychological topics his style is wonderful.
Coren was asked if research exists specifically detailing if pet ownership shows how a person votes. The professor answered in his latest column…yes.
"Perhaps the most fascinating aspect of this data set comes when we break down the effect of pet ownership as a predictor of voting behavior and look at the influence of dog ownership versus ownership of cats."
Coren worked hard to discover the information and substantiate what he found. And his conclusions demonstrate yet another variation between dogs and cats, or in this case, their owners.
Think you know what Coren learned?
He went the extra mile to answer a colleague's query. I know you'll find Coren's column quite interesting.
Professor Coren, keep up the fascinating work!
—August 31, 2019
Thank you, Jennifer, for your dedicated work all year!
Time now for DOGS IN THE NEWS, canines that made headlines the past week.
US stops sending sniffer dogs to Jordan and Egypt.
Florida vet removes stick from dog's mouth that was likely there for years, shelter says.
Like we always say: Love a happy ending.
Did you like that ending? Well, we've got another one.
Could we possibly have a third happy ending? Oh yeh.
And now from the "naughty dog" file.
And the biggest dog news story of 2019? That's easy. Conan. And some others.
Oh, and we stumbled upon this item. The most read Dear Abby advice column of 2019 was about, you got it.
THAT'S IT FOR DOGS IN THE NEWS.
HERE'S OUR DOG PHOTO(s) OF THE WEEK.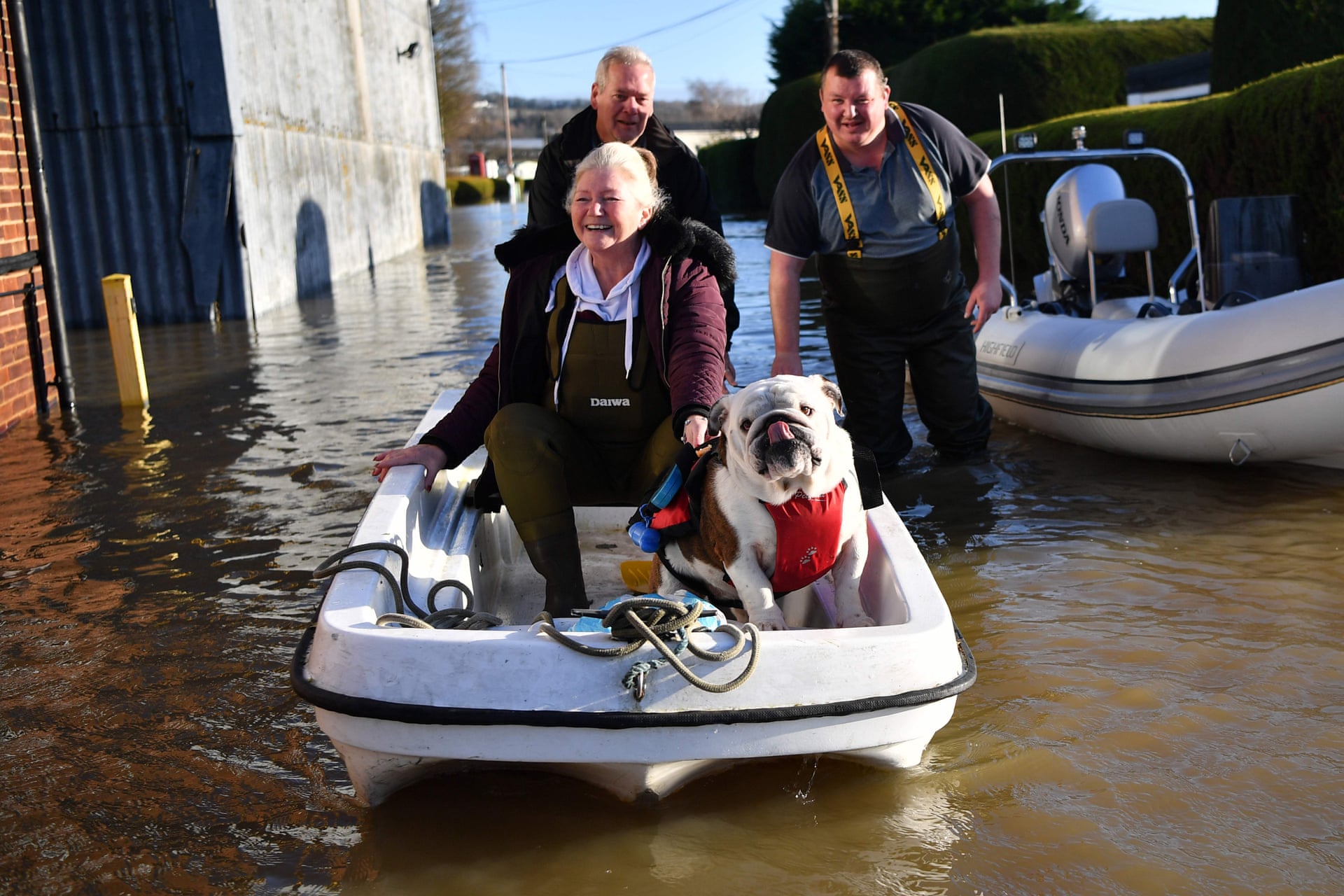 In Kent, UK, Reggie the dog is rescued by boat from the flood-hit Little Venice Country Park and Marina, Maidstone, after heavy rain. Reggie was fitted with a lifejacket to keep him safe in case he went overboard – while others had to wade through the waters. Photos: Ben Stansall/AFP via Getty Images
Thanks to the quick actions of emergency responders, a dog named Charlie is safe at home with his family after he ran away and broke through ice. According to the Plymouth, Minnesota Fire Department, it was on Tuesday, or Christmas Eve, when Charlie ran away, broke through ice and got stuck in the marsh. The family attempted to rescue him, but also broke through the ice. By the time responders arrived, the family was safe. Firefighters in "mustang suits" (ice rescue gear) helped find & reunite Charlie with his family.
Now for some noteworthy dog photos from 2019.
Of course. Had to include that one. Here are some more.
Every year, the Kennel Club honors dog photographers from all around the world by holding the Dog Photographer of the Year contest. This year's overall winner and first-place winner of the Oldies category was "Dreaming Merlin," taken by Denise Czichocki of Switzerland. Oldies is a category highlighting canine senior citizens.
"I was lucky to find this beautiful magnolia tree near my home in Switzerland, said Czichocki.  "And still more lucky to get the chance to take photos of wonderful dogs in these magnolia. Merlin was one of them. He is a 14 year old Podenco rescued from a shelter who is happy to live his life since two years in a lovely home in Switzerland. It wasn't easy to take photos of him because of his absolutely deafness. So I couldn't work with noises to get his attention…afterwards it wasn't necessary. He gave me so many beautiful moments as you can see in this picture. This is Merlin, beautiful, dreamy and kind of wise. A wonderful old dog with so much charisma."
The runner-up in the Dogs at Play category…
"Let's jump rope together!" taken by Hungarian photographer Zoltan Kecskes.
"The girl you can see in the picture is Kathleen and her dog is called Rebel," said Kecskes. "She is actually a trainer. She teaches tricks to dogs. We live in the same town but met on social media. I saw her videos of doing these awesome tricks with her dogs and I just knew that I had to photograph them. I was particularly interested in the skip roping trick. I think the most challenging part was to find the right focal length and angle to capture them in a way that really showed how awesome was what they were doing. I love shooting against the sun. You lose some details and a bit if sharpness when you bring the shadows up, but for me it's worth it, I just love the atmosphere of those shots."


A baby goat kisses a dog at the Pet Expo 2019, a pet show in Bucharest, Romania, April 13, 2019. Photo: AP
And this photo comes from Officer Ben Rexroad of the Weld County Sheriff's Office in Colorado. Pictured is his K-9 partner, Ringo. You will see that Ringo lacks any sense of personal space.
We close as we always do with our closing video.
Watch the video in this online article: Dog Detectives: Inside Training Cadaver Dogs and Their Handlers.
And here are some videos we brought to you in 2019.
How often have we said dogs are truly amazing? WKOW-TV in Madison reported in November.
Certified therapy dog, a Barking Lot favorite, the amazing Surf Dog Ricochet, Army Veteran Jose Martinez and Marine staff sergeant Persons B. Griffith IV (Ret) AKA Griff have joined forces to share their experiences in an effort to heal, change and save the lives of wounded warriors, veterans with PTSD, kids with special needs and others who face physical, emotional or cognitive challenges.
For 30 years, professional violinist Martin Agee has performed in some of the world's most renowned music venues. But two years ago, he landed his favorite gig.
WHEW! That's it for this week. Thanks for stopping by throughout 2019.
Please consider passing this along to other dog lovers you know.
See ya, BARK, next Saturday morning!