The Barking Lot is a regular weekly feature of This Just In…Written by my lovely wife, Jennifer and me.  It opens with the weekend dog walking forecast followed by the main blog from dog lover, Jennifer. Then it's DOGS IN THE NEWS and our close. Enjoy!
THE WEEKEND DOG-WALKING FORECAST: We grade the weather outlook for taking your pet outdoors.
TODAY:  Cloudy this morning. Partly cloudy this afternoon. Cold. A high of 39. "D"
SUNDAY:  Cloudy. High of 45. "C-"
Now, here's my lovely wife, Jennifer with this week's main blog.
I want a dog.
Our daughter wants a dog.
Kevin?
Well. We've been through that before.
I know he'd like a dog. No, really. Just not now. Not yet.
Naughty Kevin.
Bad Kevin.
One friend jokingly referred to Kevin as my "dog-hating husband."
Okay. I've committed a journalistic no-no by burying the lead. So let's get to the major point.
There are countless reasons why dogs are amazing and here comes another. First, some anecdotes that involve, hmph, Kevin.
During the summer of 2016, the Fischers were at neighbor friends for a bonfire.  Gatherings at these neighbors are always sure to include the following:  kids, beverages, laughter, s'mores, mosquitoes, and most importantly in my estimation, dogs.  Kevin enjoys the conversations, Kyla the s'mores and hello what do you think I enjoy the most?  One neighbor dog is great.  Three neighbor dogs at a bonfire?  Yep.  Heaven.
We still talk about that particular night.  It's not what anyone said, it's not what anyone did, it's not what was served, and it's not what anyone wore.  It is a great memory that still tickles us.  On that particular evening, Kevin met Rainbow for the first time.  Before I met her and found out her real name, I just called her "Crabby Dog."  That was of course a joke; she is one of the most enthusiastic happy dogs I've ever seen.
Rainbow's owners were there, needless to say.  But I'm not sure she even realized that.  It was as if she had a magnet in her belly and Kevin's leg was made of pure steel.  She did not leave his side that entire night and of course he didn't mind.
Fast forward to the St. Patrick's Day Parade of 2018 in downtown Milwaukee. Kyla danced in the parade with her school mates from Cashel Dennehy (now known as Cashel Academy)
At one point in the parade a particular dog came down the street and made a beeline for Kevin.
That's Molly cozying up to the "dog-hater" and the German Shepherd is a local celebrity.
So, you now have two more examples of why dogs are amazing. Dogs love you. Because dogs…love…everyone. That's not just this dog lover's opinion. There's science behind it, which, as you know, fascinates me.
Researchers at Princeton University were able to pinpoint genes in dogs that in humans are associated with Williams-Beuren syndrome, a rare genetic disorder. One of the features in the syndrome is, are you ready,  indiscriminate friendliness.
I've blogged about Gregory Berns who has studied the brains of dogs extensively. Berns found that the portion of dogs' brains that generate excitement when they hear their owners' voices is actually the same part of the human brain that perks up when we are fond of someone or something.  That's a discovery that further explains the affection dogs have for humans.
There's more. Clive Wynne, a psychologist at Arizona State University who specializes in dog behavior says dogs not only bond exceptionally with humans, but with other species as well.
Wynne's latest book is flying off the shelves. Sounds like a nice Christmas present.
Another author, Kate Harding says, "Dogs don't care what breed anybody is or where they used to live. Dogs just act as though they believe everyone deserves to be happy, fed, sheltered and comforted when they're sick or sad. Radical, unconditional love — giving it and inspiring it in others — is one key to their survival."
Finally, there may be science involved, but it's also very simple. To borrow from Elvis Presley, dogs can't help falling in love with you.
—-Jennifer Fischer
Thanks Jennifer! Here's some related reading.
Time now for DOGS IN THE NEWS, canines that made headlines the past week.
Remember Sully, George H.W. Bush's service dog? His statue now sits at the president's library.
He's lived in a shed since his dog saved him from a trailer fire. Now this Wisconsin man's community may buy him a new home.
His parents died while he was in college so his dogs came with him on senior day.
Could Bringing Your Dog To Work Help You Become More Productive?
Rehab for dogs? Some owners turn to physical therapy to manage chronic pain, avoid costly surgery.
Dogs hear words the same way we do.
Why some people are better at reading dogs than others.
How Much Is a Dog's Life Worth?
Genetic Freak Wins National Dog Show. Read about Thor.
Andy Cohen Wonders Why His Dog's Paws Smell Like Fritos (There's a Reason).
Here are the Top Dog Names of 2019.
After hitting a dog with his car, a Canadian man drove it to safety. Turns out …
THAT'S IT FOR DOGS IN THE NEWS.
HERE'S OUR DOG PHOTO(s) OF THE WEEK.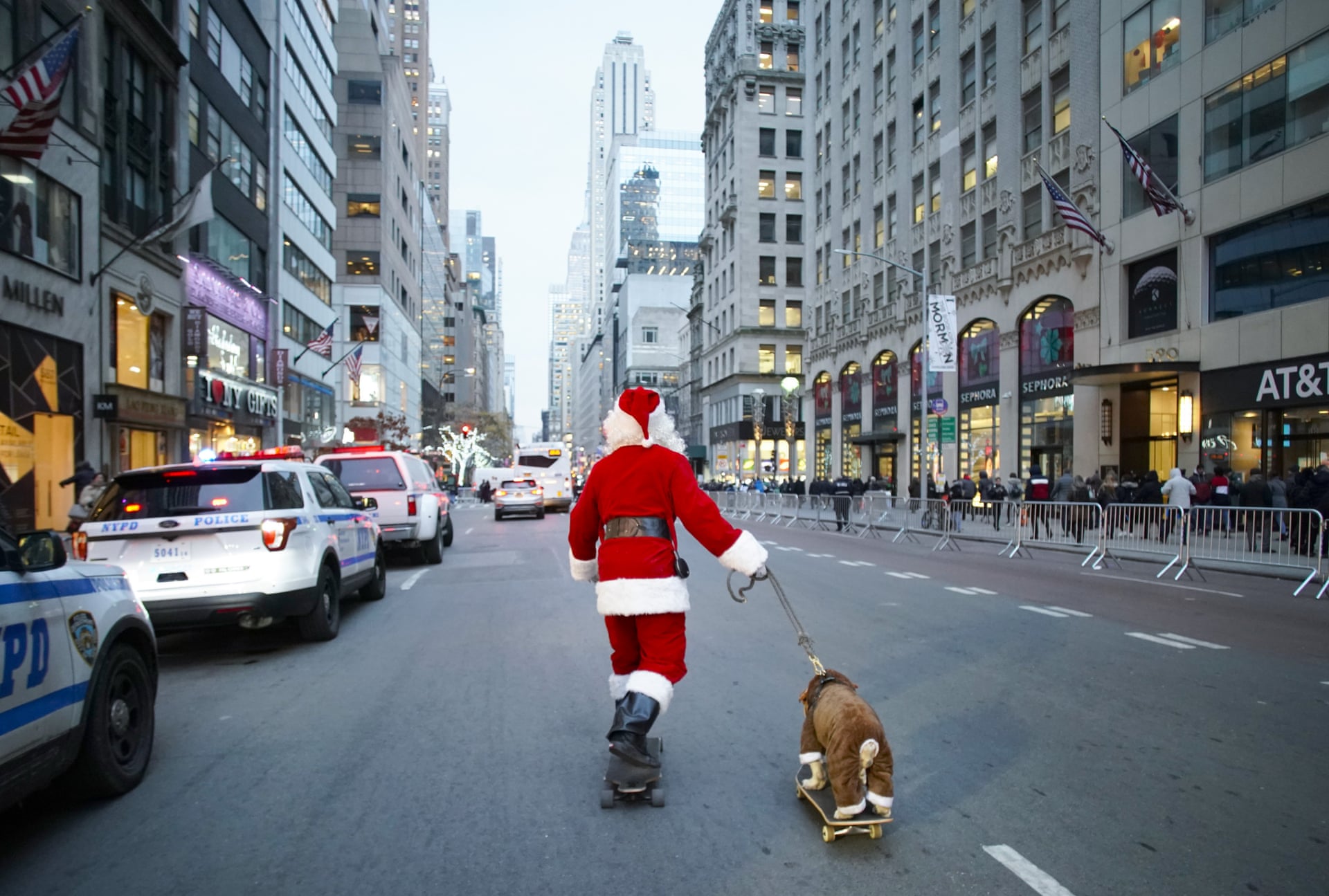 A man dressed as Santa Claus skateboards down Fifth Avenue towing a dog before the annual Christmas tree lighting ceremony at Rockefeller Center in New York. Photograph: John Angelillo/UPI/Barcroft Media
On Facebook, from my cousin Doug MacKenzie in Minnesota…

So last Sunday my love was on patrol and got a call about a dog in distress. She found this beautiful girl chained to a fence on 3′ leash. She was curled up in a ball so tight just to try and keep herself warm and according to neighbors, had been outside for a few days with no food or water. Niki only found her because of the reflection of her one open eye off her flashlight. Once Nik was able to get her into the squad, this beauty got to show her her true self…a beautiful young pup! I got a Facetime msg then and knew right away that this little beauty was going to be ours. Nik dropped her off at Animal Control and said that we would be very interested in adopting her. Somehow this beauty's reputation got out with some of the other officer's in the department and she seemed to be popular. Sorry guys…We've got her now. We've named her Chloe. She's fantastic!
We close as we always do with our closing video and we have a few.
First, to the rescue.
NEXT…Alabama is the only state in the nation to have a statewide facility dog program for victims telling their story in court or to investigators. Currently, there are eight facility dogs– one in each region of the state– who are deployed to courtrooms, child advocacy centers, or law enforcement offices by request.
Earlier this week the dogs waited patiently in line to see Santa Claus at the Bass Pro Shops in Leeds.

AND…
Watch this man dig his stuck dog out of a hole with his bare hands.
That's it for this week. Thanks for stopping by.
We'd really appreciate it if you forward this on to other dog lovers you know. Let them have some fun!
See ya, BARK, next Saturday!