Culinary no-no began on Father's Day 2007, a beautiful summer day, when I wrote about grilling brats. And eating brats. And topping those brats. I was inspired by my wife, Jennifer who, in my admittedly unscientific opinion, ruins brats by squirting ketchup on them. Other dining taboos quickly came to mind. The original idea was to take this concept only a few months, till the end of summer and then pull the plug. Then the unexpected happened. People started reading Culinary no-no. Lots of folks. So we keep doing the no-no.
Remember this 2007 Pixar movie named after the French stewed vegetable dish?
"Ratatouille" featured the very unlikely duo of a rodent culinary genius and his inept human.
One review on empireonline.com began like this:
Describe the plot of Ratatouille to most and they'll likely turn up their nose as if assaulted by a bad smell. It's about a rat who yearns to be a chef. That's not cute, that's not flip and postmodern. Couldn't we make it a giraffe who wants to play golf, or a hippo who dreams of being a stunt-hippo, or a gerbil who aspires to play lead guitar in a heavy-metal band (please note, second-tier animation studios – these concepts are copyright Empire)? What's cool about a rat in a kitchen? Isn't it, like, kinda gross?
Not at all, the reviewer continued.
I do recall that at the time, Duane Dudek, a critic with the Milwaukee Journal Sentinel wasn't sold on the entire idea of a mouse cooking in the kitchen.
Remy, one of the film's major characters, was rather skilled and prepared scrumptious menus. This wasn't a case of a mouse getting into the food. Now that would be gross, right? Such is the lead-in to this week's no-no.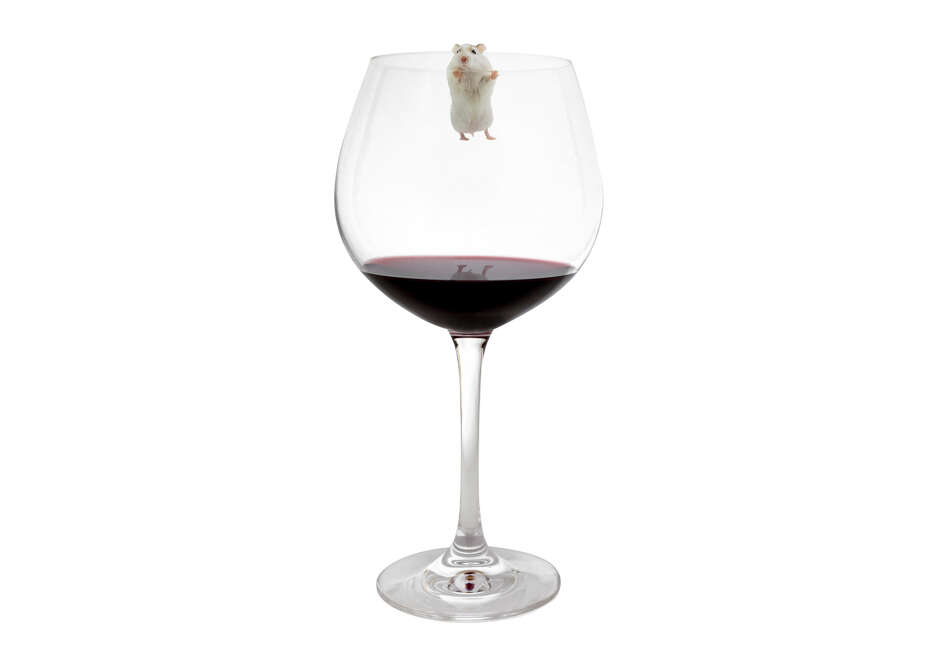 Wine critic Esther Mobley writes for the San Francisco Chronicle.
You can't smell it. At first, you can't taste it. But once you do, you'll wish you'd never opened the bottle.

It's a stealthy little pest known as mouse, or mousiness, an off-flavor that can infect wines. Depending on whom you ask, it tastes like a dead mouse, or a caged mouse, or "dog halitosis." Confusingly, it can also taste like crackers or corn chips.

It's experienced retronasally, meaning your nose perceives it when it's in the back of your mouth, as an aftertaste, so a wine that might smell perfectly pleasant and initially taste fine could spoil by the time it arrives at your tonsils.
Mousy wine. How does it happen, and what can be done about it?
Mousy wine is infected, tainted wine, an abnormality wine experts have known about for a couple of centuries.
That's Alice Feiring, author of…
Feiring told the SF Chronicle, "Mouse is enough to really destroy a wine."
Of course it can especially when Feiring has referred to the effect as "puppy breath" or "dog halitosis."
Why and how does this happen?
The preservative sulfur reduces mouse in wine. Even though wine producers fully understand that, they choose not to include the sulfur necessary to eliminate mouse for fear it will cut into the overall quality.
More consumers want natural wine that is made without adding or removing anything in the cellar. No additives or processing aids are used. Realizing this, manufacturers bottle their product faster. But in so doing the chances of mouse increase rather than if they had waited another six to 12 months to market.
The result? Wine that can all kinds of undesirable flavors: Cashews, peanut butter, rising bread dough, cereal milk, or even a cage full of mice.
Alex Pomerantz is winemaker at Subject to Change Wine Co. in Forestville, CA. He told the SF Chronicle:
"Of course, most people have never actually tasted a mouse, but when it's really bad it actually does kind of feel like there's a jittery little weird mouse in my mouth."
Problems:
There's  a 1 in 3 chance you won't even notice it.
Lately the problem seems to be on the rise.
One expert told the SF Chronicle consumers need to serve and drink wine that could be mousy, fast.
Or do as I do. Skip the wine and grab the brandy bottle.
CULINARY NO-NO BONUSES
Bugs, rodent hair and poop: How much is legally allowed in the food you eat every day?
Vegan School Lunches Expand Despite Opposition From Meat Industry
Everything You Never Wanted to Know About Artificial Sweeteners