The Barking Lot is a regular weekly feature of This Just In…Written by my lovely wife, Jennifer and me.  It opens with the weekend dog walking forecast followed by the main blog from dog lover, Jennifer. Then it's DOGS IN THE NEWS and our close. Enjoy!
THE WEEKEND DOG-WALKING FORECAST: We grade the weather outlook for taking your pet outdoors.
TODAY:  Cloudy in the morning, then off and on showers in the afternoon. Thunder possible. High of only 58.  "D"
SUNDAY:  Mostly sunny. High of 65.  "C"
Now, here's my lovely wife, Jennifer with this week's main blog.
Let's go dog shopping!  Or, at least pretend to.  Have you ever played the "What would I do if I won the lottery?"  I do something similar; I play "What kind of puppy will I get some day?"  I follow that up with a round of "What will I name my puppy?"  It's fun and about the closest thing I will get to four paws in the house for awhile.
So… you're at the dog shelter.  (Remember, this is my game, and my rules are you get your dog from a shelter, not a breeder.)  Cage after cage, you peruse the aisles of furry faces, eyes looking longing at you just begging "Please take me home with you."
You don't have a specific type of dog in mind; you just want to provide a good home to a dog that needs one.  Some of your choices are:
OK, narrow it down to two.  (One black, one golden.)
Now pick one.
Which one did you choose?  Wait.  Let me guess.  You picked GOLDEN DOG.  If you did, you followed a very common pattern with dog adoptions, and have just given in to what some people call "Black Dog Syndrome."  Many shelter workers believe that there is a true problem with black dog bias.
You may or may not believe this theory but this website  is devoted to showcasing black dogs and encouraging people to adopt responsibly.  Other stories support the black dog bias idea, such as the experience Pamela Gregg had with Molly.
The world of dog lovers shared some excitement this past Tuesday.
With the special day came a special message: Black dogs deserve love, too.
—-Jennifer Fischer
Thanks Jennifer!
Time now for DOGS IN THE NEWS, canines that made headlines the past week.
Wounded military working dog exhibit coming to the National Museum of the U.S. Air Force.
Don't let your vet bill dog you forever.
Why train your dog with food rewards?
Dog Owners Paying 300% More For Organic, Vegan Dog Food.
After a divorce, who gets the dog?
Keeping an older dog vibrant.
The Tech Helping Dogs Learn to 'Talk' With Humans.
Nothing to sniff at: radiothon offers dogs for $9.63.
THAT'S IT FOR DOGS IN THE NEWS.
HERE'S OUR DOG PHOTO(s) OF THE WEEK.
First, adorable dog with 'human face' who looks like he's smiling baffles the internet
Next…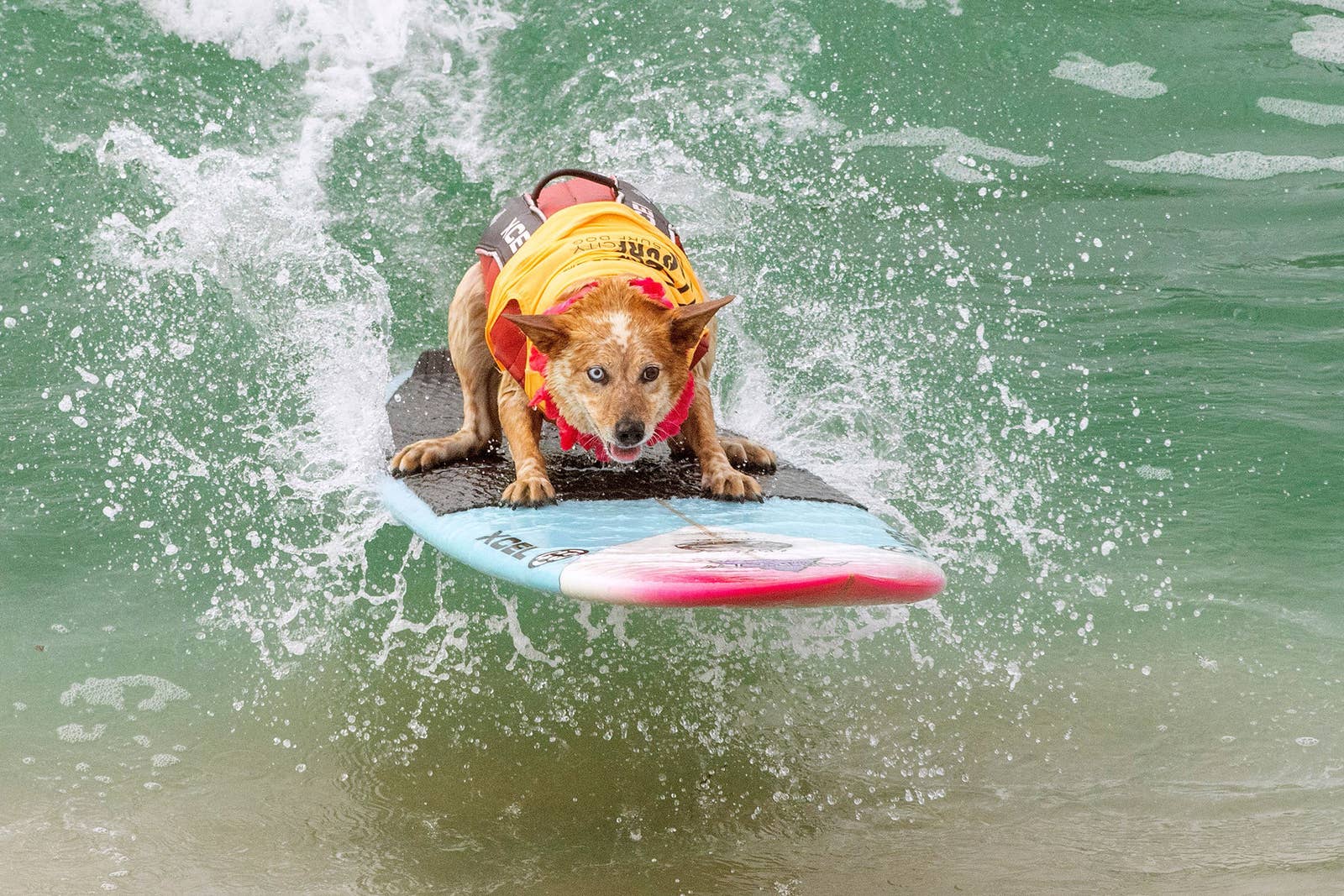 Skyler Henard competes in the 2019 Surf City Surf Dog contest in Huntington Beach, California, Sept. 28, 2019. Photo: AFP
We close as we always do with our closing video.
Winston, a service dog, trains for Halloween. Watch the video in this article.
And…Marvel fan Matt Sherwood and his service dog Chris become a hero team to fight social injustice in this episode of Marvel Make me a Hero.
That's it for this week. Thanks for stopping by.
We'd really appreciate it if you forward this on to other dog lovers you know. Let them have some fun!
See ya, BARK, next Saturday!