Every Friday night we smooth our way into the weekend with music, the universal language. These selections demonstrate that despite what is being passed off as art today, there is plenty of really good music available. Come along and enjoy.
The Beatles' "Abbey Road" was released 50 years ago last week and a new remixed 50th Anniversary Edition is now available. The album concludes with the short track "The End" with the lyric "And in the end, the love you take is equal to the love you make." Clearly this was the group's finale ("Let It Be," though released in 1970, was recorded before "Abbey Road.")  "Once we finished Abbey Road, the game was up, and I think we all accepted that," said George Harrison.
The Beatles recorded most of  the 1969 album at what was then called EMI Studios. The band also took the album's iconic cover photo at a crosswalk near the entrance to the studio, which is located on Abbey Road. John Lennon, Paul McCartney, George Harrison and Ringo Starr held up traffic on the zebra crossing outside their recording studio in north London to get the cover shot for the album.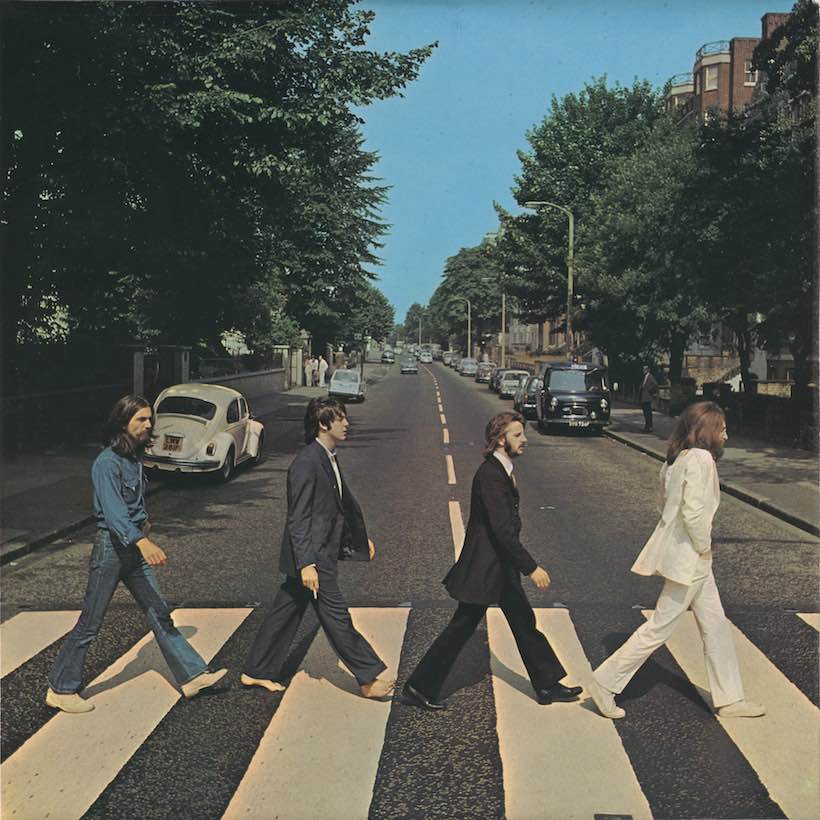 "There is no pilgrimage more meaningful to most Beatles fans than to step onto the crosswalk where the Fab Four were photographed for the cover of their "Abbey Road" album. Fifty years after the release of the album, Abbey Road is still drawing tourists. And drivers in London are getting sick of it. Ten years ago, on the 40th anniversary of the album, a taxi driver told the BBC: 'I come here all the time and it's always been the same – it really does annoy you. All they're doing is posing on the crossing. Someone's going to get mown down one of these days, there's no doubt about it.'"
Travel and Leisure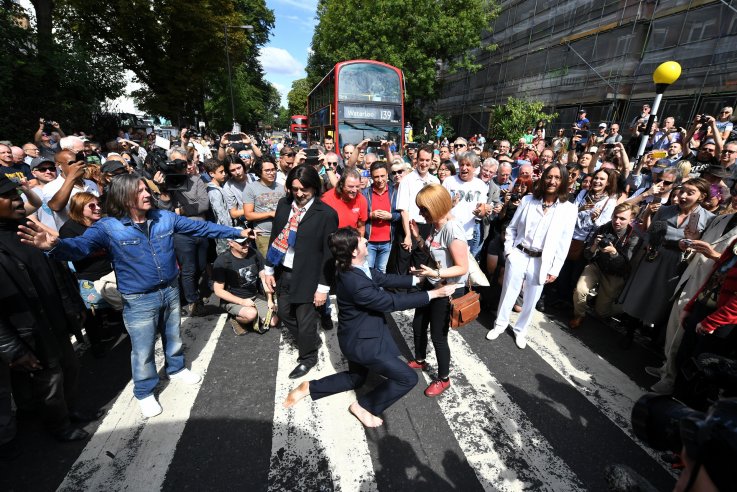 A Paul McCartney impersonator proposes to his girlfriend as a group of Beatles look a-likes recreate the iconic 'Abbey Road' photograph. Photo: Newsweek
This week, a celebration of the Beatles' swan songs. Let's get started.
On rare occasions (two I believe) the band allowed Ringo to write and sing a song. The drummer got the idea for the whimsical, child-friendly "Octopus's Garden" after the captain of Peter Sellers' yacht talked to him about the sea animal while on vacation.
"He told me all about octopuses, how they go 'round the sea bed and pick up stones and shiny objects and build gardens. I thought, 'How fabulous!' because at the time I just wanted to be under the sea, too. I wanted to get out of it for a while."
On the studio recording Ringo made the underwater sounds by blowing bubbles through a glass of water.
The inspiration for the first track on the first side of the album came when John Lennon started working on a campaign song for LSD guru Timothy Leary  who was running against Ronald Reagan for governor of California in 1969.
"East Bay Soul," led by former Tower of Power trumpeter and arranger Greg Adams does the honors.
OK, that was an instrumental, but be honest. Were you singing along?
Here come old flat top
He come groovin' up slowly
He got joo joo eyeballs
He one holy roller
He got hair down to his knee
Got to be a joker
He just do what he please
He wear no shoeshine
He got toe jam football
He got monkey finger
He shoot Coca-Cola
He say I know you, you know me
One thing I can tell you is
You got to be free
Come together, right now
Over me
John Lennon said he should have been the lead singer on "Oh! Darling, " a rare Beatle hard-rock vocal because the song was more his style. Paul wanted so badly to sing it to the point where he came to the studio early every day for a week to practice over and over again, not to perfect the vocal, but to make its sound as though his voice was strained from all the rehearsing.  Since he lived two blocks away from Abbey Road he could easily arrive early. And since Paul wrote the song he got to belt it out on the album, which John always resented.
Said John "He wrote it, so what the hell, he's going to sing it. If he'd had any sense, he should have let me sing it."
Speaking of style this version of "Oh! Darling" is very different from the original. Karen Souza is an Argentinian jazz and bossa nova singer-songwriter and producer. She has toured in Europe, throughout Latin America and Japan.
Souza is sultry and smooth, smoky and smoldering. She performs with the Cooltrane Quartet.
"Karen Souza has a voice that can make any song sound like an intimate confession."
Downbeat Magazine
"Her voice is like a massage."
Tom "Bones" Malone, the trombonist and former Saturday Night Live bandleader
"A good song, you can sing it in bossa, in jazz, in whatever. It works because it's a good song."
Karen Souza
We transition from that sweet voice to imagining The Beatles doing a song about someone like this.
Hard to believe, but that's exactly what they did.
"Maxwell's Silver Hammer" is pure Paul pop. Starts out innocent enough. Then it quickly sinks into the tale of a medical student who's a serial killer.
I suppose one could argue the song was a good vehicle at the time for comedian Steve Martin to perform in the dreadful 1978 musical "Sgt. Pepper's Lonely Hearts Club Band." But that would be a reach. As one reviewer put it, "It must have seemed like a good idea at the time."
The film got terrible reviews. Dave Swanson wrote on ultimateclassicrock.com "most of the interpretations of Beatles classics are terrible. (The verdict is still out on whether Martin's take on 'Maxwell's Silver Hammer' or anesthesia-free root-canal surgery is more painful.)"
"His over the top 'performance' will go down in history as both a musical and cinematic bomb of Hiroshima-like proportions."
John Borack, Goldmine Magazine
Here's a clip on how to butcher a Beatles classic. You'll recognize George Burns as the narrator.
The movie bombed. Swanson contends the careers of the Bee Gees and Peter Frampton were ruined from that point on because of their appearances. The soundtrack double album hit #5 on the Billboard charts. But millions of copies were returned to distributors or destroyed when the movie flopped.
I loved the original of the previous tune. Since we didn't see or hear the entire Steve Martin rendition, let's hear the Beatles finale.
Recording sessions for the album came at a turbulent time. The Beatles had, at best, a tense relationship, on the verge of breaking up. In a 2008 interview with Rolling Stone magazine, Ringo Starr said, "The worst session ever was 'Maxwell's Silver Hammer.' It was the worst track we ever had to record. It went on for f–king weeks. I thought it was mad."
The sessions for the song actually lasted only three days. But to Ringo it felt more agonizing.
That's it for this week.
Goodnight everyone.
Sleep well.
Have a great weekend.
Trust me, we'll end on a high-quality note, but first, what the Abbey Road album cover would look like if it was released today.
Abbey Road got mixed reviews, with the NY Times (Hell, what do they know) calling it an "unmitigated disaster" and Rolling Stone saying it was "complicated instead of complex." Didn't matter. The album topped the Billboard 200 album chart for 8 weeks near the very end of 1969.