The NFL preseason is over and the real schedule begins Thursday in Chicago where the Packers take on the Bears.
You can bet in Indianapolis fans are still talking about what happened there on August 24.  Talented Indy QB Andrew Luck abruptly and stunningly announced his retirement from the league after constant injury problems.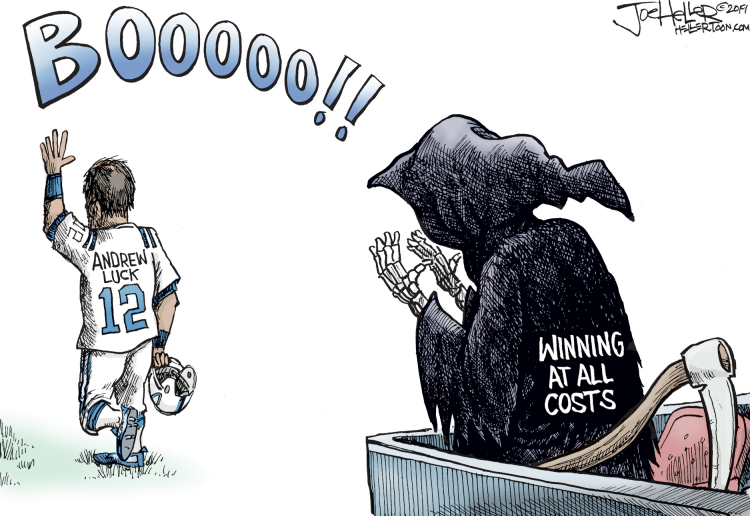 Physical toll on Andrew Luck through 6 NFL seasons:
» Torn cartilage in 2 ribs
» partially torn abdomen
» a lacerated kidney that left him peeing blood
» at least 1 concussion
» a torn labrum in his throwing shoulder
"(The injuries have) taken my joy of this game away," Luck said. "I've been stuck in this process, haven't been able to live the life I want to live. After 2016, I played in pain and was unable to practice, I said I wouldn't go through that again."
Word got out even before the end of the Colts' exhibition game against the Bears was over last month. The hometown fans, upset with the sudden retirement, booed Luck as he walked off the field.
Today's read is from Rich Manieri, a professor of journalism at Asbury University in Kentucky.
Here's an excerpt:
I love NFL football and watch a lot of it. We buy tickets and that gives us the right to jeer. But I have to wonder what the booing of Luck says about us as fans, and as people.

A man decides he can no longer compete at his maximum level because of the pounding he's endured and walks away, leaving potentially hundreds of millions of dollars on the table. And we view that as an affront. We paid our money after all. He should continue to bleed for us, whether he wants to or not.