The Barking Lot is a regular weekly feature of This Just In…Written by my lovely wife, Jennifer and me.  It opens with the weekend dog walking forecast followed by the main blog from dog lover, Jennifer. Then it's DOGS IN THE NEWS and our close. Enjoy!
THE WEEKEND DOG-WALKING FORECAST: We grade the weather outlook for taking your pet outdoors.
TODAY:  Sunny. A high of 73. "A"
SUNDAY:  Partly cloudy.  High of 75. "A"
Now, here's my lovely wife, Jennifer with this week's main blog.
I often comment that my dream job would be taste-testing brownies while petting puppies.  I'm still waiting for the opening somewhere that can fulfill that wish.  In the meantime, I have to say that this past Wednesday evening was as close as I've come so far.
As an Education Assistant at Kyla's school (St. Anthony) I've got plenty of free time in the summer months.  Since the Milwaukee Milkmen were hiring I thought it would be a perfect part-time gig…  Close location, beautiful new ball park, what more could I want?  Hmm…  Maybe some dogs?  Um, no not hot dogs…  Every ball park has those.  I mean those furry faced creatures that make my heart skip a beat.
Finally, this past Wednesday I got my wish.  The Milkmen hosted their first Bark in the Park event.  Each fan could bring up to two dogs on a leash and were seated in our Waterstone Bank Pasture area.  Franklin's own Lulu's Dog Pawlour was the sponsor of the event.  HAWS was the non-profit of the game and brought a few friends that were available to adopt.
My coworker Laura is as big of a dog lover as I am.  She thought it would be fun to have a little something extra for them at the box office.  So, she brought her own bag of treats and with the owners' permission would give them a little cheese nugget.  Then, our four-footed guests were treated to a complimentary bandana courtesy of the Milkmen that they proudly wore throughout the game:
Photo courtesy of Milwaukee Milkmen Facebook page
In addition to the Puppy Parade (sadly I was still working and did not get to take any photos) there were volunteers walking around, handing out dog-friendly treats with their owner's permission:
Photo taken by me
Number of dogs in attendance Wednesday was 97.  Based on human attendance (1449) that was about one dog for every fourteen people!  There was so much pawsitive feedback (sorry, I simply couldn't resist) that it's sure to be an event next season too.  I'm already looking forward to it!
—-Jennifer Fischer
Thanks Jennifer!
Time now for DOGS IN THE NEWS, canines that made headlines the past week.
We open with a video.
Trying to save a dog in distress could lead to civil, possibly criminal charges.
Oh my.  Dogs are…destructive?
Dog racing died without a funeral.
Loyal dog Dies 15 minutes after owner loses eight-year cancer battle.
Train Your Baby Like a Dog: Outrage over TV show in the UK. And here's an update.
Scientists have discovered that dogs developed a special eye muscle to give 'puppy dog eyes' and bond with humans.
What's this? 1 Dog Year Is Not Equivalent to 7 Human Years.
Double amputee dog running marathon to raise funds for dog rescue.
Soothing Victimized Dogs with Bach and Beethoven.
Dogs are good for your heart.
Darby is a hero.
Question: What is the most dog-friendly city in the nation? The answer.
'Lady and the Tramp' remake casts shelter dog in lead role.
'A Dog's Journey' bloopers: Watch what happens when a squirrel drives the dog stars nuts.
'Pure cuteness': Doggy Con draws hundreds of dressed-up dogs, from Yoda to Starbucks cups.
THAT'S IT FOR DOGS IN THE NEWS.
HERE'S OUR DOG PHOTO(s) OF THE WEEK.
And we've got a bunch this week.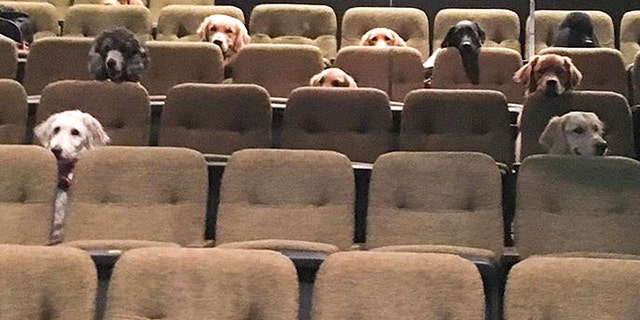 An adorable photo of a group of service dogs sitting in a Canadian theater last week catching a production of "Billy Elliot" has gone viral. The photo shows the crowd of mainly poodles and golden retrievers taking up at least four rows and attentively watching the stage during the Stratford Festival in Ontario. The objective was to prevent fur from flying during live theater so the pups can help their handlers navigate a theater atmosphere.

Bark for the best! A dog dressed as Yoda from "Star Wars" won the cosplay costume contest at Doggy Con in Woodruff Park on Aug. 17, 2019, in Atlanta.  Photo: Andrea Smith, AP
Megan Nelson and Darla, her mixed chocolate Labrador Retriever, won the best dog-and-owner combination award at Doggy Con. Nelson wore a Cruella de Vil costume and her pooch was a Dalmatian.  Andrea Smith, AP

Stella Jones, 17 months old, plays with Kira, a dog dressed as a Starbucks coffee cup, at Doggy Con. Kira's owner Tali Higgins dressed like a Starbucks barista. "I like coffee and my dogs are super-sweet, so I thought it was a good fit," Higgins said. Andrea Smith, AP
ESPN's having a "Dog Day" today, so Golf Digest posted a bunch of photos of dogs.
And Kyla was with the handsome Duffy, a Glen of Imaal Terrier at the Celtic Canine location at Irish Fest last weekend.
We close as we always do with our closing video, and we have a few.
First…
Next, earlier this week on The Morning Blend on Today's TMJ 4…

AND, one of the best dog videos of the year is in this article.
That's it for this week. Thanks for stopping by.
We'd really appreciate it if you forward this on to other dog lovers you know. Let them have some fun!
See ya, BARK, next Saturday!