The Barking Lot is a regular weekly feature of This Just In…Written by my lovely wife, Jennifer and me.  It opens with the weekend dog walking forecast followed by the main blog from dog lover, Jennifer. Then it's DOGS IN THE NEWS and our close. Enjoy!
THE WEEKEND DOG-WALKING FORECAST: We grade the weather outlook for taking your pet outdoors.
TODAY:  Mostly cloudy. High of 80.  "A"
SUNDAY:  A shower or two possible early in the morning,  mostly to partly cloudy the rest of the day. High of 78.  "B"

Now, here's my lovely wife, Jennifer with this week's main blog.
In my next life I want to be …
Alexandra Horowitz.
She's a cognitive scientist who studies dogs.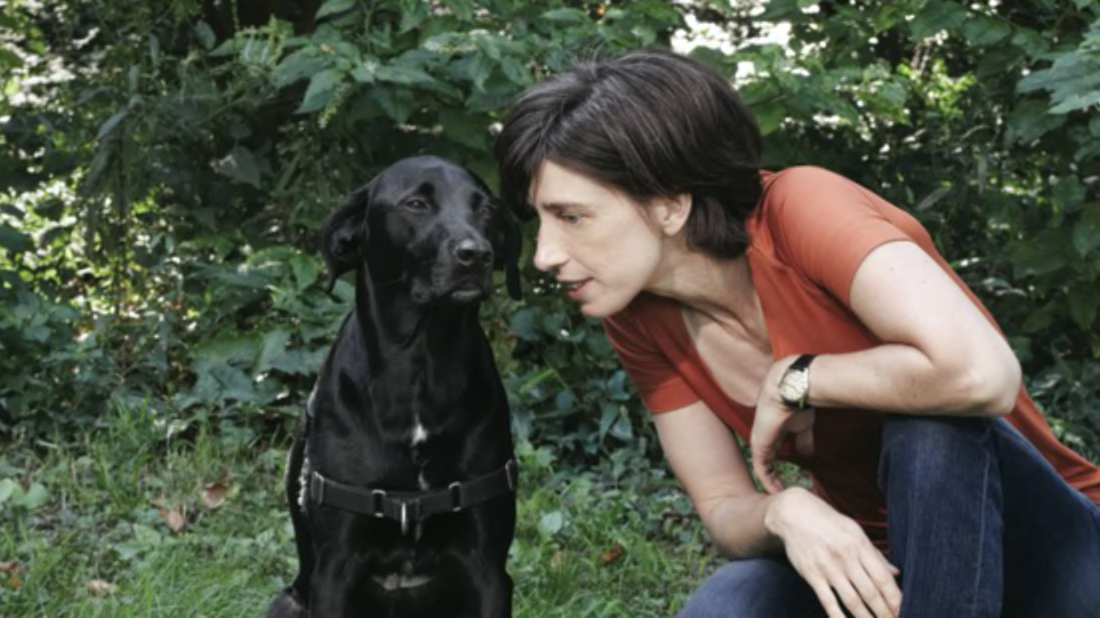 I would love that job.
And then when the New York Times calls and asks me to do a special assignment and write about it, I'd jump at the opportunity.
To compile information for her opinion piece Horowitz wasn't required to gather exhaustive "research." All that was necessary was a notepad along with her two ears. Here's a brief portion of the Times piece.
Everywhere I go I encounter dogs: on the sidewalk, in the parks, in stores and airports, at readings, at my dog cognition lab. Most of the dogs are with people. Consequently, it is not long before I hear people talking to their dogs.

Heading down a city sidewalk one morning, when sleepy dogs and people stumble out for the dog's morning micturition, I saw a woman with two small dogs, both in sweaters, one of whom had lifted a rear leg to aim directly onto a scaffolding pole. "You're going first: excellente! Awesome job!" The dog's owner crooned. I pulled an envelope out of my bag and scribbled down her words. Thus began my long foray into public eavesdropping on the dog-human dyad.
Horowitz heard quite a bit, jotting it all down. And there's more to it than all those cutesy phrases as she explains.
You can sense that she must have had a blast on her "fact-finding tour." I know I would have.
Read what she discovered and what it all means here.
—Jennifer Fischer
Thanks for sharing Jennifer!
Time now for DOGS IN THE NEWS, canines that made headlines the past week.
Specially trained dogs travel to El Paso to comfort first responders and medical staff after mass shooting.
We often say here that the news isn't always good. Woman faces felony after dog dies in hot car at Lambeau Field.
While a man lay dying, this woman stole his dog. Police found her because she later stole a car.
Feds announce new guidelines for service and emotional support animals on planes.
Proposed testing could limit dog adoptions in Wisconsin.
He had to rescue his dog.
Jamie Otis Decides to Rehome Dog to Protect Daughter: 'This Is the Hardest Thing.'
This woman quit her job to paint deceased pets. Now, there's a six-month wait for her works.
4 Detroit coworkers share custody of the office dog. Here's how they do it.
The health benefits of having a dog, as told by a man with 50.
THAT'S IT FOR DOGS IN THE NEWS.
HERE'S OUR DOG PHOTO(s) OF THE WEEK.
He's back!!!
SURF DOG RICOCHET CATCHES WAVES WITH KIDS WHO CAN'T WALK, EAT OR BREATHE

Surf Dog Ricochet and kids with spinal muscular atrophy (SMA) caught waves last week during the 5th annual "Surf Away SMA With Ricochet" event. SMA is a disease that robs individuals of physical strength by affecting the motor nerve cells in the spinal cord, taking away the ability to hold their head up, stand, sit, crawl, walk, swallow food effectively, or breathe. The diagnosis comes with words no parent ever wants to hear…"No treatment, no cure."

Some kids like Neil, have a tracheostomy, a surgically created opening into the trachea that provides breathing assistance via a permanent ventilator. Neil has Type I SMA—the most severe and the most common.

Other kids like Isabella have type II SMA. these kids can typically sit up without help, though they may need assistance getting into a seated position, but they are unable to walk and will require a wheelchair.

Lauren has Type III SMA. Individuals affected by this type are initially able to walk, but have increasingly limited mobility as they grow and eventually, many need to use a wheelchair.

Although these kids have difficulty performing the basic functions of life, SMA does not affect their ability to think, learn, have hopes and dreams or… surf with their pet dog and Surf Dog Ricochet!!

Neil's sister gives him a last minute "pup" talk!

Having children who are profoundly disabled takes the utmost expertise of the water safety team. Getting water into the opening of a tracheostomy could cause aspiration pneumonia. With this in mind, the board was picked up going in and out of the water, as well as each time a wave came close.

The board was kept in shallow water, and when the crew was ready, the team leader held onto the back of the board and walked it to shore. The rest of the team surrounded them to ensure safety.

A bath chair was attached to the surfboard to keep the kids comfortable. This is what all-inclusive surf therapy looks like!

Children who aren't as severely disabled were able to go without the chair, but safety was still the number one priority, so a skilled and experienced surfer was on board too.

Thanks to Ricochet, and an incredible team of skilled volunteers, the kids got a thrill of a lifetime.

The surf session also celebrated a new drug called Spinraza that was recently approved to treat this debilitating and terminal disease. Significant improvement has been seen in the survival of infants. It has also improved motor function in some children, helping them sit, stand and even walk.

For a child with SMA, going from a chair full of gear to a surfboard full of cheer gives both the child and the parents the opportunity to do something they never thought possible.

It takes a village!

Please get on board, and join Ricochet in raising awareness of SMA by sharing this uplifting story of children who have a spirit much stronger than the body that houses it. Thanks for your support.
Note:  For more information, please contact Judy Fridono at 707-228-0679, or pawinspired@aol.com.
Photos by: Ionis Pharmaceuticals
And here are 21 more. Therapy dogs at work!
We close as we always do with our closing video.
Tank, a 7-year-old German Shepherd, was recently diagnosed with degenerative myelopathy (DM), a progressive and fatal paralytic disease. His Okaloosa Island owner, Chris Page, was told two months ago that Tank has eight months to live.
And, in theaters now…
That's it for this week. Thanks for stopping by.
We'd really appreciate it if you forward this on to other dog lovers you know. Let them have some fun!
See ya, BARK, next Saturday!