The Barking Lot is a regular weekly feature of This Just In…Written by my lovely wife, Jennifer and me.  It opens with the weekend dog walking forecast followed by the main blog from dog lover, Jennifer. Then it's DOGS IN THE NEWS and our close. Enjoy!
THE WEEKEND DOG-WALKING FORECAST: We grade the weather outlook for taking your pet outdoors.
TODAY:  Partly cloudy early in the day will give to scattered thunderstorms in the afternoon. Gusty winds and small hail possible. High of 87. "B"
SUNDAY:  Possible isolated afternoon thunderstorms. High of 86  "B"
Now, here's my lovely wife, Jennifer with this week's main blog.
OK. As much as Kevin and I blog and Facebook about our family's tremendous Irish pride, this weekend we place on parade our love of Germany as we celebrate a fantastic Milwaukee ethnic festival happening this weekend, German Fest!
Well, of course…
The food just might be the best of all the ethnic festivals on the lakefront.
Pigs on a spit. Spanferkel.
Dessert anyone?
The human Glockenspiel…
OMG!
Thank you, German Fest, for posting that photo from 2018 on your Facebook page.
Lots of good stuff at the event but many fest-goers this Sunday will forego all German Fest has to offer in order to observe the…
14th Annual Dachshund Derby 
Sunday, July 28th, 2019
1:05pm  Blessing of the Dachshunds
1:15pm  Dachshund Derby and Ribbons
2:30pm  Dachshund Costume Contest
Our family is at German Fest when this race takes place. The area is jammed. Can't get a seat. Just not possible. So Kyla is in her swimsuit, fully immersed in the fountains honoring Bo Black,  stationed inside the mid gate, right behind the dog races.
We probably had already been at tent featuring champagne to wash down our German pizza with bratwurst. Good stuff.
Eventually we'll head to the Konditorei pastry shop and hope they haven't run out of Bienenstich, a traditional German coffeecake filled with a special custard and topped with almonds and honey.
Take our advice. Go for dessert first. Head there right away to avoid the disappointment of this luxury being sold out. But as much as we'd love to watch the Derby it doesn't happen because it's so popular.
Here's the point. The large crowded assembly for the Derby at German Fest is an amazing testament to the human adoration and love of dogs. In the steaming hot early afternoon sun of late July a packed throng sits elbow to elbow on the ground to watch in great anticipation the races of immensely cute dogs that last merely seconds.
It's excitement for dog lovers to the nth degree. One of the summer moments we live for when shovels and wind chills are the topics of discussion.
God love 'em, those dachsunds.
From 2012…
—Jennifer Fischer
Thanks Jennifer!
Time now for DOGS IN THE NEWS, canines that made headlines the past week.
OPINION: Ivanka Trump's white dog is just a dog. Can we stop imposing race on animals?
Rabies Kills Tens of Thousands Yearly. Vaccinating Dogs Could Stop It.
Dog who was shot 17 times becomes therapy dog.
'Mind-blowing': Stranded for 4 days, 72-year-old man and his two dogs survive in remote Oregon desert.
Instead of Using Milk Cartons to Search for Missing People, Pizzeria is Attaching Lost Pet Flyers to Pizza Boxes.
The Quietly Changing Consensus on Neutering Dogs.
What dog is the one for you? How I Met My Dog will tell you.
Since Dogs Make Everything Better, There Is Now a Bike Designed to Take Your Dog Anywhere.
Best dog names of 2019.
THAT'S IT FOR DOGS IN THE NEWS.
HERE'S OUR DOG PHOTO(s) OF THE WEEK.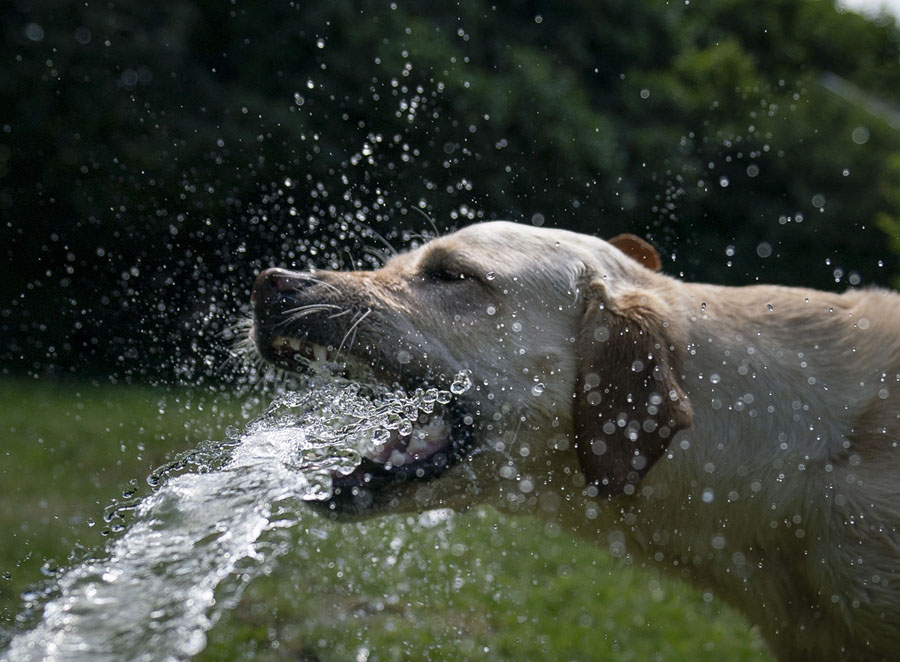 A dog named Luna enjoys a water hose in Hareskoven, Copenhagen, Denmark, on July 24, 2019. Photo: Liselotte Sabroe / AFP / Getty
And check these out from the Milwaukee Business Journal that covered this week's "Finding Fido."
We close as we always do with our closing video. We have a few. The first is from Houston.
Post a negative online review? You may end up in court.
AND in Portland, you can rent an air-conditioned dog house while you shop.
That's it for this week. Thanks for stopping by.
We'd really appreciate it if you forward this on to other dog lovers you know. Let them have some fun!
See ya, BARK, next Saturday!