Culinary no-no began on Father's Day 2007, a beautiful summer day, when I wrote about grilling brats. And eating brats. And topping those brats. I was inspired by my wife, Jennifer who, in my admittedly unscientific opinion, ruins brats by squirting ketchup on them. Other dining taboos quickly came to mind. The original idea was to take this concept only a few months, till the end of summer and then pull the plug. Then the unexpected happened. People started reading Culinary no-no. Lots of folks. So we keep doing the no-no.
I sure do miss Bill Proxmire.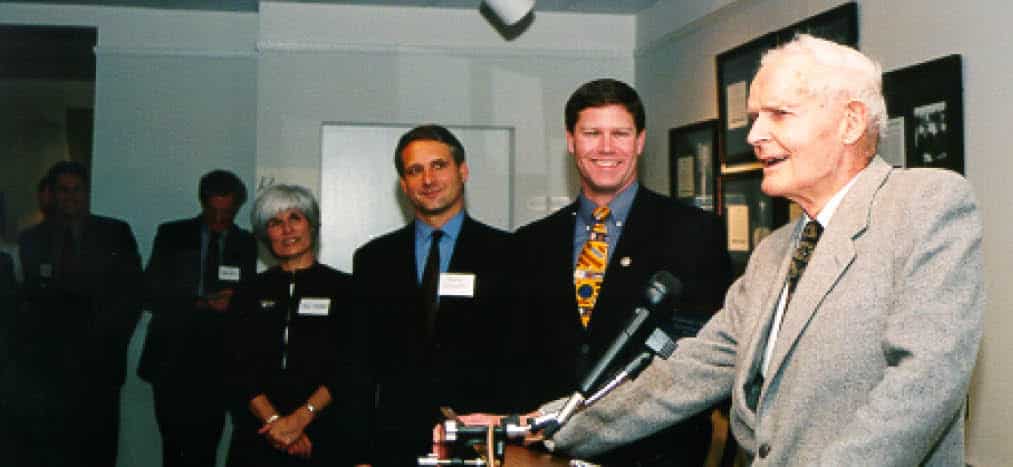 Proxmire (far right)
First brought to Congress in a special election in 1957, Senator William Proxmire, a Wisconsin Democrat, served 32 years for over five terms in the U.S. Senate until he retired in 1989.
After a ritual morning exercise of 100 push-ups and a four-mile run, the Senator brought his extraordinary energy to his work in Congress. Present for more than 10,000 roll call votes during the course of 22 and a half years, he still holds the record for the most consecutive votes in the history of the U.S. Senate. In his last two Senate campaigns of 1976 and 1982, Proxmire refused to take any campaign contributions, whatever their form, and spent less than $200 out of his own pocket on each of the campaigns.
Proxmire issued a Golden Fleece Award every month between March 1975 and December 1988. In his own words, the award singled out a "wasteful, ridiculous or ironic use of the taxpayers' money."
Proxmire was inspired to create the Golden Fleece Award in early 1975 as a way to galvanize public opinion against wasteful spending. In March 1975, the Senator gave his first Golden Fleece Award to the National Science Foundation for conducting an $84,000 study about why people fall in love.
I also miss former U.S. Senator Bob Corbin, a Republican who represented Oklahoma in the Senate from 2005 to 2015.
As a family doctor, Dr. Coburn specialized in family medicine, obstetrics and the treatment of allergies. Dr. Coburn has personally delivered more than 4,000 babies.
Dr. Coburn also is a two-time cancer survivor.
Like Proxmire, Coburn gained attention for  publishing an annual "Wastebook" that highlighted numerous examples of federal government waste.
In his final Wastebook published in 2014, Coburn wrote about:
$19 million in salaries that the government paid to workers who were suspended from their jobs, usually because of misconduct that would have resulted in outright firing at a private company
$50,000 spent to study whether sea monkeys' swimming changes the flow of oceans
$450,000 that the Homeland Security Department spent on high-end gym memberships for staffers whose federal health insurance already pays for gym benefits
The increasing number of veterans who get disability payments by claiming sleep apnea at a cost Coburn said could reach $1.2 billion.
In all Coburn identified $25 billion in waste from 100 projects.
James Lankford, who replaced Coburn in the U.S/. Senate, followed in his footsteps by releasing "Federal Fumbles," a report that outlined  100 examples of regulations and spending he found were egregious misuses of taxpayer dollars.
Where does the culinary angle come in or come from?
The state of Maine.
Big, boiled, broiled, cold, cooked, fresh, fried, grilled, scrumptious, mouthwatering, appetizing, tasty, delicious.
And then you have…
Right whales
The feds are blaming Maine's fishermen for dangers to the whales and may regulate to the point the fishermen and their business will suffer.
Maine's governor says that's  not the case and intends to fight.
Some say the governor got into the game too late.
Some says the governor should fight, but not too hard.
Some want President Trump to intervene.
Get the popcorn, folks. This could get interesting.
CULINARY NO-NO BONUS
I used to work at the Cheesecake Factory. Here are 13 things that surprised me about my job.