The Barking Lot is a regular weekly feature of This Just In…Written by my lovely wife, Jennifer and me.  It opens with the weekend dog walking forecast followed by the main blog from dog lover, Jennifer. Then it's DOGS IN THE NEWS and our close. Enjoy!
THE WEEKEND DOG-WALKING FORECAST: We grade the weather outlook for taking your pet outdoors.
TODAY:  Partly to mostly cloudy. A high of 74. "A"
SUNDAY:  Partly cloudy.  High of 75.  "A"
Now, here's my lovely wife, Jennifer with this week's main blog.
—Jennifer Fischer
When summer finally came this year, it arrived with a bang.
No oppressive heat just yet. But it's been warm.
Just like last year our tenderhearted daughter, Kyla is helping our furry friends this summer by placing a plastic container (remember, no dog so we have no dog bowl) out by the curb with water. She made this sign in 2018 to put on the tree that shaded the water.
One of us, including Kyla would periodically refresh the container with cold water, free of bugs.
Obviously we couldn't see every dog that walked by but we did witness quite a few that took advantage and slurped away.
But there were just a few more owners that didn't allow their pets to drink up. Instead, they pulled the dogs away by the leash and nicely told them no.
That's fine, of course. Possibly they worried about a spread of germs. If so, experts say they needn't be concerned.
According to the American Kennel Club (AKC) there are very few diseases dogs spread or contract by mouth.
Bacteria or viruses that can cause disease are more likely to be spread by fecal-to-oral transmission. And that can only happen in a bowl left out for dogs in the neighborhood  if fecal material somehow ends up in the bowl.
Still other diseases are of the respiratory kind. Can those be passed along by Kyla's water container? Of course. An infected dog would have to sneeze right on or near the bowl.
To summarize, the AKC contends if your dog is healthy, water meant to be shared is highly unlikely to be risky. Many other sources claim the same.
Does that end the debate? Not at all.
Susan Nelson, clinical associate professor at Kansas State University says, "Communal water dishes can be a breeding ground for bacteria and giardia, an intestinal parasite. It can live in a wet or damp environment for long periods of time. If a dog catches this parasite, it then multiplies to the point where it infiltrates the lining of a dog's intestines and blocks normal digestion and absorption of nutrients. To be safe, owners should simply bring their own water bowl (to a dog park)."
And the Center for Pet Safety recommends pet owners bring fresh bottled water during public outings and avoid the use of communal water bowls.
So we completely understand if the next dog owner on our street just keeps walking.
—-Jennifer Fischer
Thanks Jennifer!
Time now for DOGS IN THE NEWS, canines that made headlines the past week.
2 central Wis. dog sellers listed in Humane Society of the United States' 'Horrible Hundred'
Dallas Zoo's new African painted dogs kill packmate.
Dog attacked and killed by swan in Dublin.
In California, dog falls off cliff.
Dane County, WI  woman searching for man who hit dog, looks to thank him for closure.
Man offers unique reward for safe return of beloved lost dog.
Missing Texas dog spooked by 2018 July 4th fireworks found in California.
Use Science To Help Your Dog Survive Fireworks (And Thunderstorms).
Everyone Wants a Rescue Dog. Not Everyone Can Have One.
Yes, the Post Office can do this.
Pet owners have some tools to fight veterinary sticker shock.
When Evicted Man is Heartbroken Over Decision to Surrender His Dog, Community Leaps into Action.
Nearly Half Of Dog Owners Turn To Their Canines Over Family For Comfort.
St. Francis, WI has its own social media sensation, Bane, a police dog with over 2,700 followers.
Have dog, will write.
THAT'S IT FOR DOGS IN THE NEWS.
HERE'S OUR DOG PHOTO(s) OF THE WEEK.
Dog Photographer of the Year 2019: Portrait of deaf 14-year-old rescue dog takes top prize
23 of the Best Dog Photos of 2019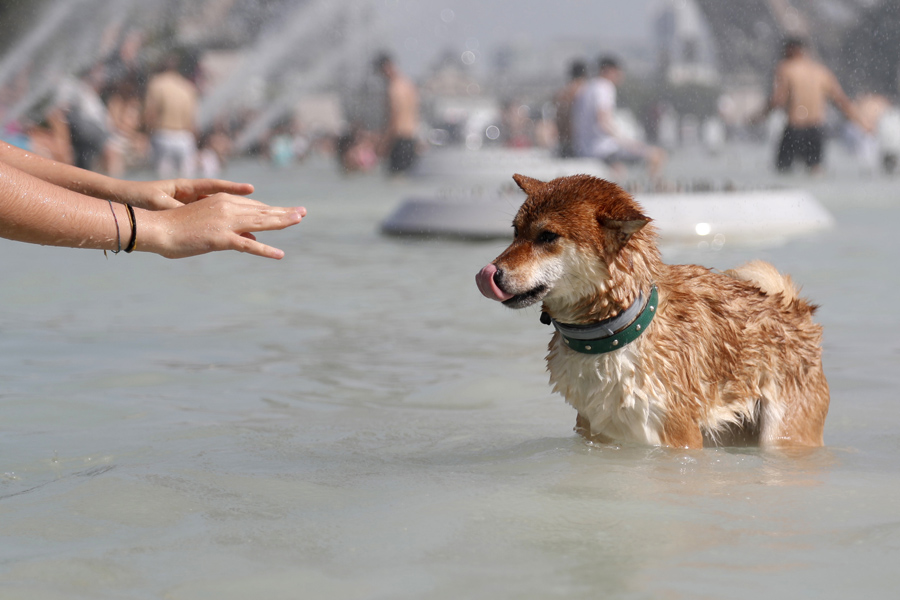 A dog cools off in the Trocadero Fountain near the Eiffel Tower in Paris during a heat wave on June 28, 2019. Photo: Zakaria Abdelkafi / AFP / Getty
We close as we always do with our closing video.
The digital series of Georgia Public Broadcasting (GPB), "Unleashed: A Dog's Life", examines dog weight management. Is Fido Fat? How can you tell? And, most importantly, what can you do about it?
AND…
The Ride to End Dogfighting was born after the nation's largest dogfighting bust in 2009. Over 500 dogs were set free from their heavy chains and miserable, loveless lives. Members of the Brew City Bully Club volunteered with the survivors for months and out of those experiences a passion to end dogfighting was born. This year was the 10th anniversary of the unprecedented MO500 bust AND the 10th annual ride!
The Brew City Bully Club (BCBC) started in 2008 as an advocacy organization with the mission of rehabilitating the reputation of pit bull type dogs while reducing fear in the community. The BCBC is the only organization in Wisconsin that focuses its energy on education and community support for this group of dogs. The BCBC fulfills its mission by providing high quality programs seeking to alleviate suffering, encourage responsible ownership and raise awareness of the positive potential of pit bull type dogs. Understanding the importance of pets in our families, and respecting the goals of the BCBC, the House of Harley-Davidson added its muscle to support the mission by hosting their biggest fundraiser of the year…the Ride to End Dogfighting. It took place on June 22nd in Milwaukee.
That's it for this week. Thanks for stopping by.
We'd really appreciate it if you forward this on to other dog lovers you know. Let them have some fun!
See ya, BARK, next Saturday!