The Barking Lot is a regular weekly feature of This Just In…Written by my lovely wife, Jennifer and me.  It opens with the weekend dog walking forecast followed by the main blog from dog lover, Jennifer. Then it's DOGS IN THE NEWS and our close. Enjoy!
THE WEEKEND DOG-WALKING FORECAST: We grade the weather outlook for taking your pet outdoors.
TODAY:  Early morning clouds give way to partly cloudy skies. A high of 83. "A"
SUNDAY:  Partly cloudy. A chance of scattered thunderstorms in the afternoon. High of 81.  "B"
Now, here's my lovely wife, Jennifer with this week's main blog.
In our subdivision in God's Country, USA, the neighbors care deeply about taking care of their lawns. I would say the compliance rate is a proud 99% (Nobody's perfect).
One front lawn down the street is especially pristine, consistently resembling a freshly manicured major league baseball field. No weed would ever dream of popping up there.
Because the owner is so meticulous he naturally, I'm sure, has a deep sense of satisfaction about what his green thumb has achieved. So his caring includes taking a certain precaution that his spotless grass remains that way.
You know those tiny little flags Diggers Hotline sticks in the ground? This property owner has made similar ones and inserted them right at the curb that read in small lettering:
NO DOG PEE PLEASE
Nothing fancy or expressive. No colors or illustrations. Nothing real big.
He had other options.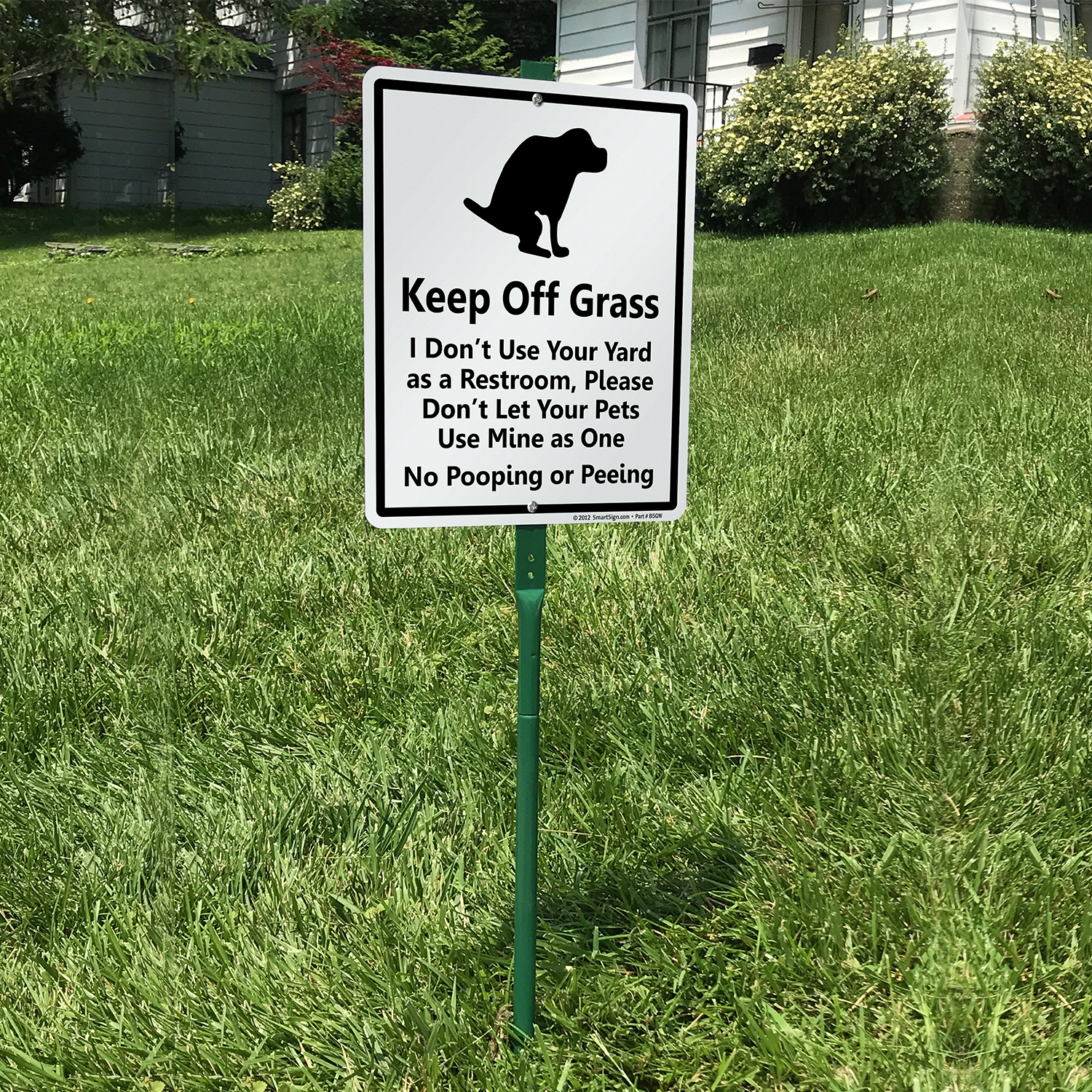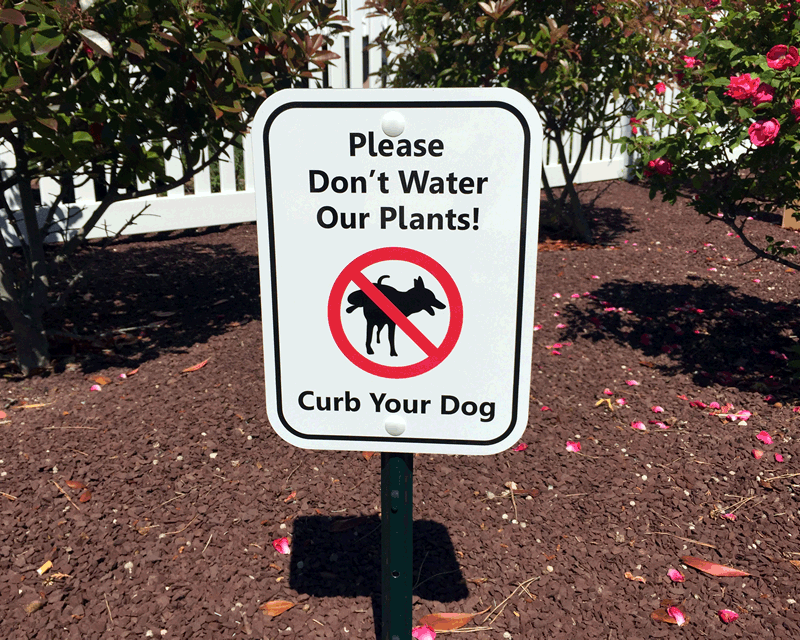 He went for the simple homemade variety.
Can you blame him for his signs?
Dog urine is rich in nitrogen, a definite lawn killer when enough is deposited over time.
"The high concentration of nitrogen, from urea in urine, and associated salts found in dog urine essentially burns the grass it directly hits," said Theresa Smith, director of marketing for Natural Alternative.
If a lawn has many brown spots around dark green grass that's probably the result of dog urine.
"The areas surrounding that spot will be lush and green, thanks to the added nutrients not being so concentrated," said Smith.
Can some dogs be more damaging than others?
"Dog spot damage is more prevalent with female dogs due to the fact they squat in a single place, while male dogs generally leave their calling cards in multiple areas around trees and other upright objects," Smith said.
Those warning signs you can purchase…are they really necessary? In this day and age, unfortunately, yes.
Here in Franklin I've never seen an irresponsible dog walker. But we know not everyone is built the same.
Let's travel north of the border. A Toronto realtor blogged in 2013 that a great family neighborhood called Riverdale, despite how wonderful it is, has plenty of those signs posted.
The blogger at the time had clients Patrick and Nicole.
The boiling point came one day this fall when he was standing on his front porch, with his two kids, and a neighbour walked by with her poodle.  The poodle stopped, and started to take a poop.

"Nice day, isn't it?" Patrick said, from his front porch, as this lady's poodle took a crap.

"Lovely!  And your daughters – they're so beautiful!  I love those little dresses!" she said.

The lady picked up the dog poop with a bag, the poodle ripped up the lawn with her back legs as dogs do when they finish, and the lady smiled, and walked away.

Patrick told me, "This lady had no shame at all – thought nothing of letting her dog take a crap on MY lawn, right in front of me!"

The problem isn't that Patrick can't be on guard all the time; the problem is that many people don't think this is anything to be fussed about!

And for certain – most dog-owners don't think this is an issue, and that's why the poop-problem persists.

I've talked to dog owners that say, "It's a natural bodily function, and we all do it!  You can't be so uptight not to expect a dog takes a teenie-tiny whiz on your lawn!"
And everybody poops, too, following that logic.
You can read the entire Toronto blog here.
Our grass-loving neighbor (whom I don't know and have never met) has spent a lot of time, energy, and $$$ to develop a blue ribbon lawn. His signs look fine to me.
—Jennifer Fischer

Thanks Jennifer! Me, too.
Time now for DOGS IN THE NEWS, canines that made headlines the past week.
Proposed dog breeding facility for medical research draws ire of Spring Green, WI residents.
When is a dog not a dog? The answer.
FDA: Your dog may be at risk for developing heart disease based on their food.
BBC host Emily Maitlis drew tabloid scorn for letting her pooch take up a seat on a busy train.
OPINION: Your dog is not a furry human.
Service dog Loki has done it, a first.
He's a scamp, he's tramp, he's the winner.
Groom has his pet dog as his best man.
Even veterinarians were surprised when they X-rayed this dog and it's bloated belly.
Some time ago a reader chastised me for rating the dog-walking forecast an "A" when temps were in the 90's. She pointed out how uncomfortable the conditions are and even suggested that I thought dogs were outside wearing Hawaiian shirts. Well…
THAT'S IT FOR DOGS IN THE NEWS.
HERE'S OUR DOG PHOTO(s) OF THE WEEK.
My goodness, there are a lot of ugly dogs out there.
We close as we always do with our closing video.
Let's start with…this.
Next…
ALSO…
Life is good at Old Friends Senior Dog Sanctuary in Tennessee, where hundreds of senior shelter dogs find loving, lifetime retirement homes.
That's it for this week. Thanks for stopping by.
We'd really appreciate it if you forward this on to other dog lovers you know. Let them have some fun!
See ya, BARK, next Saturday!