This week for the first time we're combining our two Friday music segments into one special feature.

Nashville session drummer and producer Jerry Carrigan died last Saturday at the age of 75 in Chattanooga.
Carrigan played with dozens and dozens of stars and even though his name be unknown to many, he was heard on pop, R&B and country radio. His resume included jingles for 7-Up, Coke, Chevrolet, Kentucky Fried Chicken, McDonald's, or "Me and My RC"; television soundtracks for Maverick and Simon & Simon; and movies Nashville, Every Which Way But Loose, Six Pack, This Is Elvis, Urban Cowboy, and The Gambler.
He played for Tommy Roe in a live performance in Washington, D.C. where they shared the bill with the Beatles during their U.S. debut.
In 1965 Carrigan moved to Nashville,  the city that exploded into a major recording spot during the 1970's. Country music was booming with stars galore who demanded Carrigan be their drummer.  By 1977 he was playing approximately twelve three-hour sessions per week with his innovative  "big fat drum sound."
"I started playing real loose, deep-sounding snare drums on country records," said Carrigan. "So I started experimenting with different things, different kinds of drums. I bought the first set of concert tom-toms that were in Nashville. I think that's one reason the producers liked my sound. I had a different approach."
We'll  feature just a few of the numerous hits Carrigan collaborated on along with his own accounts of some of the celebrities he teamed with.
Let's get started.
"I love them (The Oak Ridge Boys).  I did their things back when they were a Gospel group, as well as their pop-hit things like 'Elvira.' I'm the one who told them what the bass singer should say: 'Oom papa, oom pop, oom papa mow mow.' I knew what it was because I played on Dallas Frazier's original version of it."


Carrigan in center
Guitarist Chet Atkins and the Boston Pops.
"That was…a wonderful experience. We did three concerts and an album. We'd do these tunes, and Arthur Fiedler would stop us and say, 'You're not following me.' Chet would say, 'He's not used to following people. He's used to people following him.' Arthur just said, 'It's going to be different this time. He's going to follow me.' That was a wonderful experience. I had always imagined doing something like that, and I couldn't believe it was really happening."
"I did a country album with (Henry Mancini) called Mancini Country. He had the parts all written, and he sat down at the grand piano and played and conducted. It was another highlight. That was with a full 40-piece orchestra."
Mancini did a cover of Floyd Cramer's #2 hit from 1960, "Last Date." Cramer was prevented from hitting #1 by a certain side-burned singer from Tupelo.
Mancini added some organ to Cramer's piano arrangement.
A positive session is "when the artist knows the material, can sing the song, and can give you a genuine feel for it, instead of just sitting there and reading the lyric off into a microphone. It's where the artist has it together and the producer tells you, 'I want it to be this way or that way.' I like a direction.
"I can play a lot of different things until hands are spanked. I like someone who will tell me, 'I do like this,' or 'I don't like this.' So many times, you'll go in and they might not like it. Then, they'll go out later and say, 'Listen to what so-and-so played here. I don't like it.' Don't tell me a month later that you don't like it. Tell me now and we'll do something about it, instead of just letting it go. A bad session to me is when you go in and nobody is prepared. The singer doesn't know the song, so you end up tracking it, a lot of times, without even a scratch vocal. What kind of emotion am I to put into something where I don't know what kind of emotion this singer is going to put into it? How can I do my job?"
George Jones
"He was always my favorite country singer. I think he's the best pure country singer who ever lived."
About this country classic Jones said, "Nobody'll buy that morbid son of a bitch."
In 1980 it was Jones' first hit in six years, and revived his dying career.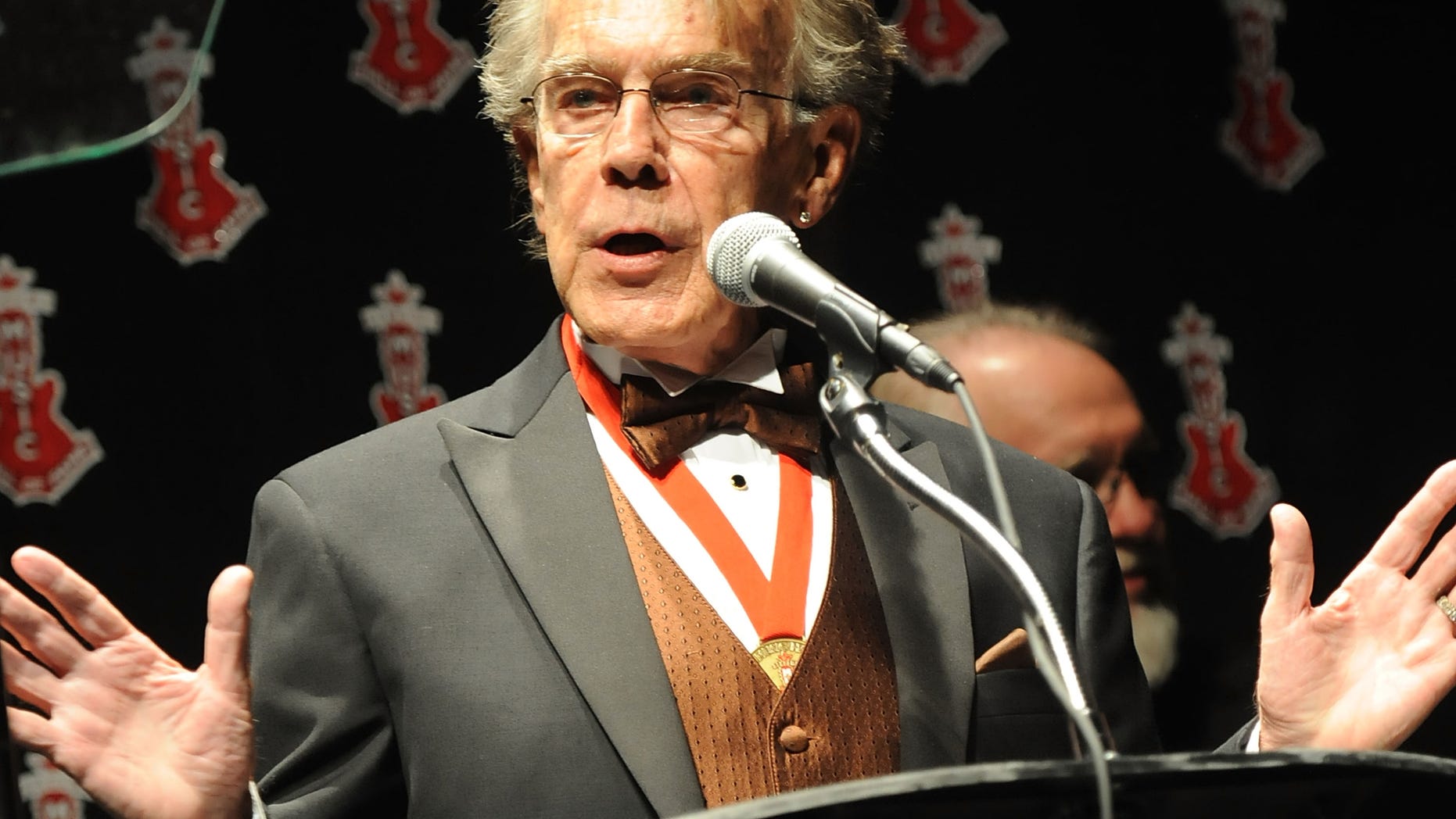 Inductee Jerry Carrigan speaks at the Alabama Music Hall of Fame's 13th Induction Banquet and Awards Show at the Renaissance Hotel on March 25, 2010 in Montgomery, Alabama. (Photo by Rick Diamond/Getty Images)
That's it for this week.
Goodnight.
Sleep well.
Have a great weekend.
The Carrigan quotes came from an article in Modern Drummer where Carrigan was interviewed by Robyn Flans in September of 1986.

Carrigan in upper row, far right
"I first worked with (Elvis) in 1970. What a thrill that was! The first thing we did was 'I've Lost You.' I never was crazy about what I played on that stuff, but he always wanted you to have a charging feeling about everything. He wanted you to push him to the wall. I thought it sounded like I was rushing all the time, but they loved it. He would stand out in the middle of the studio, just like being on stage, and he would face you. He would wiggle and point to you when he'd want you to do a fill or something. The first week I worked with him, we did 35 tunes. We blasted through that stuff. We started at 6:00 at night and worked until 6:00 the next morning. He was definitely nocturnal. He was wonderful. I'll tell you, when he walked into that studio and I saw him for the first time, there was no doubt that a real star had just appeared. He used to change clothes three times during the evening. It was like a performance."
At this stage of his life and career Elvis would go into the studio and pour his heart out about the loss of a woman: "Separate Ways," "You Were Always On My Mind" (Elvis did it first, not Willie Nelson), and "I've Lost You."

Elvis and Priscilla Presley walking out of court after their divorce on September 10, 1973. Photo: LA Times
BONUS TRACK FROM 1970, ALSO WITH CARRIGAN. ELVIS IS ON TOP OF HIS GAME.