The Barking Lot is a regular weekly feature of This Just In…Written by my lovely wife, Jennifer and me.  It opens with the weekend dog walking forecast followed by the main blog from dog lover, Jennifer. Then it's DOGS IN THE NEWS and our close. Enjoy!
THE WEEKEND DOG-WALKING FORECAST: We grade the weather outlook for taking your pet outdoors.
TODAY:  Partly cloudy.  A high of 72. "A"
SUNDAY:  Scattered thunderstorms. A high of 72.  "C"
Now, here's my lovely wife, Jennifer with this week's main blog.
While I don't expect even our long-time readers to remember, I've written about an amazing Soft Coated Wheaton Terrier named Tucker that I used to know.  I will never forget that dog as long as I live. Yes, of course he was adorable. He was as fluffy as a new blanket and always impeccably groomed. Just in case you're unfamiliar with the breed here is just one photo of how incredibly cute they are:
I certainly could have added dozens more but restrained myself.
What made Tucker so remarkable?  Years later I'm wondering if it was because he had exceptionally evolved retractor anguli oculi lateralis muscles and levator anguli oculi medialis muscles.
Um, excuse me?
You read correctly.  "Exceptionally evolved retractor anguli oculi lateralis muscles and levator anguli oculi medialis muscles."  OK for you unscientific folk I will shorten my future references to "RAOL and LAOM."
Haha.  If you've read our blog for any length of time you know that while I am a dog geek in my heart I am most CERTAINLY not a dog geek in my mind.  I qualify as VERY unscientific myself. But once again, brainiac researchers have piqued my interest and I can't resist sharing this information.
I knew Tucker about 15 years ago and can still remember the way I felt every time he looked at me.  There was more depth and warmth in his eyes than I have experienced in many people. I think he would have made a fabulous therapy dog.  I can imagine how he would listen to people and they petted him and all their anxiety & cares would melt away.
His eyes.  I will just never EVER forget his eyes.  What WAS it about them, really? After all these years, it seems like I just might have an answer to my burning question.  It really could have been because of his developed eye muscles.
A study led by Juliane Kaminski offers insight as to why we simply can't resist a dog's eyes.  Sure, their wagging tails are endearing and you might even give in to a whimper for a treat. But eyes just close the deal.  And it's thanks to evolution, because wolves & wild dogs just don't have it. Literally.
Read about her fascinating research on National Geographic's website.  And you know you're dying to learn more so your opportunity can be found on The Atlantic as well.
The next time you're tempted to lovingly scold your dog, "Don't look at me like that" when he wants another treat, now you will understand that he really has no choice.—-Jennifer Fischer
Thanks Jennifer!
Time now for DOGS IN THE NEWS, canines that made headlines the past week.
In Wauwatosa, owner warns others after her dog was fatally mauled by coyotes.
OPINION: There are so many ways we fail our pets – from daily neglect to the owner who had her healthy dog killed to be buried with her.
More dogs are getting sick, and USA TODAY blames climate change.
Legal Weed Is A Danger To Dogs. Here's how to know if your pup got into pot.
Walking your dog during the summer? Don't let them suffer the same fate as Olaf.
THAT'S IT FOR DOGS IN THE NEWS.
HERE'S OUR DOG PHOTO(s) OF THE WEEK.
An animal rescue in New Jersey posted this photo of Moose the dog sitting by his deceased owners hospital bed. Boonton-based rescue NorthStar Pet Rescue is working with Eleventh Hour Rescue in Randolph, New Jersey, to find Moose a new home.
"Moose sat patiently next to his dad's hospital bed, waiting for him to return, not knowing that 'Dad' had passed away. Moose has now been returned to our friends at Eleventh Hour Rescue and he's taking the loss of his dad pretty hard," NorthStar Pet Rescue wrote in the caption of the photo they posted to Facebook.

Sled dogs make their way in northwest Greenland with their paws in melted ice water. Over the weekend, this picture taken by Danish climate researchers showing sled dogs on the ice in northwest Greenland with their paws in melted ice water was widely shared on social media. Greenland's ice melting season normally runs from June to August but the Danish Meteorological Institute said this year's melting started on April 30, the second-earliest time on record going back to 1980. Photograph: Steffen M Olsen/Danmarks Meteorologiske Institute/AP

Dogs play on the beach at Shingle Street, Suffolk, Britain. REUTERS/Matthew Tostevin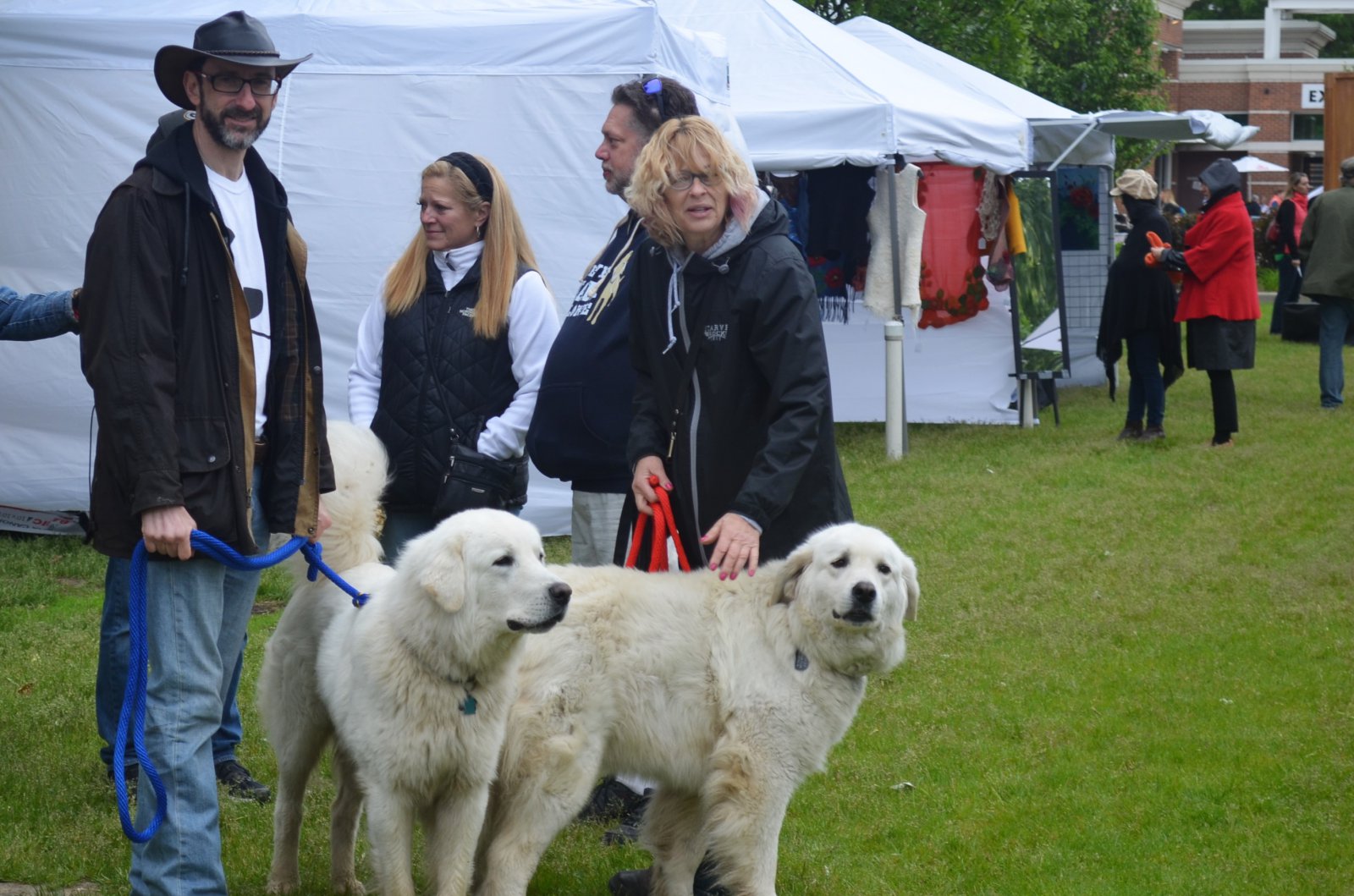 Polish Highland Sheepdogs at last weekend's Polish Fest in Milwaukee. Photo: Jack Fennimore, UrbanMilwaukee.com
And last Sunday was Father's Day. Celebrate some of baseball's premier dog dads.
We close as we always do with our closing video.
Friday was Take Your Dog to Work Day.
Now let's head to Spain.
And: This dog is a better waiter than most humans.
That's it for this week. Thanks for stopping by.
We'd really appreciate it if you forward this on to other dog lovers you know. Let them have some fun!
See ya, BARK, next Saturday!