October 1, 1993.
It's a Friday night in Petaluma, California, and 12-year old Polly Klaas is having a slumber party with two girlfriends.
Her mother, Eve Nichol who was divorced from Polly's father but living with Polly and her younger daughter, Annie Nichol at the time, went into Polly's room at 10 p.m. and asked the young girls to keep the noise down. Polly's mother and her younger daughter slept in an adjacent bedroom joined by a bathroom to the children's room. However the mother closed both bathroom doors because of the noise.
The two girls sleeping over described in court they saw Polly being kidnapped. One of the girls stated that at 10:30 p.m. Polly went to get some sleeping bags, opened the bedroom door and "there was someone standing in the hall with a knife and a duffel bag," she said.
"Don't scream or I'll slit your throats" the teenager quoted the man. "I thought it was some sort of joke because I didn't think that sort of thing happened. And he didn't look menacing, like I should be afraid of him," she said.
The intruder tied the hands of Polly's friends who were bound and gagged with pillowcases over their hands. He told the girls to count to 1,000 and then left with Polly. Two  months later Polly's body was found. Her killer, Richard Allen Davis, told authorities where to find the body. Davis had been captured after police found an incriminating handprint in Polly's room. Two and a half years after the murder a court proceeding was conducted.
"The evidence in this case will overwhelmingly show that Mr. Richard Allen Davis did in fact kill Polly Klaas," said Barry Collins, a Sonoma County deputy public defender. Collins' strategy was to hope he could prevent a death penalty sentence. Davis had already confessed on tape to police.
On this date, 23 years ago, June 18, 1996, Davis was convicted of the kidnap-murder.  His reaction in court…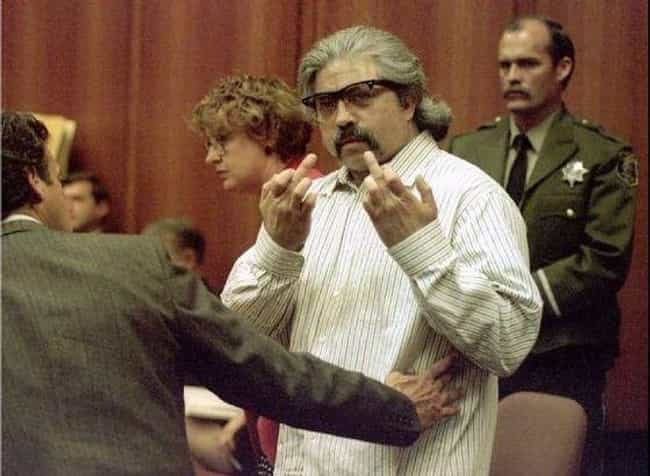 Three months later, on September 27, 1996, Davis was sentenced to die.
Today Davis remains on death row.
In addition to the multiple appeals, that's what is wrong with the death penalty. How can justice be meted out, how can the death penalty be a deterrent when it's constantly put on hold?
March of this year…