Every Friday night we smooth our way into the weekend with music, the universal language. These selections demonstrate that despite what is being passed off as art today, there is plenty of really good music available. Come along and enjoy.
Today was a big day.
An important day in our nation's history.
Did you celebrate?
Did you remember?
This week, music of the red, white, and blue. A primer for Independence Day.
Let's get started.
The best flag musical piece is the last number featured in this medley from the popular "Hooked On…" series by Louis Clark and The Royal Philharmonic Orchestra in the early 1980's. Get ready for hand-clapping!

An illustration of the Grand Union Flag of 1776. This was the first flag used by the American colonies to symbolize their unity during the War of Independence.(Kean Collection/Getty Images)
Art work by artist Bob Layton illustrating rescue workers after the Sept. 11 terrorist attacks is seen at a 2002 exhibit in New York. (Photo by Spencer Platt/Getty Images)
The U.S. flag is raised over the Marine Corps Memorial in Arlington, Va., during an event to honor veterans of the Battle of Iwo Jima. (Photo by Tim Sloan /Getty Images)
Next up, the title of this week's blog. There is music. There are lyrics. The 101 Strings? Yep. Dad had a few of their albums in his collection.
From the Library of Congress:
You're a grand old flag,
You're a high flyin' flag
And forever in peace may you wave . . .
"You're a Grand Old Flag" was written by George M. Cohan for his 1906 stage musical George Washington, Jr. The song was introduced to the public in the play's first act on opening night, February 6, 1906, in New York's Herald Square Theater. It was the first song from a musical to sell over a million copies of sheet music.
The original lyric for this perennial George M. Cohan favorite came, as Cohan later explained, from an encounter he had with a Civil War veteran who fought at Gettysburg. The two men found themselves next to each other and Cohan noticed the vet held a carefully folded but ragged old flag. The man reportedly then turned to Cohan and said, "She's a grand old rag." Cohan thought it was a great line and originally named his tune "You're a Grand Old Rag." So many groups and individuals objected to calling the flag a "rag," however, that he "gave 'em what they wanted" and switched words, renaming the song "You're a Grand Old Flag."
A four-year-old boy places a flag in the ground to commemorate President Ronald Reagan. (Photo by David McNew/Getty Images)
Former President George W. Bush and his wife, Laura Bush, cheer on the U.S. swim team at the Beijing 2008 Olympic Games. (Photo by Ezra Shaw/Getty Images)
A statue designed by Paul Wenzel entitled "Mickey Celebrates our Freedom," greets passersby on State Street in Chicago. (Photo by Tim Boyle/Getty Images)
OK, time to play along…and think.
Think great American.
Think great American celebrity.
Got one in mind?
Remember this week's theme.
I think of…
At the Grammy Awards in 1973 John Wayne was nominated:
Best Spoken Word Recording
America, Why I Love Her (Album), described as "a series of heartfelt, patriotic speeches over a bed of stirring music."
Other nominees were:
Richard Harris – Jonathan Livingston Seagull
Billie Holliday – Songs and Conversations
Kurt Vonnegut Jr. – Slaughterhouse Five
Vincent Price – Witches, Ghosts and Goblins
Harris took home the trophy.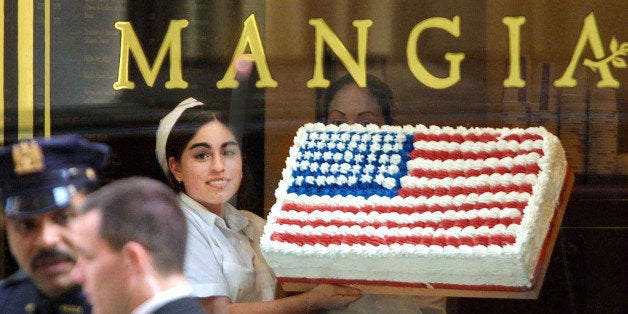 A worker shows off an American flag cake at a bakery on Wall Street in New York. (Photo by Mario Tama/Getty Images)
A Gibson guitar is on display at the Tommy Hilfiger store in Berlin. (Photo by Kurt Vinion/Getty Images)
Uncle Sam stands over an American flag cake at the U.S. Embassy dining hall in Baghdad, Iraq. (Photo by John Moore/Getty Images)
Not too long ago…
Jennifer Pransky, a Fox Sports producer put together the following video using a 1974 recording to lead into the final half-hour before the Super Bowl game.
In Pransky's film an African-American woman, Amitiyah Hyman, meets former Army special forces officer Nate Boyer.  Kirstie Ennis, a former Marine who lost a leg in a helicopter accident, is also in the video.  There are battlefield scenes and war memorials for World War I, World War II, Korea and Vietnam.


Sixty thousand American flags are placed in the ground as part of a Flag Day Memorial in Fairless Hills, Pa. (Photo by William Thomas Cain/Getty Images)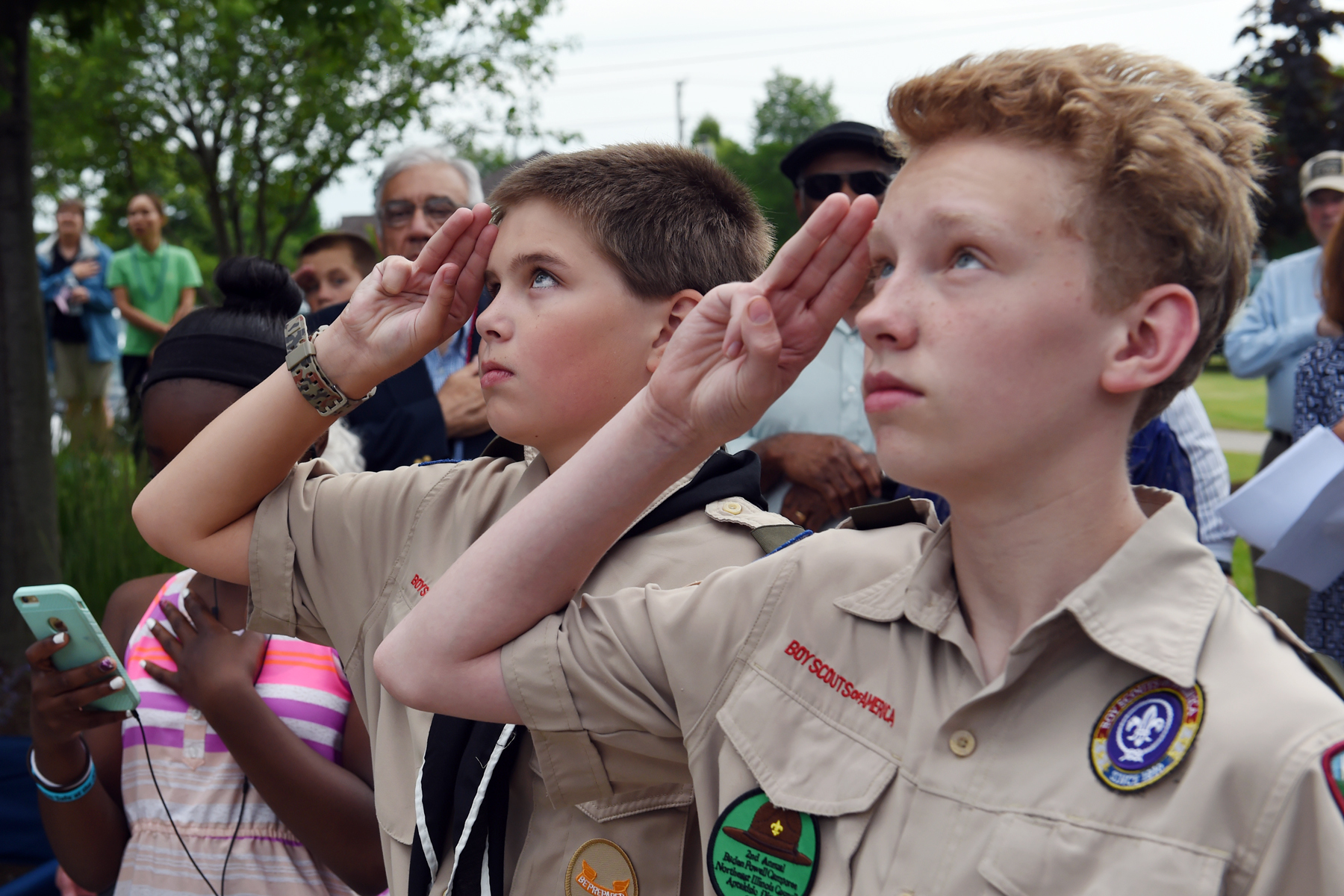 Jacob Hammon, left, and Hayden Gantt, salute the American Flag as it is raised up the flag pole in Veterans Park in Buffalo Grove Illinois, June 14, 2016. Both scouts are members of Troop 79, Boy Scouts of America. U.S. Army photo by Sgt. Aaron Berogan
That's it for this week.
Goodnight.
Sleep well.
Have a great weekend.
All of our selections have been about the flag or made a flag reference. We close with another and this one is a protest song. That's right. This was a protest against protesters of the Vietnam War, recorded by Merle Haggard in 1969.
When I was in prison, I knew what it was like to have freedom taken away. Freedom is everything.
During Vietnam, there were all kinds of protests. Here were these [servicemen] going over there and dying for a cause — we don't even know what it was really all about — and here are these young kids, that were free, b—hing about it. There's something wrong with that and with [disparaging] those poor guys. We were in a wonderful time in America, and music was in a wonderful place. America was at its peak, and what the hell did these kids have to complain about?
These soldiers were giving up their freedom and lives to make sure others could stay free. I wrote the song to support those soldiers.
—Merle Haggard

When Haggard was on the road with his band they saw a highway sign that read, "Muskogee 19 miles." A member of the band joked that residents of tiny Muskogee  probably didn't smoke marijuana. A hit record was written in less than a half an hour.
The following night they sang it on stage, in the Fort Bragg, North Carolina officers club.
Haggard said, "Soldiers started comin' after me on the stage and I didn't know what was going to happen next until they took the mike and said we'd have to do it again before they'd let us go. I had never had this strong of a reaction before." The band played the song four more times.
On November 15, 1969, the song went to number one on the country chart and stayed there for four weeks.
Here's Haggard onstage with Asleep at the Wheel and a special guest.
Leather boots are still in style for manly footwear;
Beads and Roman sandals won't be seen
Love it.

Raquel Welch in 1970's Myra Breckinridge

Jessica Simpson on the cover of GQ in 2005