Every Friday night we smooth our way into the weekend with music, the universal language. These selections demonstrate that despite what is being passed off as art today, there is plenty of really good music available. Come along and enjoy.
Paul McCartney performed in Madison Thursday night at the Kohl Center.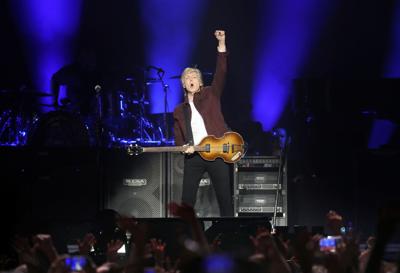 Photo: Madison.com
From Madison's Channel3000.com:
A Paul McCartney show is unlike any other show on the road. It's fast-paced, but easy going. It's uplifting, but down to earth. McCartney's day job is being one of the most successful and influential musicians of all time, yet the man on stage is still very much an excited kid living out a rock n roll dream.
Tomorrow night (Saturday) his "Freshen Up" tour will be at Lambeau Field in Green Bay.
Sir Paul wrote and was the lead singer on the song "Yesterday." According to 'Guinness World Records' this song was covered seven million times in the 20th century. Many, many, many Beatle recordings have been re-done, and for good reason. This week we'll feature some McCartney remakes we hope you enjoy.
Let's get started with an example that even the old folks appreciated the Beatles' talent.
I'm happy to report that over the past year or so I've made it a point to learn more about swing band leader Count Basie. The jazz legend helped shape the big-band sound.
Basie played the vaudevillian circuit for a time in the mid-1920's but then got stranded in Kansas City after his performance group disbanded. He managed to get a job playing piano at a theater to accompany silent movies. Because Basie was so good he soon left to in bands, including the Bennie Moten orchestra. That's where Basie developed the Kansas City style of jazz.
Moten died unexpectedly in 1935 and Basie helped assemble a nine-piece band that played at a Kansas City club with some performances broadcast over an experimental short-wave radio station. The exposure resulted in national contract with Decca Records, Count Basie's Orchestra grew to 13 musicians, and the band's popularity soared.
In 1966 Basie recorded an entire album of Beatle hits. It's only appropriate we play "Kansas City" that Paul did the lead vocal on. Basie's version opens with his familiar piano riff.
Music of the Beatles lends itself to many styles. Right about the time Beatlemania took over America another genre was exploding, grabbing the imagination of young and old. My dad would have loved this album.
How about we jazz things up a bit.
This one's from "Abbey Road," performed by the Cooltrane Quartet, with the sultry Karen Souza doing the vocal.
Before we say goodnight for this week's installment, in 2002 saxophonist Dave Koz got many of his fellow smooth jazz musicians together to record "Golden Slumbers: A Father's Lullaby," a collection of bedtime favorites. Koz's version of "Golden Slumbers" from the "Abbey Road " album is meant for the nursery.
"The credit really goes to my sister-in-law, Unique, who was having trouble getting my niece to sleep," says Koz (Unique is the wife of Koz's brother Jeff, who plays guitar on the CD). "She discovered that most of the lullaby recordings on the market were very lively and bright and seemed to stimulate the baby rather than soothe and relax her. Unique suggested that Jeff and I put together a few tracks that would create a more comforting, relaxing environment in the nursery."

From left: Music producer Jeff Koz, Audrey's Cookies Founder & CEO Roberta Koz Wilson (Jeff and Dave's sister), and musician Dave Koz
That's it for this week.
Goodnight.
Sleep well.
Have a great weekend.
Paul McCartney turns 77 on June 18, less than two weeks away. That's quite amazing since Paul died in the 60's. Or so we were informed. In a car crash. Replaced by a double.
Radio stations fed America conspiracy theories fueled by a slew of clues from lyrics and album covers.
The real Paul met his doom in the early hours of November 9th, 1966, when his car skidded off an icy road and crashed into a pole. The other Beatles were said to be extremely concerned about their future without 'The Cute One." So they covered up his death with a lookalike, Billy Shears, who looked and sound liked like Paul.
Remember the first words to to "Got To Get You Into My Life?"
I was alone, I took a ride
I didn't know what I would find there
Another road where maybe I
Could see another kind of mind there
We close with Dave Koz and the Summer Horns who toured and released an album in 2013 including their Beatle remake.
BTW, here is McCartney's set list from Thursday night in Madison. It should be about the same in Green Bay Saturday.
And if you're lucky enough to be going to Green Bay…