The Barking Lot is a regular weekly feature of This Just In…Written by my lovely wife, Jennifer and me.  It opens with the weekend dog walking forecast followed by the main blog from dog lover, Jennifer. Then it's DOGS IN THE NEWS and our close. Enjoy!
THE WEEKEND DOG-WALKING FORECAST: We grade the weather outlook for taking your pet outdoors.
TODAY:  A mix of clouds and sun with a 60% chance of scattered thunderstorms.  High of 65. "D"
SUNDAY:  Mostly sunny. High of 63.  "C"
Now, here's my lovely wife, Jennifer with this week's main blog.
Here's a serious subject.
Are dogs property?
Jessica Sardina, 25, has lost her battle to win joint custody of Honey, the dog she lived with for three years when she was with then-boyfriend Kelvin Liriano (pictured together).
The pair from Bangor, Maine met on Tinder in 2014 but became serious the following year. He moved in to her apartment at the time, bringing Honey with him, a dog he adopted just a month  before.
They lived together for the next three years with her two other dogs Murphy and Beasley.
Can you figure out where this is headed? If you guessed a courtroom you get a gold star.
When they broke up in 2018, Liriano claims Sardina stopped him from taking Honey with him when he moved out.
Liriano argued before a district judge that he should have sole custody. Sardina fought back.
When the case was appealed to Maine's top court, Sardina's lawyer, Gene Sullivan submitted the dog in question is not property. It's much more.
"A dog that greets you and plays with you and loves you is presently on the same level as an inanimate object, like a couch, a diploma or a blender. We won't see any of those objects on Christmas cards, but people across the country will put their companion animals on holiday cards to other family members and friends because they view their pets as part of their family. This is true for both married and unmarried couples."
Liriano's attorneys countered, claiming Sardina hadn't presented the court with any authority for the proposition that having sex with someone gives one rights to the other's property.
The district judge ruled in favor of Liriano. The judge's ruling was affirmed just this week by the state's highest court, Maine's Supreme Judicial Court.
Chief Justice Leigh Saufley mentioned that on the same day the court was deciding the fate of Honey it also had to rule on cases involving the death of an infant and a sexual assault.
"What happens with the dog when unmarried parties go their separate ways – is that really something we want judges in this state to spend their time on?" Saufley asked.
And what was the key reason Liriano won the case? Saufley and the other judges ruled  Honey belonged to Liriano because only his name appeared on the adoption papers.
Pets are considered property in all 50 states. So what do you think? Are they? The dispute begs two questions.
1) Are pets property? The law says they are. The Portland Press Herald editorializes:
The court system is one of the best ways ever devised to resolve disputes, especially when they involve money. We cannot demand that judges start considering the rights and opinions of animals, who, as far as we can tell, don't know that we still exist when we are not in their sight. And how would a judge determine the dog's wishes? Look deeply into her eyes? See if she wags her tail?

If dogs have legal rights in custody cases, what about other animals? Should wage-and-hour laws apply to dairy cows? Can deer sue for a shorter hunting season?
2) OR, are pets part of the family?
In response to the Press Herald editorial Paula Gerstenblatt wrote a special column. She's an associate professor at the University of Southern Maine School of Social Work.
Research on the human-animal bond indicates pets are considered family, and the connection equals or exceeds that experienced between humans.

According to the American Pet Products Association, 68 percent of American households have companion animals, 86 percent of households with companion animals consider pets family and overall spending in the U.S. pet industry was $69.4 billion in 2017. Pet companionship can be an essential part of a human's healthy lifestyle, physically and mentally, often providing social support and stress reduction. Characteristics used to describe this relationship include love, comfort and protection – also associated with human family members.

Research shows the loss of a pet can be as or more difficult than the loss of a human. The decision to euthanize a pet results in feelings of guilt and a deep sense of loss once the pet is gone.
You can read Gerstenblatt's entire column here.
Property or family member?
Is this a tough call? Kev, what do you think?
—-Jennifer Fischer
Thanks Jennifer! And thank you for asking.
I'd have to say no. It's not all that difficult. Having worked for 15 years in the Wisconsin State Senate I believe the writers of the newspaper editorial are correct. There's no question pets and their owners have quite the bond going on. But the law is explicit and the hands of judges are tied. Pets are property. That's what judges are ruling on. Expectations were that the appeal of the first ruling would take a month or two. It took a few days because the matter was so cut and dried.
Legislatures in the states need to change the laws if they choose. Judgment calls wouldn't be less messy, I'm afraid. But judges would have some leeway as opposed to the rather strict "pets are property" laws on the books right now.
Time now for DOGS IN THE NEWS, canines that made headlines the past week.
Oh oh. Prepare for a hot debate.
Dog owner laments lapse in vaccination.
Creator of HBO's Chernobyl Says Show's Dog Death Scene Is a 'Toned Down' Version of Real Events.
There's no such thing as the poop fairy.
Rapper Valee Receives Backlash From Fans After Sharing a Video of His Dog Dyed Completely Red.
Rescuers Brave Oklahoma Floods to Save Dog 'Clinging for Life' to Tree Stuck in 12-Ft. of Water.
From Denmark, WI: Service dog changes young girl's life, motivates her to give back.
At a New York college, you can fetch a bachelor's degree in dog training.
Not exactly a news bulletin: Dog owners get more exercise.
Your dog at the beach? Could be very dangerous.
A bride helped shelter dogs find a home by having her bridesmaids walk the pups down the aisle at her wedding.
Can your dog get you a date? Dogs are amazing, So yes.
Dog orders burger at fancy New York City restaurant, has very specific demands.
And a different MUELLER made the news.
THAT'S IT FOR DOGS IN THE NEWS.
HERE'S OUR DOG PHOTO(s) OF THE WEEK.

Air Force Veteran Sabrina Weber of Alabama hugs her service dog during a moment of silence in remembrance of service members who gave their lives, on Memorial Day at the Arlington National Cemetery, in Arlington, Virginia, May 27, 2019. Photo: Reuters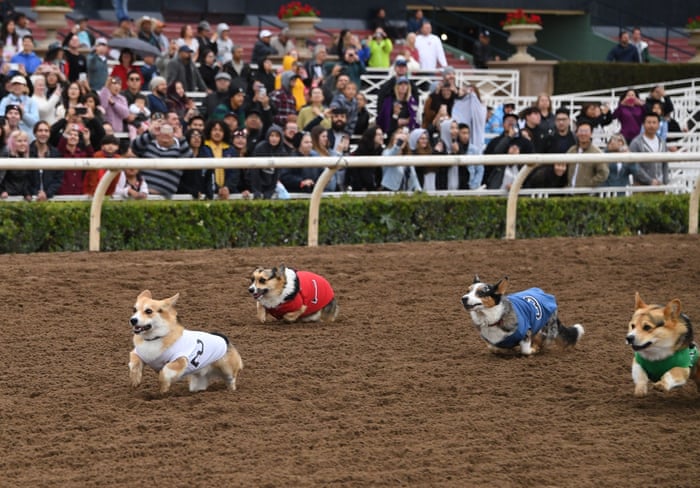 Racing corgis at the Southern California "Corgi Nationals" championship at the Santa Anita Horse Racetrack in Arcadia. Photograph: Mark Ralston/AFP/Getty Images

We close as we always do with our closing video. We have a few.
First… A wild dog in Zimbabwe narrowly escaped becoming a lioness' latest meal by playing dead as the ferocious feline carried it around in its mouth.
Video footage from Hwange National Park, Zimbabwe's largest nature preserve, shows tourists gasping as an African painted dog hanged lifelessly from the jaws of a lioness.
According to Kruger Sightings, which posted the video, the dog was part of a pack dining on an antelope when the lioness approached.
"In the flash of a moment, she pounced and managed to grab one of the dogs," the company explained. "The lioness held onto the wild dog for a long time, which seemed lifeless in her grip, and many already believed it was already dead, as it stayed completely still."
But when another member of the pack approached, the giant cat dropped her prey and attacked the interloper. That's when the "dead" dog sprang back to life and made his escape. Kruger Sightings has confirmed both pups survived the encounter.
Next, from CBS News: How service dogs play a vital role in rehabilitating veterans.
ALSO:
This is a fun video featuring Nashville service dog Henry along with his handler, Jessica Paulsen in Walt Disney World. Paulsen used the trip, and many others, to teach Henry how to interact with crowds.
"Your relationship can become stagnant and you can begin to miss the personality of the animal that is right by your side," Paulsen wrote in an Instagram post. "This is when I know I need to invigorate our relationship and our training."
Paulsen has postural orthostatic tachycardia syndrome, a condition that triggers a rapid heart rate, fainting and light headedness. Henry helps warn Paulsen when her blood pressure is getting too low and also alerts those around her if she's going to faint.
That's it for this week. Thanks for stopping by.
We'd really appreciate it if you forward this on to other dog lovers you know. Let them have some fun!
See ya, BARK, next Saturday!