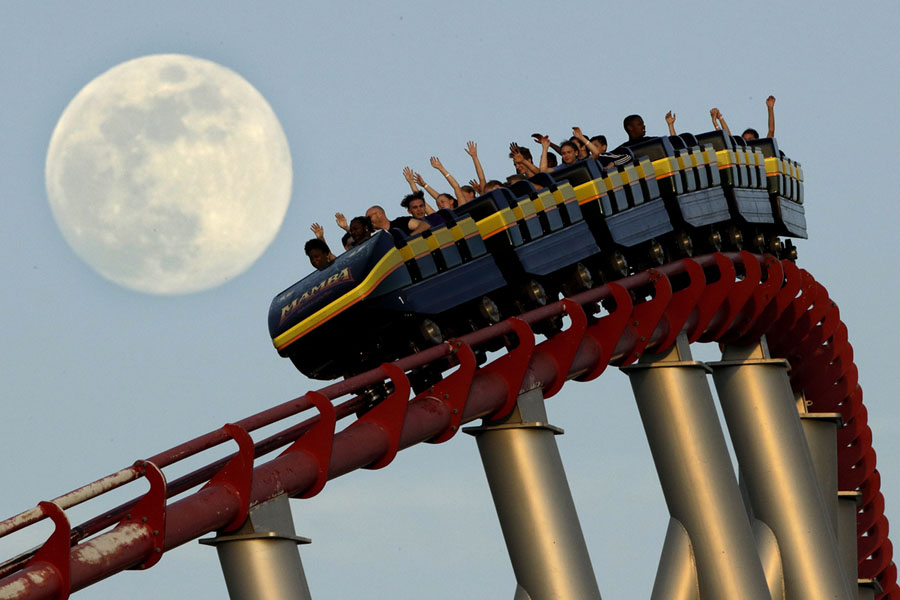 A pictorial week-in-review posted every Sunday.
1) U.S. President Donald Trump and first lady Melania Trump stand among the graves during the annual 'flags in' ceremonies before Memorial Day as the president visits Arlington National Cemetery in Arlington, Virginia. Photo: REUTERS/Carlos Barria
2) Members of the Third U.S. Infantry Regiment, also known as the Old Guard, place flags in front of each headstone to honor the nation's fallen military heroes as part of "Flags In" at Arlington National Cemetery in Arlington, Virginia, on May 23, 2019. Photo: Susan Walsh / AP
3) U.S. paratroopers land near Le Mont-Saint-Michel, France, on May 18, 2019, less than three weeks before the 75th anniversary of the D-Day landings. Photo: Damien Meyer / AFP / Getty
4) Jessica Rodgers and neighbor Ray Arellana carry a stroller over downed power lines as they head to Rodgers' mother's apartment to check on damage after a tornado tore though Jefferson City, Mo. Photo: AP
5) Keeley Frank, nine, holds stuffed toys her grandparents salvaged from their storage unit in Missouri after a series of powerful tornadoes hit. Photograph: Reed Hoffmann/Getty Images
6) Men work to remove valuables from a home in a destroyed neighborhood following a tornado in Jefferson City, Missouri, May 24. Photo: REUTERS/Carlo Allegri
7) A transformer lays fallen on top of a home on Union Street following a tornado touchdown overnight in Jefferson City, Missouri, May 23. Photo: REUTERS/Antranik Tavitian
8) A shackled migrant woman in federal custody arrives for an immigration hearing at the U.S. federal courthouse in McAllen, Texas. Photo: Reuters
9) U.S. Rep. Sheila Jackson Lee (D-TX), flanked by Committee Chairman Bennie Thompson (D-MS), holds up Reuters aerial photos of encampments outside the border patrol station in McAllen, Texas, as she questions acting Homeland Security Secretary Kevin McAleenan during a House Homeland Security Committee hearing on the 2020 DHS budget request on Capitol Hill in Washington. REUTERS/Jonathan Ernst
10) Martin Tower, the former world headquarters of Bethlehem Steel, implodes in Bethlehem, Pennsylvania, on May 19, 2019. Crowds gathered to watch the demolition of the area's tallest building, a 21-story monolith that opened at the height of Bethlehem Steel's power and profitability, but that stood vacant for a dozen years after America's second-largest steelmaker went out of business. Photo: Jacqueline Larma / AP
11) British Prime Minister Theresa May stands before a podium at Downing Street in London, England, on May 24, 2019. May announced that she would be stepping down as Britain's prime minister. Photo: Hannah Mckay / Reuters
12) In Newcastle, England, the Brexit party leader, Nigel Farage, is assisted after being hit with a milkshake while arriving for a campaign event. Photograph: Scott Heppell/Reuters. One more look. Reuters
13) The Temple of Time, built as a temporary memorial to the 17 victims of a shooting at Marjory Stoneman Douglas high school, is set ablaze during a ceremony hosted by the cities of Parkland and Coral Springs, where the high school's students live. Photograph: John McCall/AP
14) Wearing MAGA shirts, the sisters Pepper (left) and Daisy, from southwestern Virginia, play together at sunset as they visit the White House with their mother on May 18, 2019. Photo: Jacquelyn Martin / AP
15) A demonstrator smokes marijuana during a rally called 'Cultivate your rights' against drug trafficking and in favor for the legalization of self-cultivation of marijuana for medicinal and recreational purposes in Santiago, Chile. Photo: REUTERS/Rodrigo Garrido
16) The moon rises above 42nd Street in New York. Photograph: Gary Hershorn/Getty Images. Anotherlook. AFP
17) In Madrid, Spain, Spanish bullfighter Juan del Alamo is gored by a bull during a bullfight on occasion of the San Isidro Fair at Las Ventas bullring. Photograph: Fernando Alvarado/EPA
18) A swan reacts to an AFP camera in the northern Polish city of Gdansk on April 26, 2019. Photo: Janek Skarzynski / AFP / Getty
19) A dog waits for its owner outside a polling station, where Britain's Prime Minister Theresa May voted in the European Parliament Elections, in Sonning, Britain. Photo: Reuters
20) Steve Biro's stunning photograph of Bruce the Bald Eagle gliding across the water, wings spread wide, is brought to another level due to the perfectly symmetrical composition. While the eagle stares dead on at the camera, his entire body is reflected in the calm waters below him. The tips of his feathers touch the surface, making a complete circle of body and reflection. Another view.
21) The peloton climbs the wall of San Mauricio in the town of Pinerolo, Italy, during the twelfth stage of the 102nd Giro d'Italia cycling race on May 23, 2019. Photo: Luk Benies / AFP / Getty
22) Climbers line up near the summit of Mount Everest on May 22. Many teams had to line up for hours to reach the summit, risking frostbite and altitude sickness. The deaths of three more climbers on Mount Everest have raised concerns that a traffic jam of mountaineers near the summit is making the ascent even more treacherous. Photo: Project Possible via AFP – Getty Images
23) A man (center) climbs up to the top of the Eiffel Tower in Paris without any protection as a firefighter looks down at him from the top on May 20, 2019. Photo: Francois Guillot / AFP / Getty
24) In London, a model poses for photographers next to a floral display during the press day for the RHS Chelsea Flower Show. The RHS Chelsea Flower Show is held for five days by the Royal Horticultural Society in the grounds of the Royal Hospital Chelsea. Photograph: Facundo Arrizabalaga/EPA
25) Fans react as they watch the Game of Thrones series finale at a viewing party at Brennan's bar in Marina del Rey.  Photograph: Robyn Beck/AFP/Getty Images
AND FINALLY…
Going Back: Faces of the men who fought at Normandy
ALSO:
This Viral Photo Will Remind You Just How Badass Moms Are for Giving Birth