The Barking Lot is a regular weekly feature of This Just In…Written by my lovely wife, Jennifer and me.  It opens with the weekend dog walking forecast followed by the main blog from dog lover, Jennifer. Then it's DOGS IN THE NEWS and our close. Enjoy!
THE WEEKEND DOG-WALKING FORECAST: We grade the weather outlook for taking your pet outdoors.
TODAY:  A mainly sunny sky. High of 61. "B"

SUNDAY:  Mostly sunny. High of 75. That's nearly 40 degrees warmer than last Sunday.   "A+"
WAIT!!!!!!
That was last week. Let's try this again.
TODAY:  UPDATED: WINTER STORM ADVISORY IN EFFECT FROM 10 AM TO 10 PM in Waukesha, Milwaukee, Walworth, Racine and Kenosha Counties. Heavy snow expected.  Total snow accumulations of 2 to 4 inches expected. Winds gusting as high as 35 mph. The latest road conditions for the state you are calling from can be obtained by calling 5 1 1.
High of 41 in the morning, dropping slightly throughout the day.  "D" in the morning, "F" later in the afternoon.

SUNDAY:  Partly cloudy. High of 48.  "C"
Now, here's my lovely wife, Jennifer with this week's main blog.
We've had too many friends & family members affected by dementia.  No matter what form it takes, the disorder is devastating not only to the patent but everyone who loves them.
When someone with the resources to help a family member diagnosed with dementia steps in, amazing things can happen.  Such is the case for Tom Stevens, whose mother was diagnosed with Alzheimer's Disease. The greatest heartbreak for their family was when she could no longer care for her dog.  And so Jenny was eventually "born."
Dementia patients, Parkinson's patients, and children with special needs could all potentially benefit from a robotic pet like Jenny.  Just imagine all the wonderful things that are possible with a special friend like her!  Watch this heartwarming video where dementia patients interact with Jenny… prepare to be amazed. 
Tombot, the company that brought Jenny to life, has an amazing website.  I encourage you to read their story.  I'm so impressed and inspired by the minds & hearts behind Jenny.  I'm hopeful that "pets" like her could be the future of therapy for so many deserving patients.  I look forward to hearing even more about Tombot and the lives they touch!
—Jennifer Fischer
Thanks, Jennifer!
Time now for DOGS IN THE NEWS, canines that made headlines the past week.
Federal agency offers reward in poisoned dog, wildlife case in northern WI.
Taking Your Dog on a Plane Just Got Harder.
Trump calls working dogs 'the greatest equipment in the world.'
Green Bay Police K-9 handlers to receive emergency trauma kits as Pyro returns to work.
Man offers to sell his car to save his dog's life before community comes to the rescue.
Deaf man adopts deaf puppy from shelter, teaches dog sign language commands.
Wisconsin Humane Society celebrates future $5.9M Racine campus.
The Best Cat- and Dog-Safe Plants, According to Experts.
21 Reasons To Rescue A Dog From A Shelter If You're Used To Buying From Breeders.
Is this the perfect party question?
THAT'S IT FOR DOGS IN THE NEWS.
HERE'S OUR DOG PHOTO(s) OF THE WEEK.
A picture taken by a 12-year-old girl  captured a tender moment between man and his best friend.
"To see a dog standing on his tippy toes looking into a casket struck the heartstrings of this community."
Sam James is the director at James Funeral Home in Huntersville, North Carolina.
"Anne Marie (Sibthorp) sent us the photo," said James. "We asked if she would mind if we shared it with the community because we found it to be such a touching photo."
"I didn't even know she was taking it," said Sibthorp about her granddaughter, Nina Holcombe, who snapped the picture. Sibthrop took Chief into the chapel for a private viewing of her boyfriend, Bill Schiller, on April 11.
"I'll never forget. He stretched his neck in as far as he could, and he gave Bill just one little quick lick on his ear, and of course, Bill didn't move," Sibthorp said. "And Chief laid his head right down by his head, and just laid there for the longest time."
Photo: James Funeral Home Facebook Page
Personnel from Station eight of St. Johns County Fire Rescue in Florida last weekend performed a rather unique rescue. A resident in the Hastings area returned home from work and found her Rottweiler "Fifi" in a rather precarious situation.
Fifi was apparently sniffing around her residence and became stuck in a cinder block. The six month old puppy managed to wedge her head inside one of the holes in the block. The resident tried to free Fifi's head but was unable to do so. Out of options the resident placed a call to the SJC Communications Center for help. Deputies from SJSO arrived and attempted to free her head using soap and water. However, the puppy remained stuck. Shortly after, personnel from Station 8 arrived and began to work on Fifi's predicament. Using the Jaws of Life, firefighters were able to crack the block and free Fifi. Fifi was uninjured and is excited to be sniffing around again.


Photos: St. Johns County Fire Rescue Facebook Page
And one more…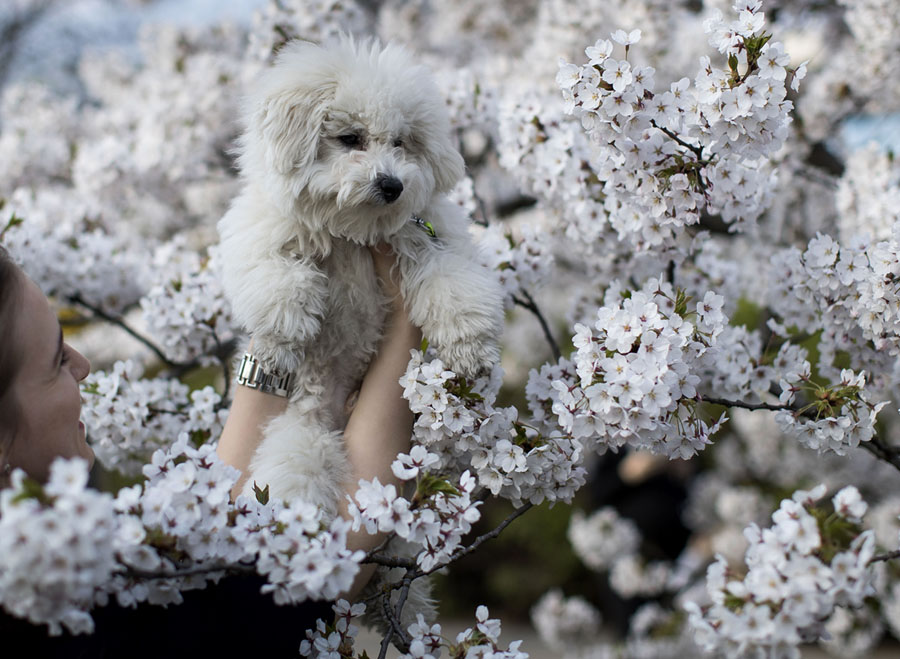 The first annual National Lost Dog Awareness Day was celebrated on April 23, 2014. It was created by a group called Lost Dogs of America. The American Humane Association estimates more than 10 million pets are lost or stolen in the United States every year, and that one in three pets will become lost at some point during their life.
Cedar, a dog found abandoned in Colorado, has been returned to his family nearly two years after he was stolen in Florida as a puppy. The pet was identified thanks to his microchip.
Next …there was no way he could have known a trip to the dump would change his life — and those of hundreds of dogs.
AND…Sox, AKA 'The Bike Dog' is traveling the world by motorcycle. Months of training and years of refining his techniques have allowed him to travel almost 70,000 miles on a motorcycle. He is currently traveling from San Diego to New York City with his Dad, stopping at National Parks and National Forests all along the way. Sox is trying to inspire more amazing dogs to live life to the fullest and bring their humans along for the adventure.
That's it for this week.
Thanks for stopping by.
We'd really appreciate it if you forward this on to other dog lovers you know. Let them have some fun!
See ya, BARK, next Saturday!

Pyro