Every Friday night we smooth our way into the weekend with music, the universal language. These selections demonstrate that despite what is being passed off as art today, there is plenty of really good music available. Come along and enjoy.
From awesomestories.com:
The Easter story is often called the "greatest story ever told". It is a fascinating tale of betrayal, murder, miracles and life after death. It is the story of a Messiah, a Christ who is the "Son of Man." Yet Jesus the Messiah makes claims that cause his followers to doubt him, then turn against him in rage.

This is the story of the miracle that ensues, and has stood the test of time. It is a story that intrigues believers and non-believers alike.

Although death by crucifixion is a common practice in Roman times, Jesus' ordeal is particularly cruel. He endures the customary beating, and then must carry his own cross. He falls from the heavy weight, and another man must carry the load for him. Jesus hangs from the cross by spikes driven through his hands and feet, receives vinegar to quench his thirst and suffers a horrible death. Following the crucifixion, his body is placed in a guarded tomb but he rises from the dead 3 days later. 

This week, the music of Easter.
Before we start with our rousing opener, an Easter memory. Seems that a television tradition around Holy Week many years ago that carried on for many years was the network presentations of holy movies.
One of them was Ben-Hur starring Charleton Heston as a Jew (Judah) battling the Roman empire at the time of Christ. His actions send him and his family into slavery. Chained to a group of criminals, Judah is marched through the desert. They pass though the village of Nazareth and stop for a water break.
Later, when Jesus is  sent through the streets on his way to be crucified…
In 1870, French architect Charles Rohault de Fleury determined Jesus' cross weighed 165 pounds, was three or four meters high, with a cross beam two meters wide.
One of cinema's most famous sequences was the movie's nine-minute chariot race. That scene alone took five weeks (spread over three months) to film at a total cost of $1 million and required more than 200 miles of racing to complete. Seven thousand extras were hired to cheer in the stands. As filming in Italy progressed only 1,500 extras were needed on any given day. On June 6, 1958, more than 3,000 people seeking work were turned away. The crowd rioted, throwing stones and assaulting the set's gates until police arrived and dispersed them.
We begin with Andre Rieu and his orchestra along with his own very large set of over 500 brass players performing from the film's score in Amsterdam.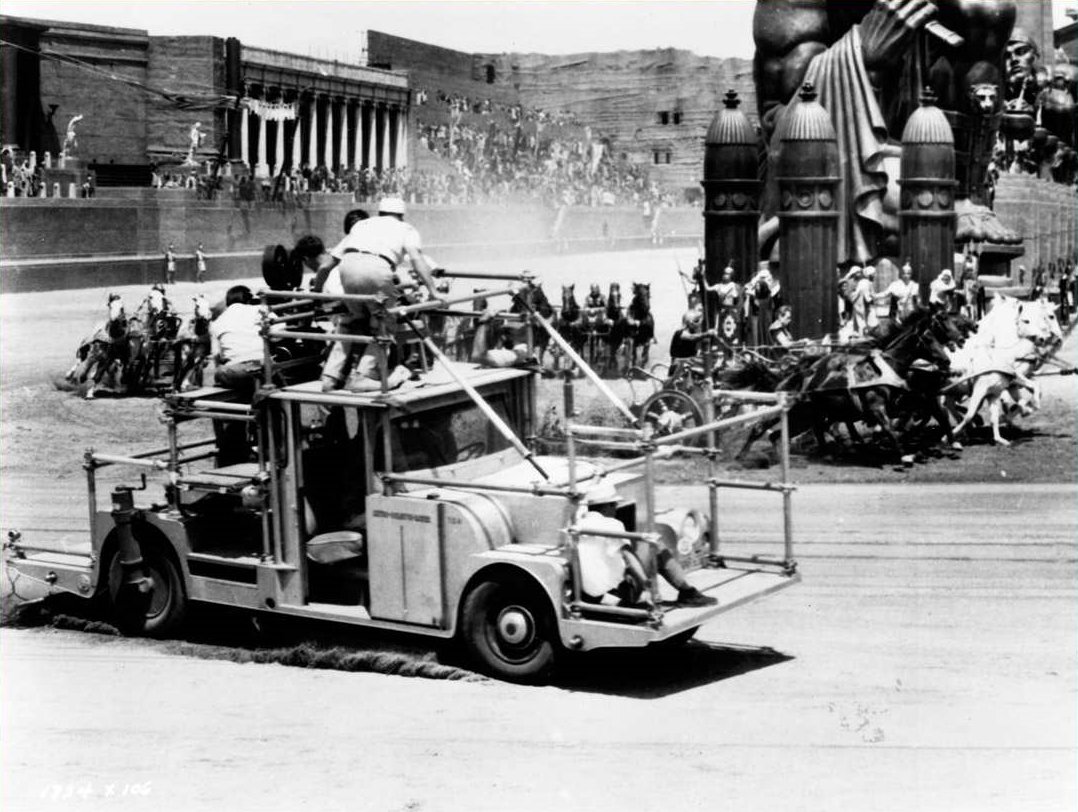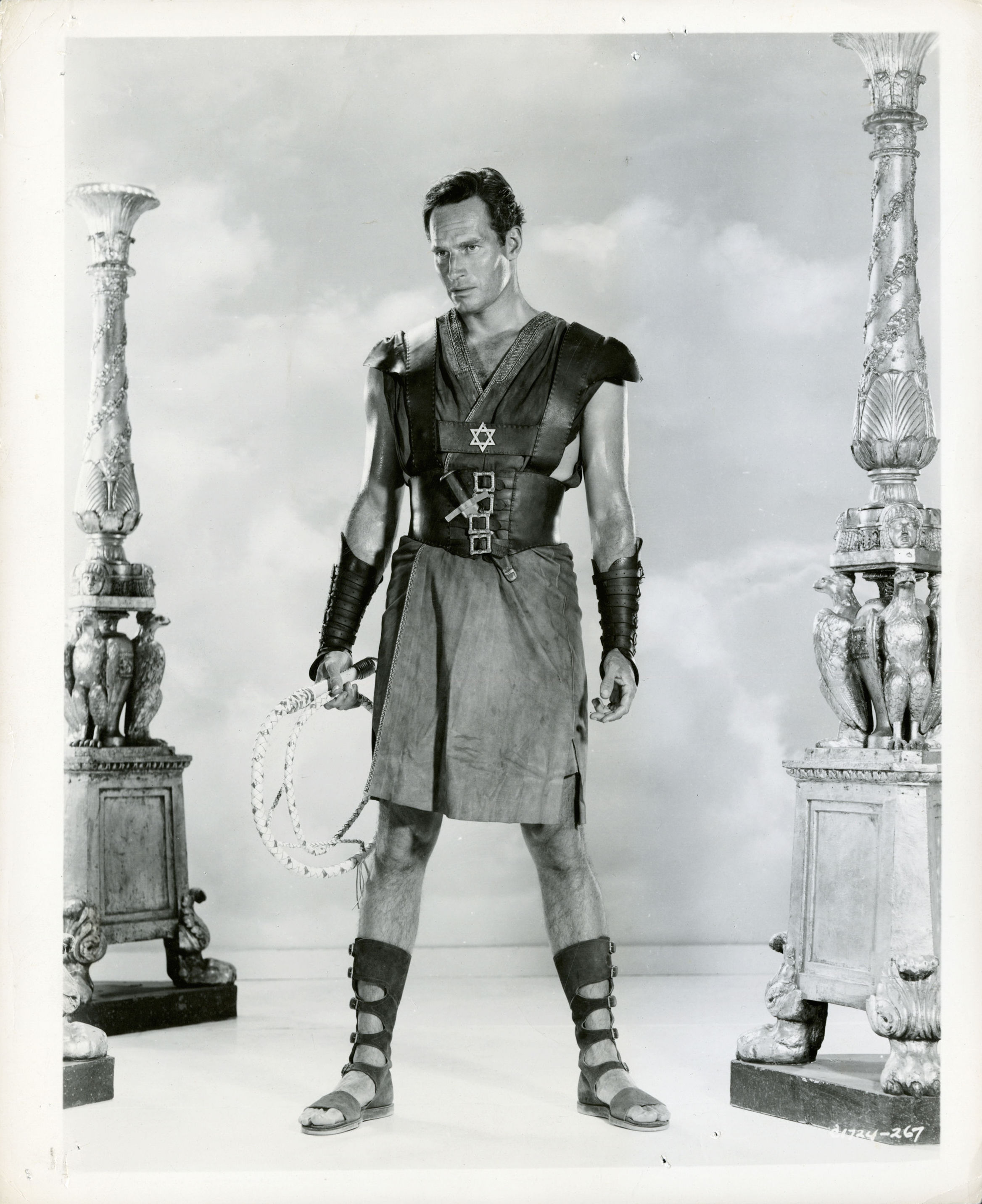 Ben-Hur was nominated for twelve Academy Awards and won an unprecedented eleven including Best Picture.
Easter Sunday is the biggest day of the year for churches. According to a 2018 National Retail Federation study about half of Americans planned to go to church on that year's Easter.
Christian music songwriter and impresario Bill Gaither has given great exposure to Southern gospel artists for the past few decades, especially on public television. Those appearances led to concerts and video sales.
My guess is that this will shake church roofs across America this Sunday.
The Gaither Vocal Group answers the musical question, "Have you been redeemed?"
In the above video did you notice the silver-haired gent with the cookie duster mustache cupping his ear with his hand, microphone in the other pressed right up against his mouth?
That's deep-voiced J.D. Sumner who wrote "The Old Country Church." He was part of Elvis' backup singers for many years right up until the King died.
Speaking of Elvis, the King's only Grammy Awards came for his spiritual recordings. In fact his favorite music was gospel and he had career aspirations of someday singing professionally in a gospel choir.
"Gospel was one of the most important elements in his musical identity," said Charles Hughes, director of the Memphis Center at Rhodes College. "Throughout his career he kept returning to gospel. Singing gospel songs, recording gospel records and incorporating in his live shows performance techniques that he would have gotten from the church."
Gladys Presley once told a reporter, "When Elvis was just a little fellow, he would slide off my lap, run down the aisle, and scramble up to the platform of the church. He would stand looking up at the choir and try to sing with them. He was too little to know the words, but he could carry the tune."
"Since I was two years old, all I knew was gospel music," said Elvis. "It became such a part of my life, it was as natural as dancing. A way to escape my problems, and my way of release."
In 1972 Elvis released the gospel album He Touched Me that included "Amazing Grace."
Three years ago The Wonder Of You: Elvis Presley With The Royal Philharmonic Orchestra was released worldwide that presented the iconic artist's unmistakable voice and most dramatic original performances augmented with lush new orchestral accompaniment. Recorded at Abbey Road Studios in London, the 14-track album features Elvis' most dramatic original performances augmented with arrangements by The Royal Philharmonic Orchestra.
The album was a follow-up to a similar effort the year before, If I Can Dream: Elvis Presley With The Royal Philharmonic Orchestra.
Legend has it that this next song was written in 1772 by John Newton, a former slave trader who had a religious conversion and became an abolitionist activist.
Elvis takes care of serious business.
Another classic was written by Cleavant Derricks, an African American pastor who once served a church in Beloit, Wisconsin.
Performing in our next video is an ensemble formed by a businessman who plucked stars from various gospel groups to form "Perfect Heart." J.D. Sumner jokingly called them "The Million Dollar Quartet."
Garry Sheppard opens by mentioning one of his talents.
Who says Christians don't have a sense of humor?
Perfect Heart is no longer together.
That's it for this week.
Goodnight.
Sleep well.
Have a great Easter weekend!
In the late 1960's Edwin Hawkins was studying interior design in Oakland, California. At the same time he and a friend were working with a youth choir that released a local album. The group had hopes of selling enough copies to fund a trip to Southern California to participate in a Gospel competition.
The album was anything but state of the art, recorded on a friend's small two-track machine according to Hawkins. There were no thoughts of going commercial.
One of the tracks caught the attention of a disc jockey at the Bay Area FM station KSAN, Abe Kesh.
As Kesh continued to play "Oh Happy Day" on the air it became more and more popular. The single sold seven million copies and won a Grammy for best soul gospel performance.
Legendary jazz pianist Ramsey Lewis covered "Oh Happy Day" in a 2005 album, "With One Voice."
The live album was recorded at the J.W. James Memorial A.M.E. Church in Maywood, Illinois, where the Rev. Lucille L. Jackson, Ramsey Lewis' sister was the the co-pastor. She passed away in 2013.
More than 50 members of the J.W. James Memorial A.M.E. Church Combined Choir are featured on the album, including "Oh Happy Day."
"That's one of my favorites," said Lewis. "When that record came out, the Edwin Hawkins Singers, I probably wore out–it was on an LP, of course, so I probably wore out two or three of those, and I always wanted to play it, even in person, but I couldn't come up with a way to do it without the voices. And so now we have this version, of course, with my church choir, that is the church I belong to."
We've posted this a few times in the past and it's especially perfect this time of year…