The Barking Lot is a regular weekly feature of This Just In…Written by my lovely wife, Jennifer and me.  It opens with the weekend dog walking forecast followed by the main blog from dog lover, Jennifer. Then it's DOGS IN THE NEWS and our close. Enjoy!
THE WEEKEND DOG-WALKING FORECAST: We grade the weather outlook for taking your pet outdoors.
TODAY:  Partly Cloudy. High of 49. "C"

SUNDAY:  Periods of snow. Rain may mix in. Temps nearly steady in the mid 30's.  Thunder is possible. 80% chance of precipitation. 1-3 inches of snow expected. Maybe a high of 37.   "F"
Now, here's my lovely wife, Jennifer with this week's main blog.
I've repeated on this blog many times that growing up we had both dogs and cats in our family.  I loved them all dearly and equally.  As the years went on however, I became WAY more of a dog lover than a cat lover.  Although I wanted a pet in my apartment, only cats were allowed where I rented.  It was a no-brainer by that point; I didn't get a cat.
Kevin makes jokes about the uselessness of the feline persuasion and I can guarantee you we'd never have a family cat.  (If you think I'm struggling to adopt a dog that is NOTHING compared to the "no chance" reaction I'd get if I wanted a cat!)  Truly, he is NOT a cat person.
It's not much of debate in our house about our pet preference.  We save arguing for more important topics such as "Should you ever put catsup on a brat?" or "What's the best 80's song?"  But what about other people?  Wanna start a fun (at least initially) argument?  Stand dog owners against cat owners and see what happens.
Colleen Kirk recently set out to initiate that argument, but in a scientific way.  While I must admit I'm not terribly surprised by the findings (I'm biased – I'm a dog person!) I think it's fascinating the way she went about her research.
Feel free to leave a comment as to your allegiance and opinion on the study!
—Jennifer Fischer
Thanks, Jennifer!
Time now for DOGS IN THE NEWS, canines that made headlines the past week.
McCain family mourning after John McCain's dog dies in 'tragic accident.'
Back in December we missed this one. It's pretty important.
Dog owners warned over deadly Easter chocolate dangers.
'That's not a bag': man with dog bends New York subway rule and gets denied.
Study: Dogs, Like People, Tend to Stay Away from 'Nasty' People Who 'Behave Negatively.'
Prenups for pets, or 'pet-nups,' becoming increasingly common among couples.
A Dog Named Cactus Is Dominating a Race Through the Desert.
Normally when an umpire gets booed it's not news, except here.
This friendship between a mailman and a rescue dog is breaking the Internet's heart.
Yappy hours and bark mitzvahs: Dog-treat food trucks setting new trend.
Dog swallowed them on walks.
Very cool in South Dakota.
THAT'S IT FOR DOGS IN THE NEWS.
HERE'S OUR DOG PHOTO(s) OF THE WEEK.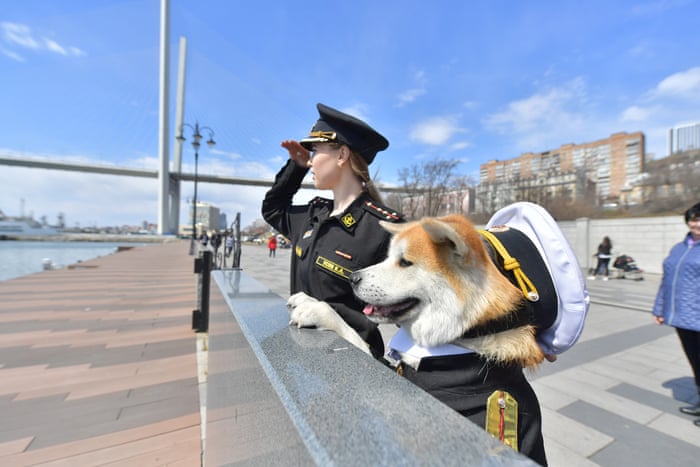 In Vladivostok, Russia, a girl walks an Akita dog dressed in a military uniform. Photograph: Yuri Smityuk/Tass
And…
13 Pictures Of Dogs That Deserve To Hang In The Louvre.
And…the cone of shame.

We close as we always do with our closing video and we have a few.
High school teen and her service dog star in production of "The Wizard of Oz." Watch the video in the story.
Here's a great organization in Riverside, California:
And…
Border Collie Comes Out Of Nowhere, Saves Chihuahua From Being Run Over By Car:
That's it for this week.
Thanks for stopping by.
We'd really appreciate it if you forward this on to other dog lovers you know. Let them have some fun!
See ya, BARK, next Saturday!