Culinary no-no began on Father's Day 2007, a beautiful summer day, when I wrote about grilling brats. And eating brats. And topping those brats. I was inspired by my wife, Jennifer who, in my admittedly unscientific opinion, ruins brats by squirting ketchup on them. Other dining taboos quickly came to mind. The original idea was to take this concept only a few months, till the end of summer and then pull the plug. Then the unexpected happened. People started reading Culinary no-no. Lots of folks. So we keep doing the no-no.
No oddball pizza toppings or ice cream combos this week. We get serious.
This topic intrigues because I covered politics and still do, and worked in the WI state Senate for 15 years. Trust me, every office of state legislators in Madison, all 132 of them, closely observes the bills being proposed, approved, and signed into law in all other states.
You've read the stories about Hollywood. Politics. Academia. All the sexual harassment.
Despite all those page one stories the problem is much more prevalent in the service industry.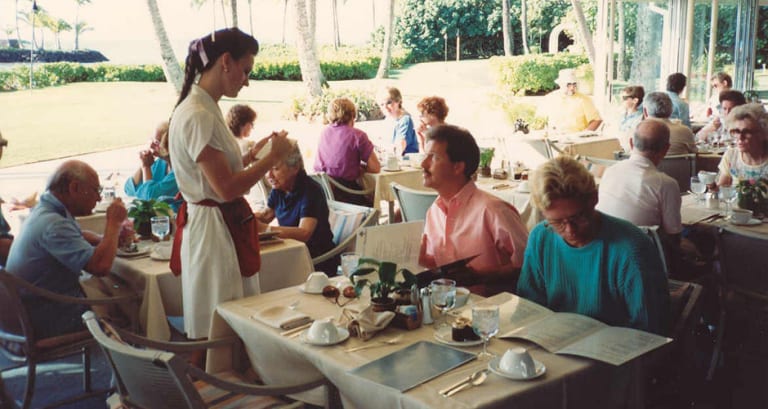 More sexual harassment claims in the U.S. are filed in the restaurant  business than in any other. As many as 90% of women and 70% of men reportedly experience some form of sexual harassment. Who are the culprits? Managers, coworkers, and, customers. As noted the inappropriate behavior is routine.
The website INSIDER reported last month:
Alice says it started with a proposition: Her co-worker asked her on a date.

When she declined, he began asking for kisses on a daily basis. Alice, then a server at an IHOP in Arizona, says she told her co-worker to stop. But his behavior persisted — so frequently, she says, that she had to cover herself with her hands whenever he walked by.

According to Alice, the co-worker routinely asked her to engage in a sexual relationship; repeatedly reminded her that he liked "big butts;" groped and slapped her waist, hips and buttocks on a regular basis; and even pushed her into confined areas of the restaurant.

Alice, who was also a crew chief — or shift leader — at the restaurant, grew fearful that she would be ostracized if she complained to management. On top of the male co-worker's behavior, Alice says, other colleagues began spreading damaging rumors about her private life.

When she approached her district manager about the harassment and bullying, in November 2017, she advised Alice to "not give [the staff] a reason to talk to her" and sent her home without pay.

Humiliated, Alice quit. "I was so fed up with them that I walked away and washed my hands of them," she told INSIDER.

Alice's allegations appeared in a lawsuit she filed in December 2018 against Romulus Restaurant Group, which refers to itself as "the largest franchisee and developer of IHOP restaurants" and operates in 11 states.

The male co-worker's physical advances were frequently coupled with sexually charged comments, the complaint says, including "Let me show you a good time," and "You know you want it."

The same co-worker would "utilize each opportunity he was near her to brush up against or bump into her body in a sensual manner," the filing claims.

In a response filed in federal court, Romulus Restaurant Group, which owns the IHOP where Alice worked, denied she was discriminated against or harassed in the workplace.

A spokesman for Romulus said he could not discuss the specifics of the case because it was still ongoing.
A small number of states is now taking action.
Neighboring Illinois has joined the growing number of states proposing mandatory sexual harassment training.  The Restaurant Anti-Harassment Act would require training for all restaurant employees.
Only California, Maine, Delaware, New York State , and Connecticut have laws on the books requiring such training.  in place statutory training requirements.
The plan proposed in Illinois would include the following topics for all employees:
Definition of sexual harassment and the forms it can take;
Explanation of the harmful impact sexual harassment can have on victims, businesses, and those who harass;
How to recognize conduct that is appropriate, and inappropriate, for work; and
Explanation of when and how to report sexual harassment.
In addition to the above, employers also must cover the following topics for supervisors and managers:
Explanation of employer and manager liability for reporting and addressing sexual harassment;
Instruction on how to create a harassment-free culture in the workplace; and
Explanation of how to investigate sexual harassment claims in the workplace.
The training program must be specific to the restaurant or hospitality industry and include restaurant- or hospitality-related activities, images, or videos. Training must be available in both English and Spanish, and may be given through, but not limited to, online, computer, classroom, and remote training.
Employers would be required to provide the training within 90 days after the effective date of the Illinois law taking effect, and within 30 days of an employee's employment, and every two years thereafter.
Proponents say the education is a must. At first glance training may, indeed, seem to make perfect sense.
"It's not a one-stop solution," says Janet Benoit, vice president of learning and development with the National Restaurant Association. "But you have to start the conversation. That's what training is able to do. (But training is) not going to provide the cultural shift everybody is looking for. Training starts it. But any restaurant, any hotel, has to commit to a larger effort."
Kate Gallagher Robbins, director of poverty policy for the Center for American Progress, agrees that training is not a cure-all.  She suggests better pay would help alleviate the problems and also empower workers to stand up for themselves. With restaurants having to deal with razor-thin profit margins to survive, that might be difficult.
I'm not a fan of the public sector mandating how businesses should operate (Health regulations are a given, I get that). I'm not seeing who in Illinois would have to pay for all this ongoing training that would be much more involved than simply handing a new employee a manual to read. But we're dealing with a real, serious issue.  Every state should address as it sees fit.
So, should Wisconsin and others follow the lead of the corrupt, thoroughly-messed up Illinois? It may not be a question of "if" but "when." Meanwhile enterprising reporters should be monitoring efforts in states that have already enacted training laws to see if they really work.
For related reading check out: Why Sexual Harassment Rates Are So High in the Restaurant Industry
CULINARY NO-NO BONUSES
3 buzzworthy stats that reveal America may have hit peak coffee snobbery
No cheese? Rhode Island's 'red strips' are an odd take on pizza