This past Tuesday would have been Marvin Gaye's 80th birthday.
In 1984, the day before Gaye's 45th birthday, the soul singer was shot and killed by his 71-year old father, Marvin Gaye Sr., a retired minister.
Gaye was shot in an argument with the elder Gaye who was taken into custody on the front lawn of his home shortly after the shooting, and after several hours of questioning was booked.
The singer became involved in a verbal dispute with his father the night before that resumed the next morning. Around noon some pushing and shoving took place in an upstairs hallway. That's when Gaye's mother attempted to stop the altercation, and Gaye Sr. armed himself with a five-shot, .38-caliber handgun, came back upstairs and opened fire on his son in the singer's bedroom.  Marvin Gaye was pronounced dead at the hospital.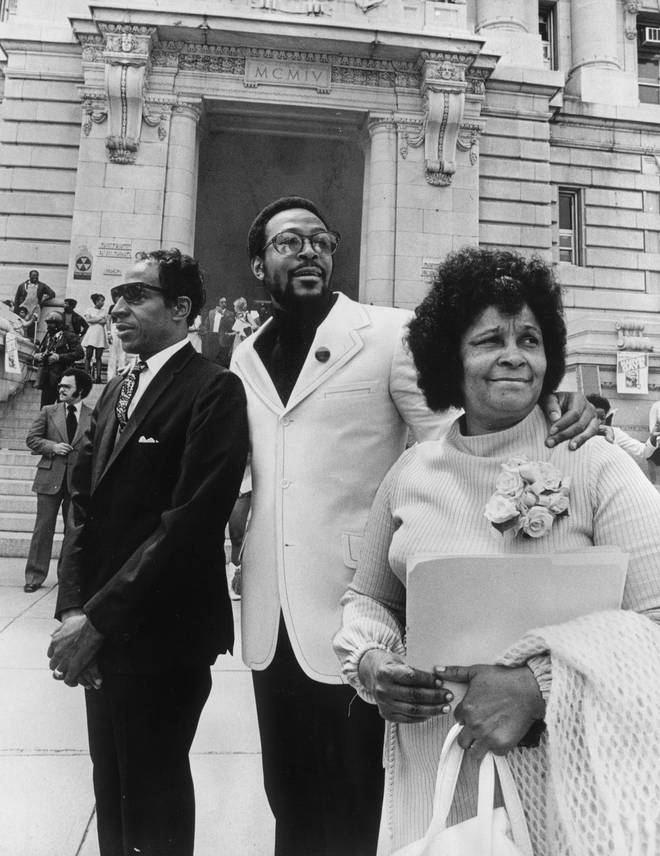 Marvin Gaye and his parents
Marvin Gaye Sr. pleaded no contest to a voluntary manslaughter charge on September 20, 1984. On November 2, 1984, Judge Gordon Ringer sentenced him to a six-year suspended sentence and five years of probation.
Gaye Sr. told the court, "If I could bring him back, I would. I was afraid of him. I thought I was going to get hurt. I didn't know what was going to happen. I'm really sorry for everything that happened. I loved him. I wish he could step through this door right now. I'm paying the price now."
Health issues forced him to move to a nursing home. He died of pneumonia on October 10, 1998, nine days after his 84th birthday.
We continue our series of great music from 50 years ago, 1969.
"Too Busy Thinking About My Baby" was Marvin Gaye's second biggest hit of the 1960s, after "I Heard It Through the Grapevine". "Too Busy Thinking About My Baby" peaked at number four on the Billboard Hot 100 in the United States, and remained at the number one position on Billboard's Black Singles Chart for six consecutive weeks, from the weeks of June 7 until July 12, 1969, with sales totaling 1.5 million copies. The single was the top-selling R&B single of the year, and was the first release from Gaye's 1969 studio album "M.P.G."
From the "They Don't Write Them Like They Used To" file…