The Barking Lot is a regular weekly feature of This Just In…Written by my lovely wife, Jennifer and me.  It opens with the weekend dog walking forecast followed by the main blog from dog lover, Jennifer. Then it's DOGS IN THE NEWS and our close. Enjoy!
THE WEEKEND DOG-WALKING FORECAST: We grade the weather outlook for taking your pet outdoors.
TODAY: Cloudy and windy. High of 44. "C"

SUNDAY:   Mostly sunny. High of 40.  "D"
Now, here's my lovely wife, Jennifer, with this week's main blog.
I know a meteorologist could give me historical facts as to what was the coldest winter in history.  I'm not interested in what happened 100 or so years ago.  I wasn't around so I don't care.  The 2018-2019 was the worst in my personal history and quite frankly I don't care to ever repeat it.  Sure, I got a few days off with Kyla.  We had enough food and beverages to last, our furnace is in good shape, and all electronics were in working order.  But if I would have to endure that on a regular basis I can guarantee I would move to a permanently warmer location.
Still, there was one small blessing of this infernal winter up until now:  I had no seasonal allergies to deal with.  I'd rather take a daily OTC antihistamine and decongestant than don boots, gloves, earmuffs and a scarf just to run to the mailbox.  (It seems like our area of Wisconsin will be lucky for the rest of our spring.)    I can't believe I've already felt some effects of blooming things.  Yes, I've gone from winter cold a-choo's to seasonal sneezes in a matter of weeks.
Kevin and Kyla are fortunate that they don't have to battle sneezing, itchy & watery eyes, and congestion.  With any luck, our future dog will be as lucky as they are.  "Wait… what?  You're saying DOGS can have allergies too?"  Oh yes they can.  And they can be just as annoying for them as they are for their human counterparts.
If you have noticed the family pooch scratching more, or sneezing uncontrollably then chances are he/she is suffering from seasonal allergies.   Fortunately there are ways to cope just like there are for humans.  Antihistamines are a possible source of relief with the guidance of your veterinarian.
It might seem hard to believe that a warm spring & summer truly are just around the corner.  But before you know it, those little tree buds will show and bits of daffodils will peek their heads out of the ground.  Quickly following will be the first symptoms of the Sneezin' Season.
This year if you are itching & scratching, rubbing your eyes, sneezing and dealing with a raspy voice and scratchy throat; please don't dismiss your dog may be suffering the same ways you are.  Get Fido some help so that your entire family can enjoy the great outdoors this all-too-short upcoming spring and summer season!
—Jennifer Fischer
Thanks, Jennifer.
Time now for DOGS IN THE NEWS, canines that made headlines the past week.
This 1999 column was re-posted this week. Agree or not? Scared of Pit Bulls? You'd Better Be!
Want to rescue a dog from overseas? It might carry a new strain of disease, researchers say.
'Dog Suicide Bridge': Why Do So Many Pets Keep Leaping Into a Scottish Gorge?
Prize-winning show dog lost at Atlanta airport found.
'Job well done': Virginia police dog needs just 15 minutes to find two lost children.
Blind dog gets his own 'seeing eye' dog.
Dog-proofing your car: How to keep your pups safe and secure.
Inquiring minds want to know: Should You Flush Dog Poop?
Matt Thompson is a genius. Here's why.
THAT'S IT FOR DOGS IN THE NEWS.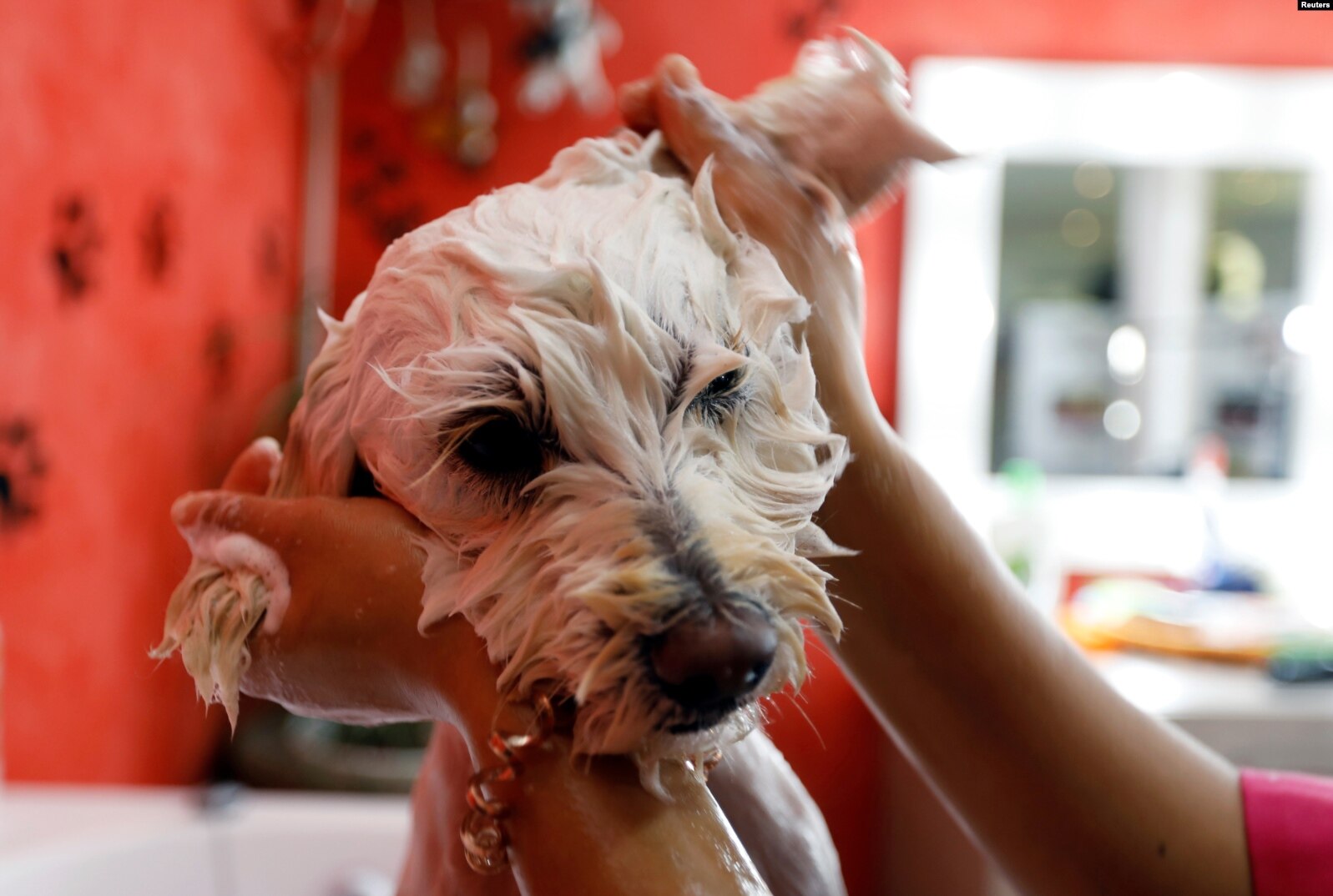 A groomer washes a dog at a pet beauty salon in Tunis, Tunisia, March 27, 2019. Photo: Reuters
And check out Dogs Before Instagram.
We close as we always do with our closing video.
At this very moment, with their noses to the ground, four-legged heroes are actively defending our planet.
ALSO, HAVEN of Milwaukee operates dog training classes that are truly unique. Started by expert trainer Linda Bobot who has been training service dogs for decades, HAVEN is a small non-profit organization serving combat veterans facing difficulties adjusting to life after war. CBS 58's Amanda Porterfield reports. Click here for the video.
That's it for this week.
Thanks for stopping by.
Please consider passing this along to other dog lovers you know.
See ya, BARK, next Saturday morning!