Every Friday night we smooth our way into the weekend with music, the universal language. These selections demonstrate that despite what is being passed off as art today, there is plenty of really good music available. Come along and enjoy.
Beware. April 1 is almost here.
How did April Fools' Day originate? Some reports indicate it began as far back as 1582. France had changed from the Julian calendar to the Gregorian calendar. No radio TV, or Internet back then. So a lot of folks didn't get the news and failed to realize the start of the new year was now January 1. They were celebrating during the last week of March through April 1 and became the butt of jokes.
Elaborate hoaxes have continued through to modern times. In 1957, the BBC reported that Swiss farmers were experiencing a record spaghetti crop and showed footage of people harvesting noodles from trees; numerous viewers were fooled. In 1984, Sports Illustrated ran a made-up article about a rookie pitcher named Sidd Finch who could throw a fastball over 168 miles per hour. In 1996, Taco Bell announced it had agreed to purchase Philadelphia's Liberty Bell and  planned to rename it the Taco Liberty Bell. In 1998, after Burger King advertised a "Left-Handed Whopper," scores of clueless customers requested the fake sandwich.
This week, a fun musical theme. There are plenty of songs with "fool" in the title or lyrics and we've got a few. Really. No foolin.' Let's get started.
Elvis was a great American hero. Here's a perfect example.
In the late 1950's Congress gave its approval to the construction of a memorial in Pearl Harbor to honor the crew members entombed when the USS Arizona was sunk during an attack by the Japanese that sent the United States into World War II. It was the job of The Pacific War Memorial Commission to raise $500,000 to build the USS Arizona Memorial.
By the end of 1958 more than $95,000 was raised. However fundraising began to lag and at the start of 1960, only $155,000 had been collected.
Elvis' manager, Colonel Tom Parker, read about the slow progress in the Los Angeles Examiner. Elvis was already in Hawaii to film his next picture and agreed to do a benefit concert for the memorial.
On March 25, 1961, the 26-year-old Presley went onstage before a packed, screaming crowd of 4,000 fans at the Bloch Arena who paid anywhere from $3 to $100 a ticket.
Admirals and generals who hit Parker up for complimentary tickets were rejected. Parker insisted everyone pay, including the performers. Elvis bought a $100 ticket for himself and then bought dozens more to give to staff and patients at a military hospital.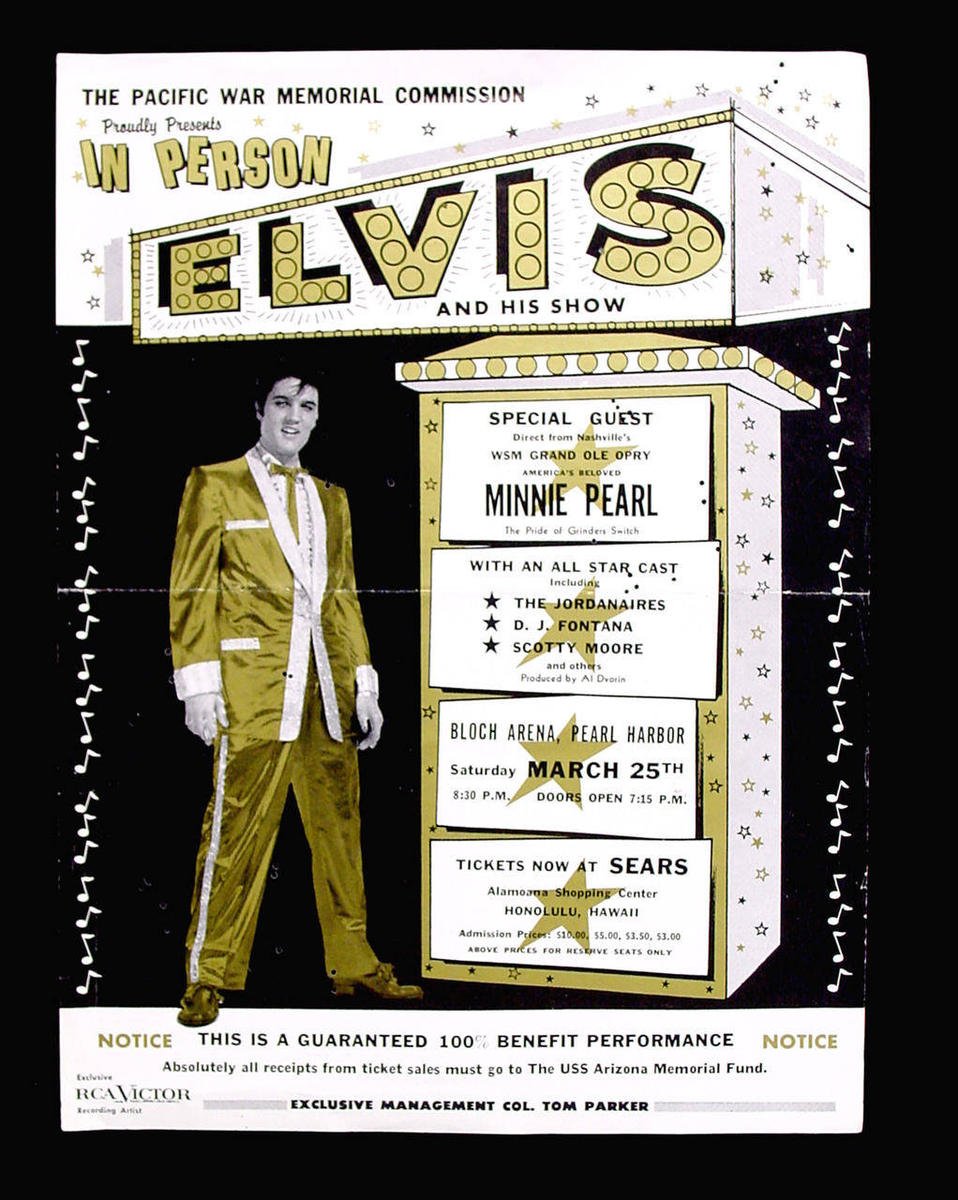 The concert raised $60,000, well short of the goal. But the show created a new excitement about the construction project and donations started to pour in.  The $500,000 goal was reached by September, 1961, just 5 months after the concert. Construction on the memorial was completed by the end of the year. Elvis saved the USS Arizona Memorial.
Audio from that show…
When Elvis served in the Army many other teen idols emerged and took advantage of the King's absence. At the age of 8, Ricky Nelson and his older brother, David joined their parents' radio show, "The Adventures of Ozzie and Harriet" that eventually became a TV show in 1952 where viewers watched the Nelson boys grow up. Watch and take note of the lead guitarist.
Now, about that lead guitarist…
That's James Burton who toured with Elvis for many years.
Ricky Nelson had a slew of big hits that essentially stopped, guess when?
Nelson was inducted into the Rock and Roll Hall of Fame in 1987. He was killed  along with his fiancee and five other people when his DC-3 plane crashed in flames near De Kalb, Tex. on December 31, 1985. Nelson was 45.
Next, one of the most popular Brazilian artists, Sergio Mendes and his group, Brasil '66.  Their popularity was due in large part to an ability to find favor in pop, easy listening, bossa nova, and jazz circles.
Mendes played keyboards, and was backed on vocals by Lani Hall (Herb Alpert's wife) and Karen Philipp.  This successful single reached #6 in late September 1968.
Karen Philipp is the blonde. Trivia time: Philipp played Lt. Dish in a few early episodes of M*A*S*H. in the pilot Hawkeye convinces  Lt. "Dish" to agree to be the nurse who will accompany the winner of  a raffle to Tokyo, but he promises that she'll be able to get out of spending any time with the winner.
OK. Let's recap. So far we've had Elvis, Ricky Nelson, and Sergio Mendes. How about we move on to a group that continues to hold Billboard / Nielsen SoundScan's record as the top-selling American band for albums and singles, and they are also the American group with the most Billboard Top 40 chart hits (36). The original members were Brian, Dennis, and Carl Wilson, their cousin Mike Love, and their friend Al Jardine.
This song was originally recorded by Frankie Lymon & the Teenagers in 1956, and was the flip side of "Fun Fun Fun" in 1964.
All of our selections have been rather short so we can squeeze in another. This was a #3 hit in 1972.
Lead singer Cuba Gooding Sr. was found dead in his car on April 20, 2017. Tony Silvester died after a six-year struggle with multiple myeloma on November 26, 2006, and original member Luther Simmons retired shortly thereafter.
That's it for this week.
Goodnight.
Sleep well.
Have a great weekend.
Lots of choices for the closer. What could it be?
"What a Fool Believes"/ The Doobie Brothers
"Won't Get Fooled Again"/ The Who
"What Kind of Fool Am I?"/Sammy Davis Jr
Nope.
Let's go back to this TV classic.
A modern stone-age family and friends.
In the animated series real-life celebrities were characterized and sometimes provided their own voices:
Hoagy Carmichael
Cary Grant
The Cartwrights from Bonanza
Alfred Hitchcock
Ed Sullivan
Elizabeth Montgomery & Dick York from Bewitched
Gene Barry from Burke's Law
James Darrin
Jimmy 'O Neil, host of "Shindig" and The Beau Brummels
This famous actor played himself…
Which brings us to a memorable 1963 episode that starred…
Ann-Margret voiced Ann Margrock who is brought by circumstance to Fred Flintsone's house. She's not recognized. To our heroes she's just Annie, Pebbles Flintstone's babysitter who helps prepare Fred and his neighbor Barney Rubble for an appearance at the Bedrock Bowl.
Fun and cute…
The studio recording was eventually released in 1998 as part of a 5-CD 133-track boxed set, "Ann-Margret 1961-1966."