The Barking Lot is a regular weekly feature of This Just In…Written by my lovely wife, Jennifer and me.  It opens with the weekend dog walking forecast followed by the main blog from dog lover, Jennifer. Then it's DOGS IN THE NEWS and our close. Enjoy!
THE WEEKEND DOG-WALKING FORECAST: We grade the weather outlook for taking your pet outdoors.
TODAY:  Mostly sunny. High of 51.   "B"

SUNDAY:  Overcast with rain showers at times. High of 46.  "D"
Now, here's my lovely wife, Jennifer, with this week's main blog.
It's quiz time here at the dog blog. Let's play.
What is Wisconsin's official state animal?
If you guessed…
Though it's hard to disagree, you'd be wrong.
This was rather easy. Shame on you if you messed up.
NOOOO!
Yes.
State fish?
It could only be…
The muskellenge, better known as the muskie.
Most  people get that. And the state tree. State flower. State bird.
But what about the official Wisconsin dog?
The breed was developed in the Badger State and is firmly entrenched in the Blue Book as the state dog.
What is it?
To borrow a page from my hubby's blog we'll give you 30 seconds.
Think about it while the music is playing.
Go ahead. Click!
Ready?
Wisconsin's official state dog is…
>
>
>
>
>
>
>
>
>
>
>
>
>
>
>
>
>
>
The American water spaniel.
You didn't know?
Not many people do.
Here's important info.  The American water spaniel is one of only five dog breeds developed in the U.S. and the only one that originated in Wisconsin.
It was used beginning in the mid-1800s as a retriever for market hunters, primarily for .
Waterfowl hunters love this breed for its double-coat and hardiness in cold weather.
So why don't more people know about the importance of this breed and why it has such a special designation here? Because it's so rare. There are but 3,000 of these dogs…in the world.
The Blue Book accepted this dog in its list of state symbols in 1986.
A state marker in New London commemorates the breed's standing. From the Blue Book:
 "The American water spaniel was developed as a practical, versatile hunting dog that combined certain physical attributes with intelligence and a good disposition. No flashy show animal, the American water spaniel is described as an unadorned, utilitarian dog that earns its keep as an outstanding hunter, watchdog, and family pet."
More than half of the 3,000 American water spaniels are found in Wisconsin, Minnesota and Michigan, but it's very difficult to come across one in the Badger State. That's despite the fact it handle the cold.
And who says blogs aren't educational!
For more check out the American Water Spaniel Club.
—Jennifer Fischer
Thanks, Jennifer.
Time now for DOGS IN THE NEWS, canines that made headlines the past week.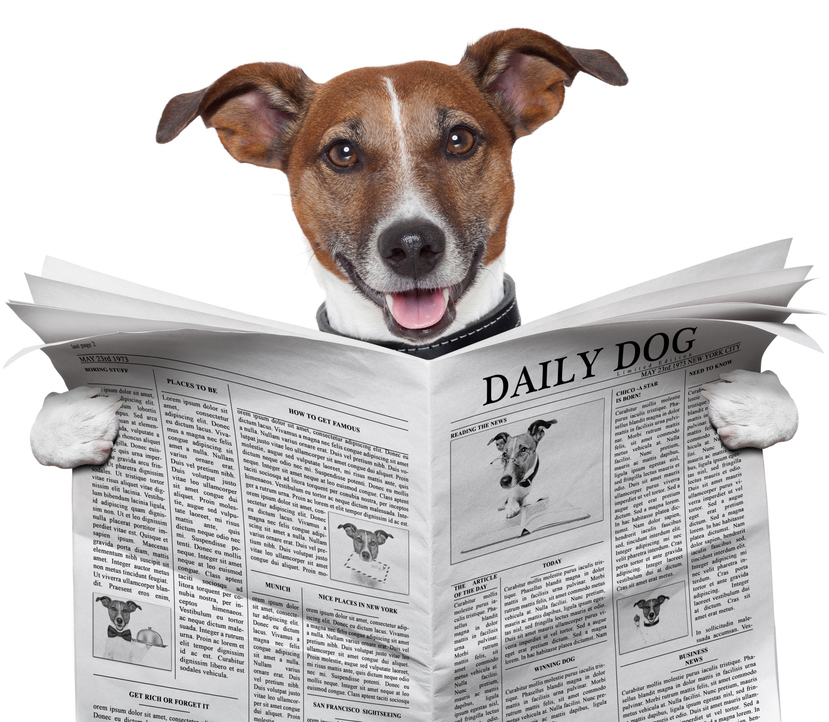 Bill would punish people who abandon dogs during hurricanes.
How far will apartments go to get owners to scoop the poop?
Barking Lot update: Attention, Dogs: Bark at Your Owners' Peril.
ICYMI last week: Dog walking is leading to more broken bones in older adults.
Snow melt reveals dog 'surprises' scattered across Riverwest area of Milwaukee.
OPINION: Professor says dogs are better than grandchilden.
Vegan dogs and cats? Study finds some pet owners are feeding their animals plant-based diets.
What Would a Dog Do on Mars?
And the winner is…
And another winner is…
Doggie bartenders?
THAT'S IT FOR DOGS IN THE NEWS.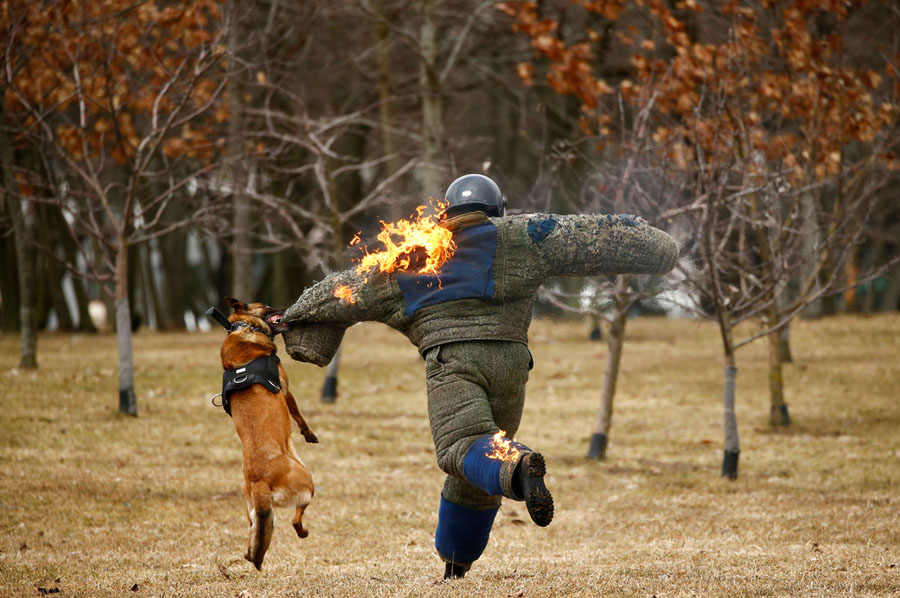 A serviceman of the Belarusian Interior Ministry's special forces performs as he marks Internal Forces Day in Minsk, Belarus, on March 17, 2019. Photo: Vasily Fedosenko / Reuters
56 photos, yes, 56 from Texas! It's bluebonnet season.
And here's one we missed recently.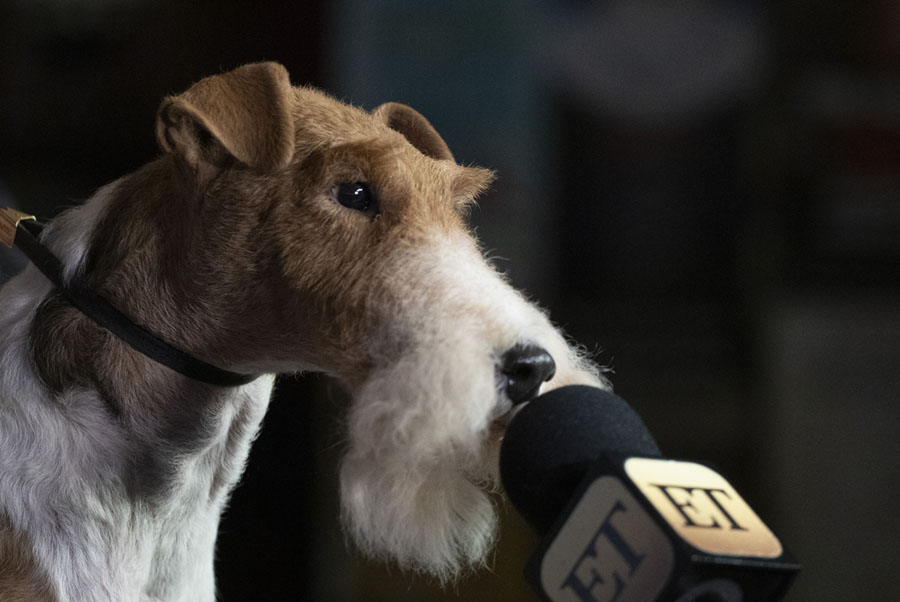 King, a wire fox terrier, leans toward a microphone during a media availability at Sardi's in New York on February 13, 2019. King won Best in Show at the 143rd Westminster Kennel Club Dog Show the day before. Photo: Mark Lennihan / AP
We close as we always do with our closing video. Once again this week…more than one.
In this inspiring true story, our best friends are also real-life superheroes. Journey around the globe to meet remarkable dogs who save lives and discover the powerful bond they share with their human partners.
First,  "Reef is a four-year old Newfoundland, who adores the lakes and sea around her home near Milan, Italy. Her partner is Commandante Ferruccio Pilenga, founder of the Scuela Italiana di Cani Salvataggio (Italian School of Water Rescue Dogs), and a huge advocate for the Newfoundland as a working water dog. Today, Reef is an instructor dog, helping other dogs develop their innate rescue instinct to save human lives. She can deploy from a boat or helicopter, swim for miles without tiring and tow up to 40 times her own weight in the water!"
Reef is featured in the new MAX film "Superhero Dogs." Her school is the subject of this video.
Now here's a video we shared with you on The Barking Lot on December 9, 2017.
CBS News reported on a growing effort to train dogs not just to be guides, but also to be athletes. Watch.
OK. That was near the end of 2017. Now for the update:
Blind Runner And His Trio Of Guide Dogs Make History In NYC Half Marathon.
That's it for this week.
Thanks for stopping by.
Please consider passing this along to other dog lovers you know.
See ya, BARK, next Saturday morning!