The Barking Lot is a regular weekly feature of This Just In…Written by my lovely wife, Jennifer and me.  It opens with the weekend dog walking forecast followed by the main blog from dog lover, Jennifer. Then it's DOGS IN THE NEWS and our close. Enjoy!
THE WEEKEND DOG-WALKING FORECAST: We grade the weather outlook for taking your pet outdoors.
TODAY:  Wake up to a dusting of snow. Some clouds in the morning. Otherwise plenty of sunshine. High of 40.  An optimistic "C"

SUNDAY:  Partly cloudy. High of 40.  "C"
Walk Your Dog, But Watch Your Footing: Bone Breaks Are On The Rise.

Now, here's my lovely wife, Jennifer, with this week's main blog.
March is a spectacular month for the Fischer family.  And it's not because Kevin might win a March Madness pool.  Naturally we root for Notre Dame and even if the men's basketball team is eliminated early or doesn't make it to the NCAA tourney at all (they won't this season) we still love our Irish players.  But 2/3 of the household don't really watch basketball.
No, the third month of the year is full of excitement & joy for many other reasons…  Kyla's birthday, Kevin's birthday, and a whole lot of Irish events.  As a proud Cashel Dennehy dancer, Kyla marches in the Milwaukee St. Patrick's Day parade.  She also participates in Schools Day which allows students to travel to four different schools to display their talents and spread the love of Irish dance & culture.  This year for the first time, she was able to dance at her own school, St. Anthony of Milwaukee:
That's Kyla, the second row from the front, second from the left.  You know, the one with the huge, proud Irish smile.
And of course there's the shopping.
HUH?  SHOPPING???!!!  Uh, yes.  Unless you've been living under a (sham)rock you're probably aware of a one-day-only Irish extravaganza.  We tune in bright & early, and keep it on all day. 
I've been the lucky recipient of several sweaters as well as pieces of jewelry.  The items that they offer are usually exclusive to QVC.  They feature the artisans on air to showcase their crafts and we marvel at the quality and talent displayed.
Despite a beautiful and impressive selection of clothing, jewelry, and home décor items there is one category that is always woefully missing.  I don't understand how such a popular home shopping emporium could miss a golden opportunity for so many potential customers.
I can already imagine the flood of callers talking to a canine lover similar to what David Venable does for QVC culinary items…
"Let's go to our phone lines and welcome Kari from Milwaukee.  Kari, how are you today?"
"I'm fine, how are YOU doing?"
"I'm just great, thanks.  So, are you shopping for yourself or someone else today?"
"Well, I've bought so many for friends and family that this year I've decided to finally treat myself."
"Great!  And what breed did you finally decide on?"
"It was a really difficult decision because they're all so beautiful.  But I finally chose the Soft Coated Wheaton Terrier."
"Fantastic!  I'm sure you'll get years of enjoyment with the little darling.  What a special way to celebrate St. Patrick's Day.  Best of luck to you and thanks for calling!"
"Thank you so much.  I'm so excited to finally become a pet parent!"
Now before any card-carrying PETA member gets their vegan undies in a bundle over my "suggestion" I hope they are at least bright enough to recognize satire.
Seriously though.  If you could dial-a-doggie, which one would you choose?  Each Irish dog breed has so many remarkable qualities I probably would purchase a two-pack and use the "easy pay" system!
Happy St. Patrick's Day to all the Barking Lot readers!
—Jennifer Fischer
Thanks, Jennifer.
Time now for DOGS IN THE NEWS, canines that made headlines the past week.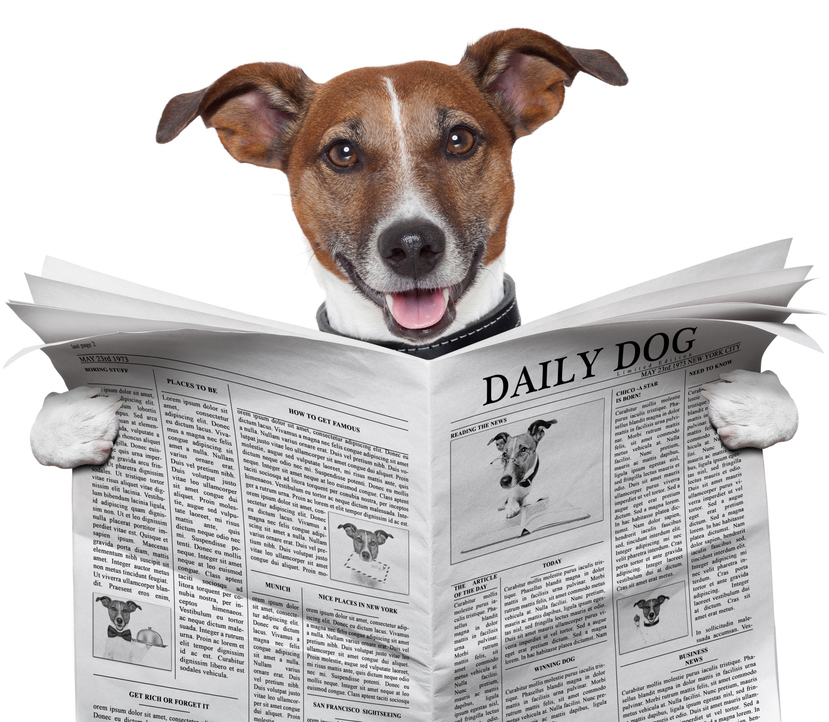 Dogs are amazing. Reason #576. How Your Dog Knows When You're Sick.
French musher was leading Iditarod, but then his dogs quit.
And the winner is…
Here's a Barking Lot first: a post from Miss Manners.
He couldn't hack it as a drug-sniffing dog. Now he's conservation's best friend.
A beer for dogs.
UPDATE: Terminally ill girl who loves dogs and asked for photos of them…
THAT'S IT FOR DOGS IN THE NEWS.
HERE'S OUR DOG PHOTO(s) OF THE WEEK.

In this image provided by the Maritime & Coastguard Agency, winchman Kate Willoughby holds Ben the dog after he was rescued in the Cairngorms in Inverness, Scotland, Wednesday, March 13, 2019. It was a routine winter training mission in northeast Scotland until the Maritime and Coastguard Agency spotted a stranded dog on the snowy Cairngorms mountains below. They couldn't fly away and leave the dog in trouble, so winchman Mark Stevens on Wednesday was lowered to the ground, scooped up the cold and frightened animal, and raised back to the helicopter. (Maritime & Coastguard Agency via AP)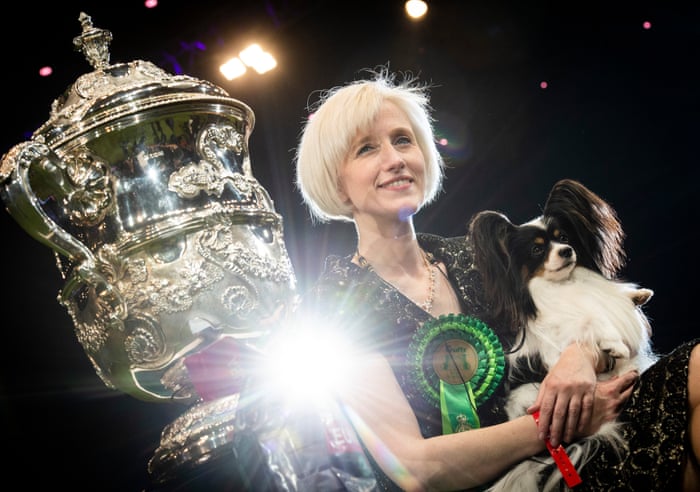 Crufts has been declared the biggest dog show in the world by officials from Guinness World Records. Roughly 160,000 people walk through its doors each year to see 28,000 dogs compete over the course of four long days. Kathleen Rosins from Belgium is pictured with her dog Dylan a Papillon, who won the title of Best in Show at Crufts 2019 held at the National Exhibition Centre in Birmingham, England. Photograph: BeatMedia
And the Shamrock Club's annual St. Patrick's Day Parade was in downtown Milwaukee a week ago today, and of course…
Kyla marched in the parade with Cashel Dennehy and when she was done she could enjoy the rest and when she saw those dogs…
Sheer joy along with her dance partner Eirinn.
We close as we always do with our closing video. And we have a few.
First, a Younkers man and his dog jumped into a frozen reservoir to save two other dogs that had fallen through the ice. CBS2's Natalie Duddridge reports.
Brave.
Courageous.
Heroic.
Insane.
All of the above?
Next…You will love this.
And finally, back again is a Barking Lot favorite, Surf Dog Ricochet!
SURF DOG RICOCHET STARS IN IMAX FILM 'SUPERPOWER DOGS'
SUPERPOWER DOGS IS AN INSPIRING TRUE STORY OF EXTRAORDINARY DOGS AND THEIR LIFE SAVING SUPER POWERS
Ricochet's sequence highlights her canine-assisted surf therapy, healing power and emotional support for a boy with special needs & a veteran with PTSD
Superpower Dogs, an inspiring true story of extraordinary dogs and their life-saving superpowers, opened on March 15th at IMAX, giant screen and digital cinemas in museums, science centers and other cultural institutions worldwide.
Ricochet, a registered and certified goal-directed therapy dog is one of five dogs in the film. The other four include Henry, an avalanche rescue dog, Reef, a water rescue dog, Halo, a search and rescue dog and Tipper/Tony who sniff out poachers in South Africa. All these dogs rescue individuals in physical trauma. Ricochet, on the other paw, rescues people from emotional trauma, such as PTSD.
The film, narrated by Chris Evans, takes you on a journey around the globe, introducing you to these remarkable dogs. 3D cameras and computer graphics were utilized so audiences can experience the world through the eyes, ears, and nose of a dog.
Ricochet's sequence focuses on her ability to enrich the well-being of veterans with PTSD and children with special needs through the healing power of the ocean, and the healing power of a dog.
10 years ago, Ricochet jumped on the board of Patrick Ivison, a 14 year old boy who is quadriplegic (he makes a cameo in the film). Since then, she has surfed with hundreds of kids with special needs, people with disabilities, wounded warriors & veterans with PTSD.
Although surfing has been at the forefront of Ricochet's work, it's not just the act of surfing  that makes her interactions so life changing. It's her powerful ability to make immediate soul-to-soul connections with the individuals she interacts with.
Ricochet's emotional healing is told through the experiences of her co-stars, Staff Sergeant Persons B. Griffith IV Ret (Griff), a Marine combat veteran with PTSD, and Jodi Powell, the mother of seven year old Logan who has sensory processing disorder.
"I just hope Ricochet's sequence will be the catalyst that gives hope to veterans with PTSD who are suffering in silence or contemplating suicide, as well as anyone else who is faced with emotional, physical or cognitive challenges", said Fridono.
Fridono believes all dogs have these healing powers, and all dogs have superpowers. After watching this film, you'll learn even more about the bond you have with your own superpower dog!
Note:  For more information about Ricochet, please contact Judy Fridono at 707-228-0679, or pawinspired@aol.com.
Please consider passing this along to other dog lovers you know.
See ya, BARK, next Saturday morning!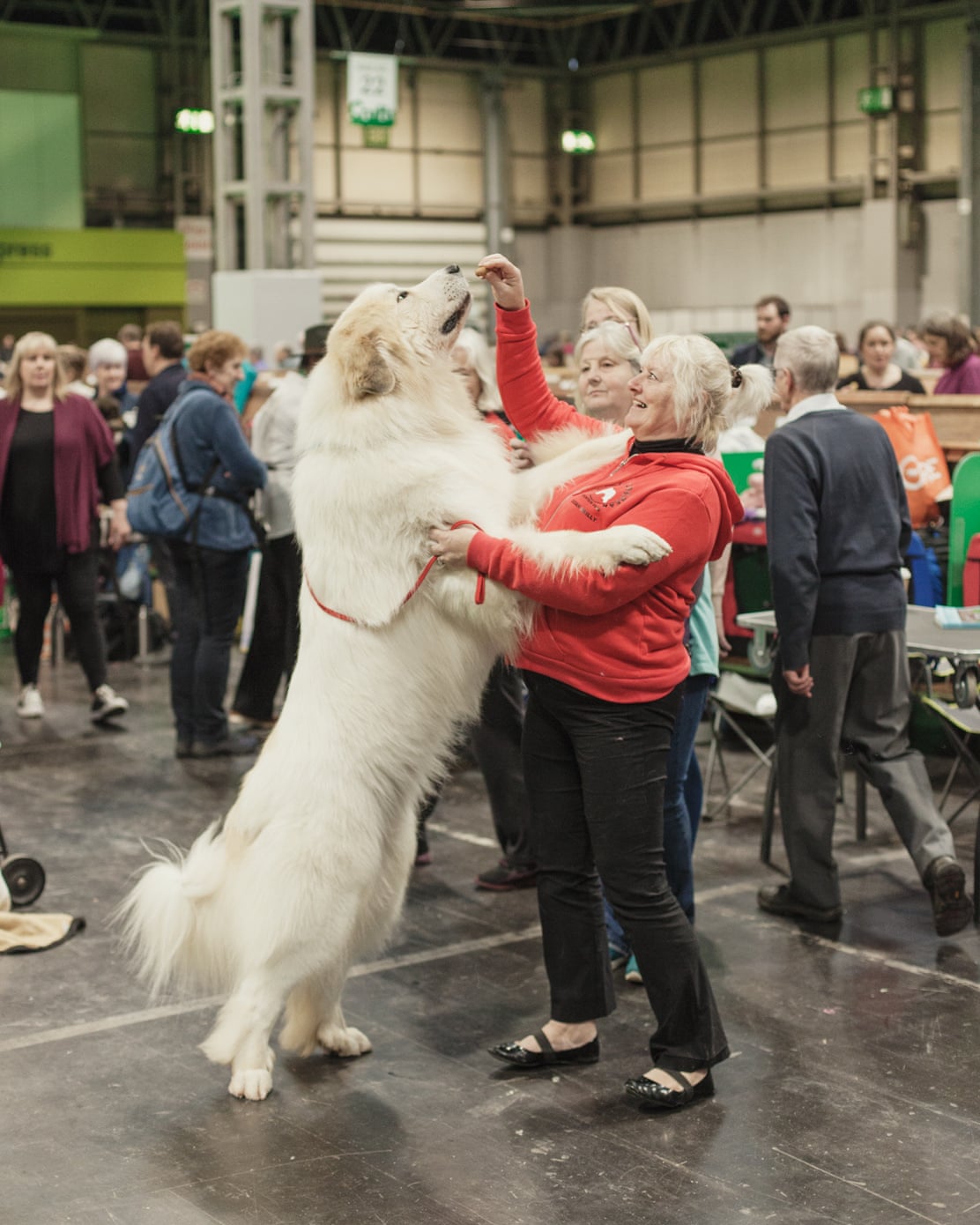 Photo: The Guardian