The Barking Lot is a regular weekly feature of This Just In…Written by my lovely wife, Jennifer and me.  It opens with the weekend dog walking forecast followed by the main blog from dog lover, Jennifer. Then it's DOGS IN THE NEWS and our close. Enjoy!
THE WEEKEND DOG-WALKING FORECAST: We grade the weather outlook for taking your pet outdoors.
TODAY:  Lots of changes possible. Becoming cloudy this morning.  Rain beginning around 2:00 and very windy. Chance of rain later today is 100%. High of 36. "D" in the morning. "F" in the afternoon and beyond.
SUNDAY:  Overcast skies and windy. High of 37 early.  "F"
Now, here's my lovely wife, Jennifer, with this week's main blog.
Kevin stopped at the Sendik's in Franklin this past Tuesday morning He was on a mission. That happened to be Fat Tuesday.
He hit pay dirt. While half of SE Wisconsin was standing and shivering in a line longer than two Lambeau Fields Kevin calmly strolled to an empty bakery counter. There they sat displayed in all their glory. Oodles and oodles of paczkis, varieties of those precious little bombs. Kevin selected his raspberry for a whopping 99 cents and proceeded to checkout. When he came home that night he hadn't touched his Polish delight, giving it instead to daughter Kyla who did what she always does. A perfect imitation of a Hoover vacuum.
What does this have to do with dogs?
When Kevin arrived that morning the Sendik's parking lot was almost empty. The paczki crowd was apparently and obviously elsewhere.
Parked directly in front of Kevin was a van with a dog inside. The vehicle was not running so no heat was being pumped through. Kevin didn't take enough time to notice the breed but it was a smaller to mid-sized dog. Let's suppose Kevin was inside for 5-8 minutes. When he came back to his car the van with the dog was still there.
The high temperature this past Tuesdays was 20 degrees. At 8:00 am what was the temp? Five, six, seven, eight, nine, ten degrees?
I've blogged extensively about dogs in hot cars. Documentation on the subject is quite thorough.
What about dogs in cars…in the winter? There certainly isn't a lot out there, but enough. Enough to suggest the owner of that dog in the van Kevin saw was very wrong.
I tend to agree with the website Intermountain Pet Hospital on this one. It states:
We've all heard the horror stories and warnings about dogs in hot cars during the summer. When temperatures reach even a mild 70º Fahrenheit, closed cars can climb into the 90s within just 10 minutes, subjecting your fur-coated dog to dangerous heat and suffering from heat stroke. But what about during the winter when outdoor temperatures are cool? Is there are safe temperature to leave your dog in the car?

The short answer: no. For your pet's health and safety, you should never leave them unattended in a car, no matter what the outside temperature is. Mild days in the 60s and 70s can still put your dog at risk of high heat exposure, while concerns over hypothermia begin when temperatures are in the 50s.

In the winter, cars can quickly cool to the outside temperature, and especially small and inside-only dogs are at risk for serious cold-related issues (think hypothermia). Many dog owners crack the windows to ensure air circulation when they leave a dog in the car, only causing more potential issues when the temperatures are cold. Hypothermia is a significant concern, and certainly isn't worth your trip to the store, for a bite to eat, or to the movies. If you're not sure that you'll be able to take your dog with you to every location on your errands, don't risk it—leave them at home where they're safe and secure.
Here's the deal. Currently, 22 states have laws on the books that protect dogs from being neglected by making it illegal to leave them in a parked vehicle.
Reality. Are these laws enforced? Probably not all that much. So the offenders get away.
Please read that linked article to see what you can do if, like Kevin, you come across what he did.
—Jennifer Fischer
Thanks, Jennifer.
Time now for DOGS IN THE NEWS, canines that made headlines the past week.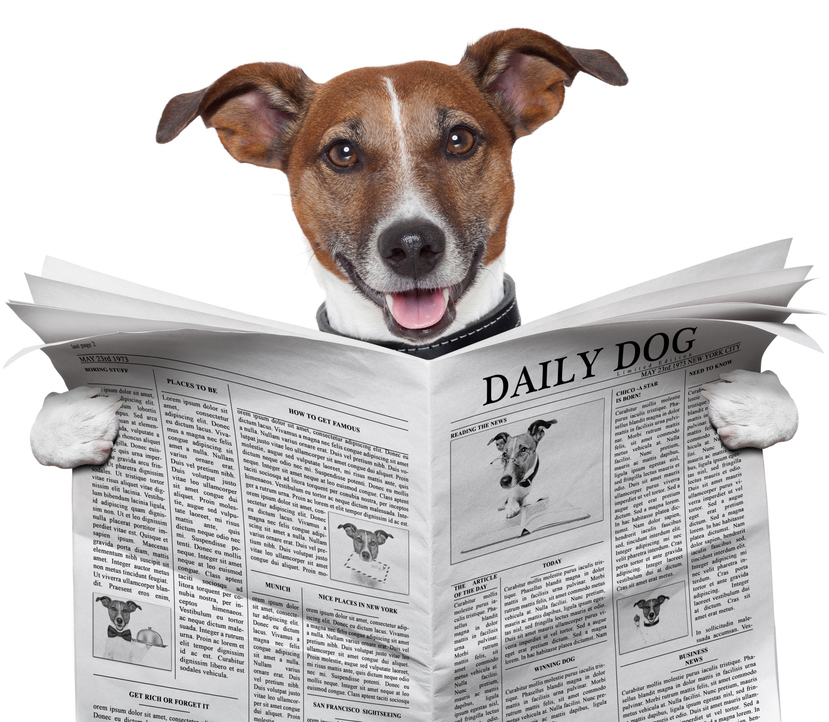 Dog-walking can be hazardous for seniors, study suggests.
DNA testing kits for dogs are super popular, but…
A German family couldn't pay the bills, so the city took their dog — Edda the pug — and sold her on eBay.
New Jersey Town Proposes Rule Giving Dog Owners Jail Time For Nonstop Barking.
Big debate in Burlington: dogs in parks.
You can't do this dog's job—but you could try to be half as good.
Girl Scout brings awareness to Black Dog Syndrome.
When a Shopping Mall Goes to the Dogs.
A look at the Museum of the Dog in Manhattan.
The story of the Iditarod-hopeful dog who got loose and followed teams for 30 miles.
THAT'S IT FOR DOGS IN THE NEWS.
HERE'S OUR DOG PHOTO(s) OF THE WEEK.
The Volunteers in Northampton Schools hosted its 14th annual March Forth With Your Dog Not Your Typical Dog Show Saturday at Northampton High School in Massachusetts. That's Chloe Sullivan of Florence with Truman Capote at the dog show.
We close as we always do with our closing video.
First, a North Carolina man simply had to find a lost dog's owner.
OK. That was Roxy. Now meet Moxie.
That's it for this week.
Thanks for stopping by.
Please consider passing this along to other dog lovers you know.
See ya, BARK, next Saturday morning!