The Barking Lot is a regular weekly feature of This Just In…Written by my lovely wife, Jennifer and me.  It opens with the weekend dog walking forecast followed by the main blog from dog lover, Jennifer. Then it's DOGS IN THE NEWS and our close. Enjoy!
THE WEEKEND DOG-WALKING FORECAST: We grade the weather outlook for taking your pet outdoors. And this could be the worst weekend of the year thus far.
TODAY:  Wake up to snow showers that fell overnight, possibly 1-3 inches. Cloudy and dry. High of 28, about 10 degrees below normal.  "F"

SUNDAY:  Cloudy early, becoming mostly sunny later in the afternoon. "F"
Now, here's my lovely wife, Jennifer, with this week's main blog.
I want a dog. I don't have a dog. But I still want one.
OK. So that's not a news bulletin. Worst kept secret among my friends and neighbors.
"When are you getting a dog?"
"Hey,  'ja get a dog"
"Why don't you have a dog?"
But suppose I did have a dog.

Chances are that dog would be lot like me. That means for sure it'll love pizza. Like all the time.
Researchers admit that work on dog personalities and how they correlate with human personalities is unclear. But Dr. William Chopik and Dr. Jonathan Weaver, assistant professors from the Department of Psychology at Michigan State University conducted a study that was published in the February edition of the Journal of Research in Personality. Their conclusion: canines' personalities are shaped by their owners.
The idea was Chopik's after he observed what all of us have witnessed. Dogs have all kinds of personality traits. And over time, those personalities change.
What enfolded was  one of the first and largest studies of its kind on dog personalities where owners of more than 1,600 dogs, including 50 different breeds were surveyed.  The dogs were just a few weeks old to 15 years, divided closely between male and female. Owners answered questions about the dog's behavioral history AND their own personalities.
"We found correlations in three main areas: age and personality, in human-to-dog personality similarities and in the influence a dog's personality has on the quality of its relationship with its owner," Chopik said.
"Older dogs are much harder to train; we found that the 'sweet spot' for teaching a dog obedience is around the age of six, when it outgrows its excitable puppy stage but before its too set in its ways."
Once again, a dog's personality is shaped by and is a lot like an owner's traits.
According to this study, extroverted humans rated their dogs as more excitable and active, while owners high in negative emotions rated their dogs as more fearful, active and less responsive to training. Owners who rated themselves as agreeable rated their dogs as less fearful and less aggressive to people and animals.
Owners who felt happiest about their relationships with their dogs reported active and excitable dogs, as well as dogs who were most responsive to training.
"There are a lot of things we can do with dogs — like obedience classes and training — that we can't do with people," Chopik said. "Exposure to obedience classes was associated with more positive personality traits across the dog's lifespan. This gives us exciting opportunities to examine why personality changes in all sorts of animals."
Chopik also wants to pursue how the environment owners provide their dogs might change the dogs' behavior.
"Say you adopt a dog from a shelter. Some traits are likely tied to biology and resistant to change, but you then put it in a new environment where it's loved, walked and entertained often. The dog then might become a little more relaxed and sociable," Chopik said. "Now that we know dogs' personalities can change, next we want to make strong connection to understand why dogs act — and change — the way they do."
And there's more on Chopik's wish list: a study on the personality of cats. Good luck with that one, Doctor.
—Jennifer Fischer

Thanks, Jennifer.
Time now for DOGS IN THE NEWS, canines that made headlines the past week.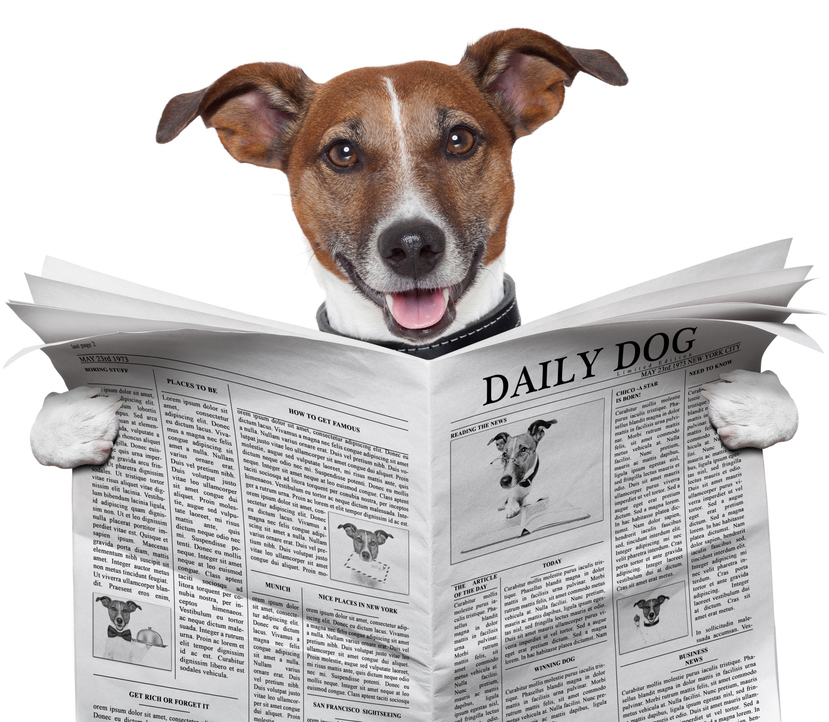 Emotional support dog attacks young girl at Portland airport, lawsuit says.
Are dog parks discriminatory?
Duke the dog, four time mayor of village in Minnesota has died.
Rescue Network Sends Southern Puppies North.
In Alaska, with the big  race countdown underway, final dog physicals draw mushers to Iditarod headquarters.
These dogs scare bears away—to protect them.
Why can't dogs sniff out some people under stress? Genes might explain.
Pit Bull was on Death Row, But is Now Changing Lives With Her Second Chance.
NICE! A terminally ill Hartland, WI 7-year-old wanted a few dog pictures. She now has 50,000 — and counting.
A day in the life of a Colorado avalanche dog.
Turning cafeteria leftovers into dog treats at UW-Superior.
This dog spent his last day at a brewing company — so they brewed a beer to remember him.
The Absolute Best Tech for Dog Lovers (and Their Furry Friends).
Speak Dog: 4 Ways to Tell Your Dog 'I Love You.'
COLUMN: How Mad Can You Really Get At This Dapper Dog Taking Up A Subway Seat?
THAT'S IT FOR DOGS IN THE NEWS.
HERE'S OUR DOG PHOTO(s) OF THE WEEK.
Posts on @BagDogs show pups both large and small whose owners carry them in anything from backpacks to shopping baskets in order to comply with NYC's strict pet travel rue: Dogs can ride the subway, but they have to be in a 'container'.
We close as we always do with our closing video. Again this week, more than one. And that's a good thing.
George H.W. Bush's service dog, Sully,  will continue his life of service by assisting wounded service members. Sully was "sworn in" at Walter Reed National Military Center on Wednesday. His new mission will have Sully working with other dogs to assist  on physical and occupational therapy to wounded soldiers and active-duty personnel during their recovery at Walter Reed in Bethesda, Maryland.
Here's more from CBS News.
Now let's go to Montana:
Here's an amazing factoid. Dogs can pick up odors up to 100,000 times better than humans can.
On a sunny day near Martinez, California, a friendly-looking German shepherd named Zinka rushes down the crisscrossing trails of Briones Regional Park wearing a vest covered in sensors, batteries and wires. She's followed by her trainer, Shay Cook, who keeps up at the end of a long leash. The duo trains to track people who have passed through an area — hours or even days later.
DEEP LOOK is an ultra-HD (4K) short video series created by KQED San Francisco and presented by PBS Digital Studios.
Let's keep going.
After a winter dump that left an area of Durango, Colorado with 80″ of snow, one small dog got stuck. No matter what he did (including high jumps) he couldn't move forward. But that's what buddies are for. His bigger canine friend clears a trail for him, leading him back to his human.
AND FINALLY…
Watch: Dog runs 83 yards to catch Frisbee, sets record at Orlando Apollos game.
That's it for this week.
Thanks for stopping by.
Please consider passing this along to other dog lovers you know.
See ya, BARK, next Saturday morning!