Universal Studios Hollywood (pictured above).
With thrilling theme park rides and shows, a real working movie studio and Los Angeles' best shops, restaurants and cinemas at CityWalk, Universal Studios Hollywood is a unique experience that's fun for the whole family.
And the same holds true for the Orlando attraction.
The locations are extremely popular tourist destinations but wouldn't be if the studios had not been saved by…
The Universal Monsters. You know them well.
Hard to believe that Universal was struggling decades ago in the 1920's right on through to the1950's. The Studios needed a life raft. It came from one after another famous and popular monsters including all of the above, and this one…
"The Creature of the Black Lagoon" wasn't Universal's  most significant monster, but when it  appeared the popular "monster" run was about to be over, along came this nautical abnormality.
In the 1954 film a strange prehistoric beast lurks in the depths of the Amazonian jungle. A group of scientists try to capture the animal and bring it back to civilization for study.
And he takes a liking to our heroine.
That would be the lovely and yummy Julie Adams.
"I thought, 'The creature from what? What is this?" Adams said in a 2013 interview. "Because I had been working with some major stars and so on. But I read it and said, 'If I turn it down, I won't get paid and I'll be on suspension.' And then I thought, 'What the hay! It might be fun.' And of course, indeed it was. It was a great pleasure to do the picture. I think the best thing about the picture is that we do feel for the creature. We feel for him and his predicament."
Adams died last Sunday at the age of 92. 92.
In 1965 Adams starred with Elvis in "Tickle Me," not Elvis's best, but if you're an Elvis fan, you loved it.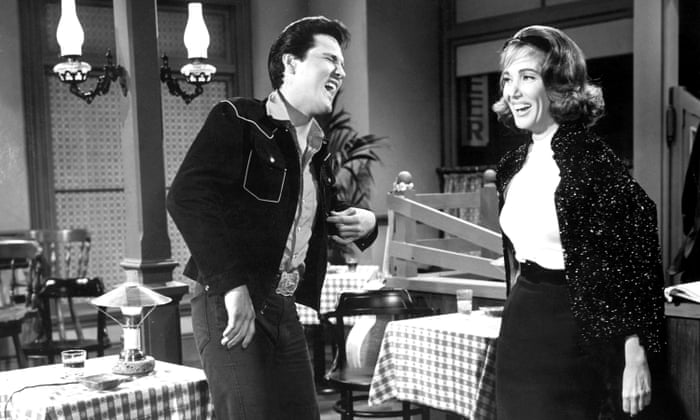 Adams played Elvis' boss at a dude ranch where women who were in great shape were trying to get into shape.
BONUS
From the movie, Elvis sings "I Feel That I've Known You Forever," to an angry Pam (Jocelyn Lane), who wants nothing to do with him after have just witnessed him kissing another woman. That other woman was Julie Adams.
Lane is an interesting story. From imdb.com:
Jocelyn Lane is one of the most stunningly beautiful, and overlooked, actresses to grace the screen.  Jocelyn had established herself as a popular model and cover girl by the time she was 18, using the stage name Jackie Lane. During this period she kept extremely busy as a cover girl, appearing on hundreds of magazine covers around the world. Jackie moved to Hollywood in the mid-1960s, and began using her birth name.. Although Jocelyn feigned a convincing American accent, her aloof, haughty screen persona did not endear her to US audiences, despite several showy leading roles in popular B-films. She retired from the screen in the early 1970s, ultimately marrying Spanish royalty.