The Barking Lot is a regular weekly feature of This Just In…Written by my lovely wife, Jennifer and me.  It opens with the weekend dog walking forecast followed by the main blog from dog lover, Jennifer. Then it's DOGS IN THE NEWS and our close. Enjoy!
THE WEEKEND DOG-WALKING FORECAST: We grade the weather outlook for taking your pet outdoors.
TODAY:  Cloudy. High of 32.  "D"

SUNDAY:  Partly cloudy. High of 31. "D"
Now, here's my lovely wife, Jennifer, with this week's main blog.
I know many people who say they would NEVER own a Pit Bull because they are too aggressive.  I also know many people who say they would not want to own a poodle because they are hyper and "yippie," and still others who would only want a Golden Retriever because of their sweet, docile temperament.  Are they guilty of breed bias?  Or is there more to it?  Could there be any scientific data that supports their opinions of breed personality?
Enter doggie DNA.  Using it could very well figure out what kind of disposition your pooch could possess.  How easy are they to train?  Will they interact well with other dogs?  Will they defend you as their owner?
With research and data you just might be able to answer those questions.  But on top of THAT you just might unlock answers to HUMAN questions about anxiety and other personality issues.  Really?  Yes, really.  Once again, dog science is incredibly enlightening.  True, there is more research to do and data to collect.  Still, it's fascinating to read about the latest project regarding canine behavior.
Thank you Evan MacLean, a comparative psychologist at the University of Arizona in Tucson, and Noah Snyder-Mackler at the University of Washington in Seattle.  Looking forward to hearing more about your project!
—Jennifer Fischer
Thanks, Jennifer.
Time now for DOGS IN THE NEWS, canines that made headlines the past week.
Wag! dog walker charged with animal cruelty; customers concerned about industry background checks.
Ex-LSU player's leg amputated after dog shoots him: 'His pants were just soaked in blood.'
'The Dog Wears Prada': $1,500-a-month doggy daycare prompts growls in San Francisco.
Half Their Size: How One Dog Went Through Pup 'Boot Camp' to Drop 14 lbs. After Eating Human Food.
How your dog or cat can save lives by becoming a blood donor.
Oh oh. Sex Influences a Dog's Likelihood of Winning in Dog Shows.
The Museum of the Dog is set to debut in New York City on Feb. 8.  MORE.
THAT'S IT FOR DOGS IN THE NEWS.
HERE'S OUR DOG PHOTO(s) OF THE WEEK.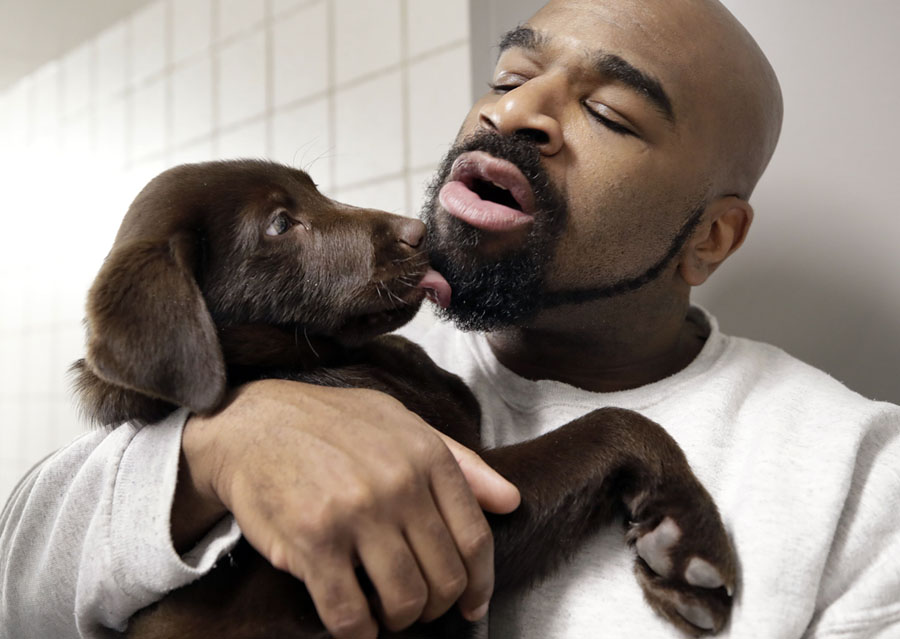 In this January 8, 2019, photo, the inmate Jonathan Ladson cuddles with a chocolate lab puppy at Merrimack County Jail in Boscawen, New Hampshire. The New Hampshire jail is the first in the state to partner prisoners with the "Hero Pups" program to foster and train puppies with the goal of placing them with military veterans and first responders in need of support dogs. Photo Elise Amendola / AP
We close as we always do with our closing video.
In this video shared by actor and YouTuber Anna Brisbin she demonstrates how she trained her miniature dachshund Remus to respond to Harry Potter spells.
Opening in theaters this week…
That's it for this week.
Thanks for stopping by.
Please consider passing this along to other dog lovers you know.
See ya, BARK, next Saturday morning!