Culinary no-no began on Father's Day 2007, a beautiful summer day, when I wrote about grilling brats. And eating brats. And topping those brats. I was inspired by my wife, Jennifer who, in my admittedly unscientific opinion, ruins brats by squirting ketchup on them. Other dining taboos quickly came to mind. The original idea was to take this concept only a few months, till the end of summer and then pull the plug. Then the unexpected happened. People started reading Culinary no-no. Lots of folks. So we keep doing the no-no.
In our house we have a recurring joke between me and my lovely wife Jennifer.
Here goes. I say:
"What's Jennifer's favorite wine?"
With that cue Jennifer immediately responds:
I WANNA GO ON VACATION!!!!
My wife Jennifer loves to, ahem, wine. As I've written before, she even possesses this Christine Alexander top.
Jennifer's female friends also have an admiration for wine. They get absolutely gleeful on Facebook when they share memes and what not about their favorite adult beverage.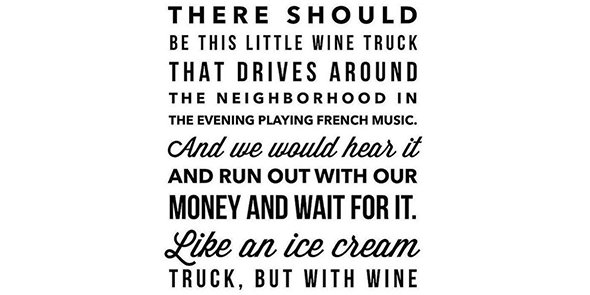 No, wine is not this week's no-no. We'll get to it, for sure.
Here's a restaurant in Hales Corners that gets rave reviews.
Sandra's on the Park.
Sandra's is not guilty of any no-no whatsoever. I'm using Sandra's, however, to illustrate a point.
To tell the truth I randomly selected Sandra's because I was just talking about the restaurant with a local high school basketball coach who goes there regularly because he says the food is fantastic.
From the restaurant's website (as of today) let's take a look at the red wines available. I've only posted the bottle price for each.
Pinot Noir
Bread & Butter, Napa Valley, California  36
Coastal Vines, California 21
Meomi, California  44
Cabernet Sauvignon
Wente, Livermore Valley, California 32
Coastal Vines, California 21
Sterling "Vintner's Collection" Napa Valley, California 36
Red Blends
Sterling Red Blend, California 30
19 Crimes, Australia 32
Malbec Uno, Mendoza, Argentina 28
Other Reds
Coastal Vines Merlot, California 21
Opici Lambrusco Sweet Red, Italy 28
Again, Sandra's on the Park has done nothing to criticize. Their wine list is only here for illustration purposes. Capiche?
Note that in each category you have at least two bottle choices, three in most. Given those options, which bottle(s) would you buy?
So we go to mashed.com and their listing of items you shouldn't order at high price restaurants.
Of course, there's no way of knowing which restaurants are doing this. Just some food for thought.
CULINARY NO-NO BONUS